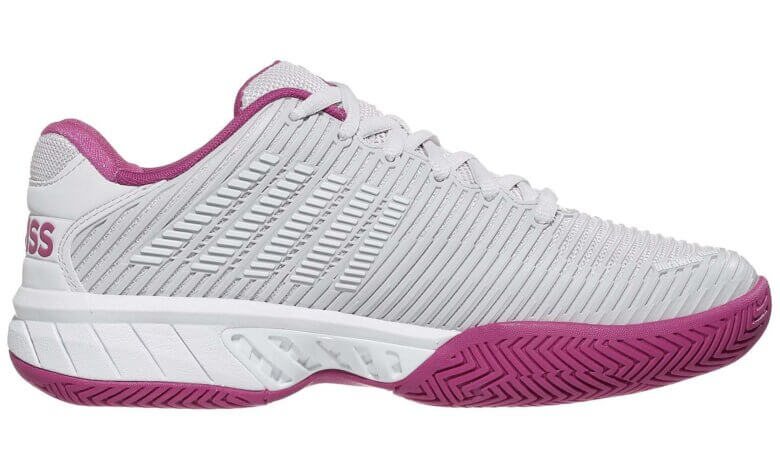 We're an affiliate
We hope you love the products we recommend! Just so you know, we may collect a share of sales or other compensation from the links on this page. Thank you if you use our links, we really appreciate it!
Editor's Review
Comfort

Durability

Stability

Breathability

Weight

Fit and Size
Summary
The previous K-Swiss Hypercourt Express was a big hit on the market because both players and fans loved the comfort and other features of the shoe. However, with the new updated version, K-Swiss has made the shoe even better by redesigning the upper and adding new materials to the midsole. This shoe is going to take your game to the next level. 
However, players with narrow feet are going to struggle to get a good fit with this shoe. Also, it has limited colour options to choose from. Despite these criticisms to the shoe, it's such a great shoe to have on the court. 
Pros
Excellent comfort
Good stability
Good looking design
Durability
Cons
Very wide for narrow feet
Limited colour option to choose from
When it comes to making comfortable and stable tennis shoe K-Swiss does not fail to disappoint. They released the Hypercourt Express a few years ago which was such an amazing shoe to have.
In 2020, they took the same shoe and made it even better. The features they have included in this shoe is going to take your game to the next level and make you a better player.
In this post, I'm going to provide you with a thorough in-depth review of the different parts of the shoe. Let's start with design and cosmetic.
Design
Right out of the box the use of seamless synthetic and mesh upper makes the shoe look sleek. It's very attractive looking and you are going to enjoy wearing it.
If you were to ask me which one is my favourite colour I would say the men's dark blue/white version. It really looks nice and clean.
If you are someone who is struggling with confidence in your game then wearing a nice looking shoe like this could boost your confidence on the court.
Upper
The upper of the shoe is made of a combination of seamless synthetic and mesh material. These materials are going to provide you with excellent comfort and breathability.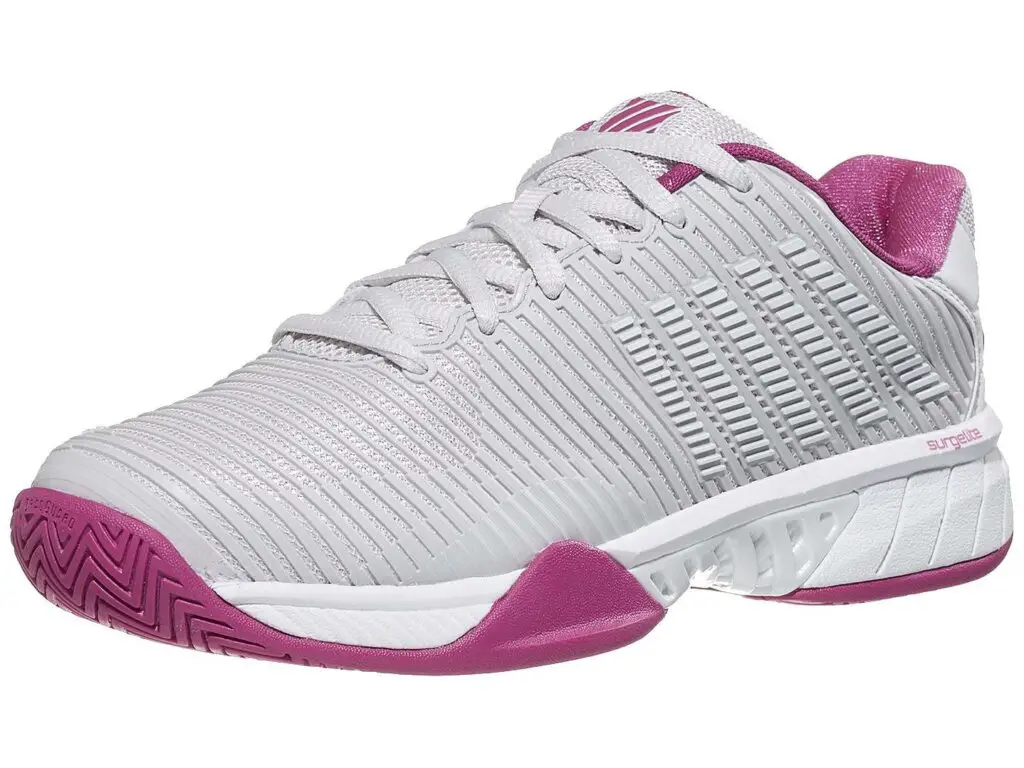 This is nice to have as a player because you can play for long hours without your feet getting uncomfortable.
Also, the use of mesh material would allow fresh air to flow inside of the shoe and allow moisture out quickly.
Also, K-Swiss used DuraWrap Flex material to provide you with more flexibility when moving around the court. And lastly, an ortholite liner is also included in the upper material to provide you with excellent cushioning.
Toe Box and Ankle Support
The toe box is made of DragGuard. This is going to provide you with durability and abrasion resistance. If you are a toe dragger or someone who tends to slide a lot then you would enjoy playing in these shoes.
When you put your feet inside of this shoe, you are going to get nice ankle support and stability. This would help you with your movement around the court.
Lacing System and Tongue
The lacing system is designed in a very simple way but it's very effective at keeping your feet stable. Firstly, it has extra lacing holes for you to use to tighten up for more grip and stability. If you have a medium or narrow foot this would be a great value to you.
And secondly, the lacing holes are made of rubber and it's connected to the upper material. It's good to see K-Swiss implement this strategy because it makes the lacing holes durable and makes it easy to lace quickly.
In terms of the tongue, it has one leather hole on top of it to keep it stable. This would help your game really well because the tongue would not be moving side by side in order to disturb your game. Moreover, the tongue is going to provide you with nice padding feeling due to the softness and cushioning of it.
Outsole
The outsole is made of non-marking Aosta 7.0 rubber. This is going to provide you with excellent durability on the court. If you are someone who is very hard on their outsole and slides a lot then you would enjoy wearing this shoe.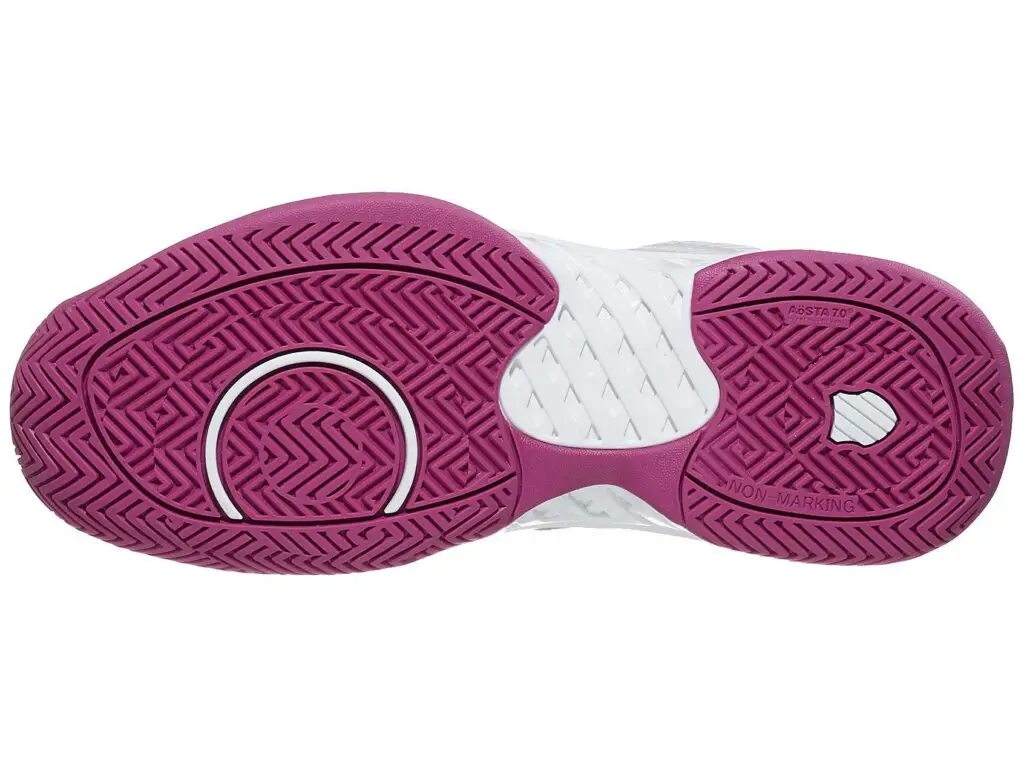 In addition, the outsole which is made of the modified herringbone tread pattern is going to provide you with good traction on the court.
Again this is a fantastic feature to have when you are playing on grass, clay or hardcourt because you would be able to keep stable on the court and hit the ball with enough power.
Weight and Fit
Another key strength of this shoe is the weight. It weighs 13.0 ounces with size 10.5. This is lightweight even when you compared it to the previous version.
This is really good at helping you with your game because you would be able to move at a fast pace. And sometimes the lightweight of the shoe may make you feel that you are not even wearing a shoe which is a nice feeling to have because you can just focus more on the game.
Without a doubt, this shoe is very suitable for players who have a medium and wide foot. If you have any of these types of foot you would enjoy wearing this shoe and its benefit.
On the other hand, it's not suitable for narrow feet because you are going to have some room in the toe box area. If you have a narrow foot and you want good tennis shoes then I would recommend that you read this post. It would be of great value to you in helping you find the perfect shoe for your size.
Midsole
The midsole is not that big like the KSwiss Ultrashot 2 but it's made of the same material. It is made of Surgelite material which is going to provide you with comfort, cuts down on weight for a very speedy feel and shock absorption.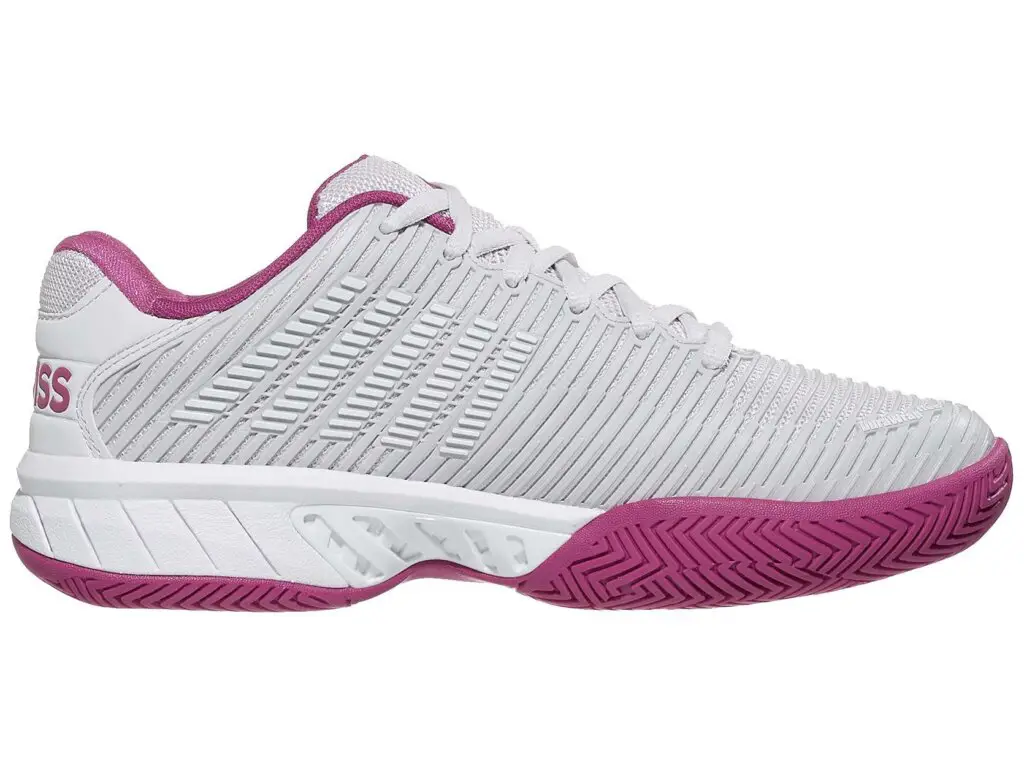 This is great to have as a player because it would help with your movement on the court, save you energy and keep your feet in perfect position.
Moreover, the midfoot shank is going to provide you with excellent stability and limit you from making any unwanted twist.
Again this is a big bonus because it limits your chances of you getting any serious injury and keeps you grounded so that you can hit the ball with enough power.
Colour Options
Just like the KSwiss Ultrashot 2, this shoe has limited colour options. As someone who loves design and colour scheme, I would like to see KSwiss release more colours for this shoe.
This would be great for players because they would be able to select which colour shoe they want and suit their tennis outfit.
Price
The last point that is worth pointing out is the price of the shoe. It is above $100 which is not bad when you think about the amazing features such as stability that this shoe brings to your game.
However, if you are a player that feels that the shoe is expensive, then I would encourage you to read my previous posts on shoes that are below $100. These tennis shoes under $100 are high-quality and would do a lot for your game.
Conclusion
In conclusion, I hope you have enjoyed reading this post about the K-Swiss Hypercourt Express 2 and found it very knowledge. As you can see this shoe is going to provide you with excellent comfort and stability. Which are some of the top features you should look out for when buying a tennis shoe.
However, some of the weaknesses of this shoe are how it is too wide for players with narrow feet. Also, it lacks colour options for players to choose from. These are something K-Swiss can easily improve on and make this shoe a world-class.
With that said, this shoe comes with a sleek looking design and it's going to provide you with durability. This means you can use it for a long time if you manage to take good care of it. I wish you a lot of success on the court with this shoe.