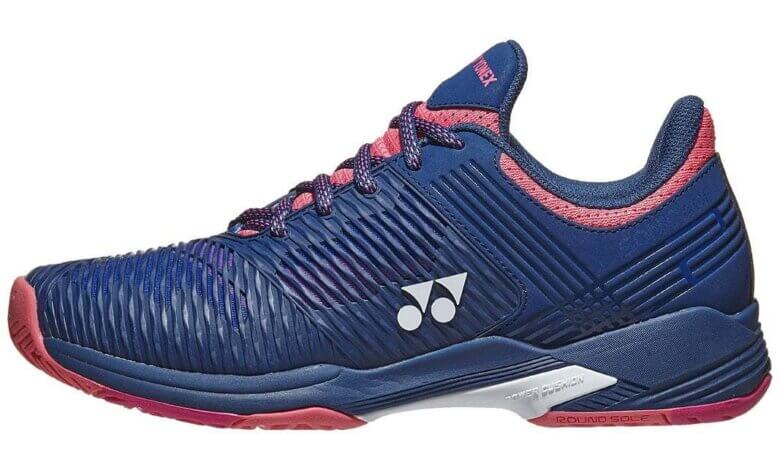 We're an affiliate
We hope you love the products we recommend! Just so you know, we may collect a share of sales or other compensation from the links on this page. Thank you if you use our links, we really appreciate it!
Product Overview
Comfort

Durability

Stability

Breathability

Weight

Fit and size
Summary
The Yonex Sonicage 2 is one of the ultra-lightweight tennis shoes on the market with good comfort and excellent traction. However, the stability of this shoe is not that great and it would be helpful if Yonex can improve this feature in their next update. 
If you are a player that comfort and lightweight are at the top of your list when searching for a tennis shoe, then this shoe is worth a lookout. 
Pros
Excellent comfort
Ultra-lightweight 
Suitable for narrow and medium feet
Have a glove-like fit
Have different colour options
Excellent traction
Cons
Design needs improvement
Not the best durable outsole on the market
Not stable enough
Yonex is known for making tennis shoes that are plush and comfortable. However, their new line of tennis shoe which is called Yonex Sonicage 2 is more of a lightweight and slim fit.
If you are looking for this kind of shoe or you are a big fan of Yonex tennis shoes then you have arrived at the perfect place. This post is going to provide you with an excellent in-depth review of the different parts of the shoe.
In addition, it would help you decide if this shoe is worth your hard-earned money. If you are excited and ready like me let's begin with the design of the shoe.
Design
Honestly speaking I would say that the design of the shoe is not the best on the market when you compare it with other tennis shoes such as Asics Solution Speed FF or KSwiss Hypercourt Supreme.
It's fairly okay but from my perspective, I think Yonex can do a lot better with the design and make it more attractive. I know many people may not agree with me but that's my personal opinion.
Upper
The upper of the shoe is made of durable skin and an extended TPU shank. As you can tell by the name of the upper it's going to provide you with durability. Also, you are going to get a nice soft and comfortable feel when you wear the shoe.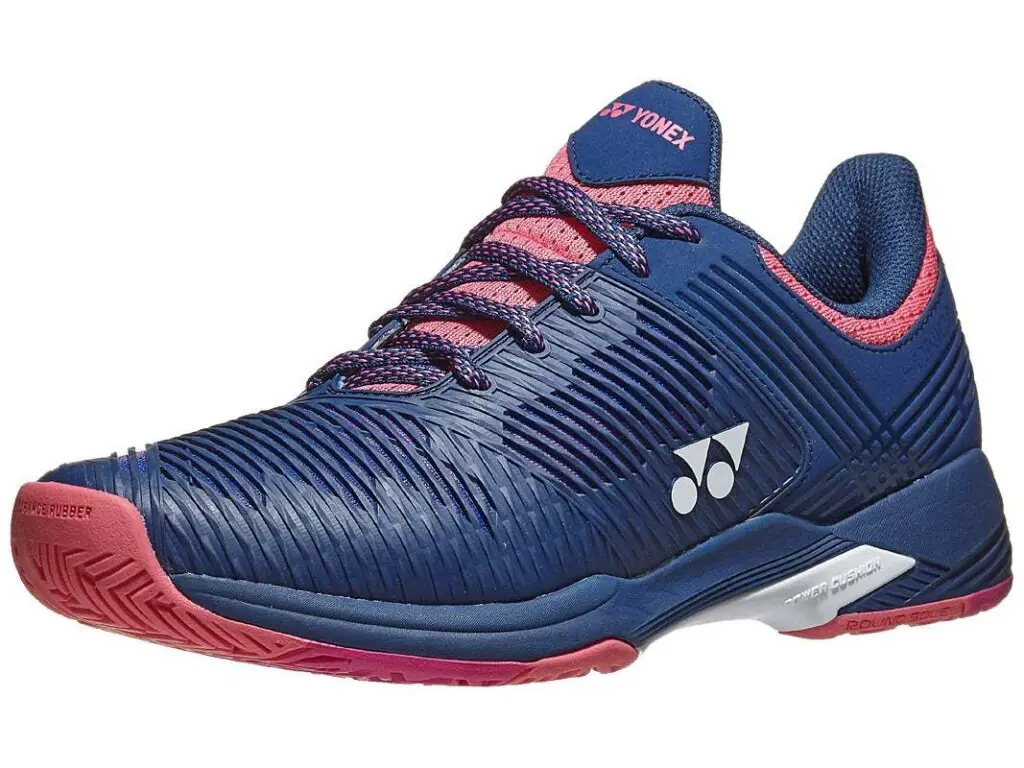 Moreover, the use of directional stripes helps to provide you with flexibility in the forefoot.
This is going to be very useful to you on the court because you can move with ease and comfort on the court.
In addition, the variance in the stripe direction serves to reinforce and strengthen agile movement while maintaining comfort and durability.
This is a fantastic feature to have as a player when you are playing a very fast game. And lastly, the upper of this shoe is breathable and does not require any break-in period.
This is awesome because it would allow the moisture and sweat to exist the shoe easily and quickly and allow fresh air to come inside. This helps to keep your feet fresh and allow you to play for long and intense matches.
Toe Box and Heel Area
Next up is the toe area. When you take a closer look at the toe box, you would notice that the outsole material has covered it. This is not going to be the most durable toe box but it would do a decent job at protecting your feet.
Furthermore, since this is a narrow shoe you are not going to have any spaces left in the toe area if you have a narrow foot. And lastly is the heel area. The height of the heel area is perfect because you wouldn't experience any slippage in that area of the shoe.
Midsole
The midsole is one of the areas that Yonex has updated to provide you with a responsive ride. It is made of a combination of power cushion and hyper msLite materials.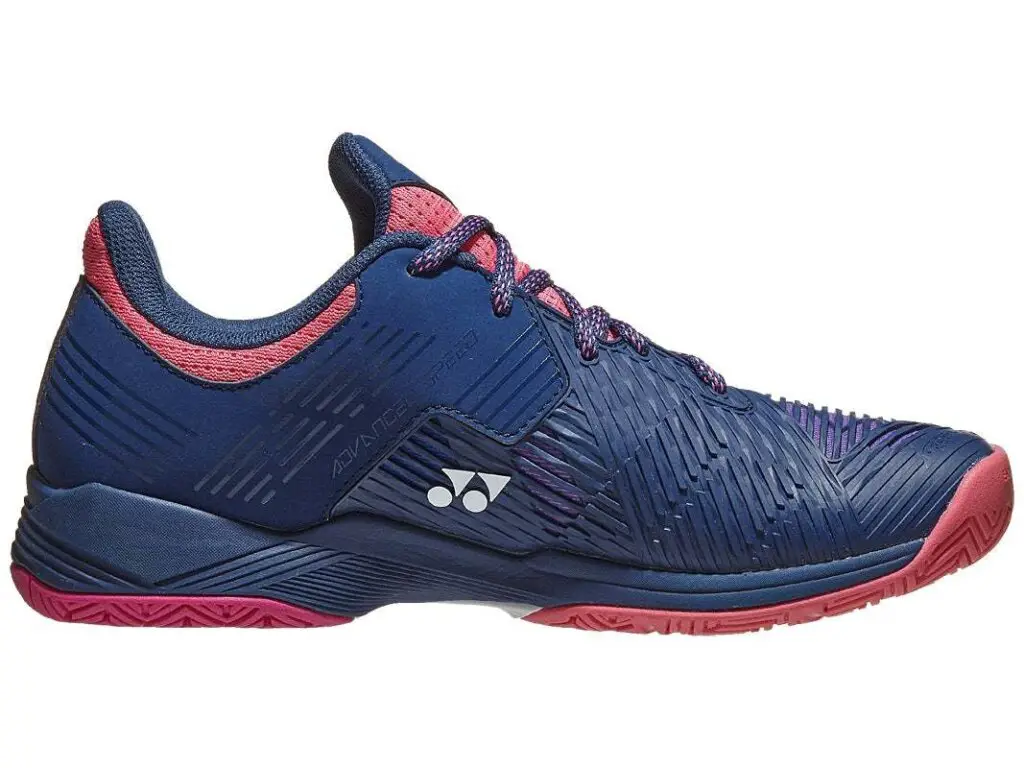 These materials are going to provide you with plush and comfortable ride whiles reducing the weight of the shoe.
Another amazing thing that Yonex did with the midsole is how it included power graphite plate.
Most of you are thinking what the heck is that? Let me help you out! Basically, this technology helps to maintain the rigidity of the midfoot to increase lateral stability. 
However, it's not the best stability shoe on the market but it would help with your movement to some extend.
Lacing System and Tongue
The lacing system may be shaped in an occurred way however you would be able to lace it quickly with the help of the round rubber eyelets.
The round rubber eyelets are cool because it's woven into the shoe to make it more secure when you lace the shoe. Adding onto the lacing system, it has extra holes for you to use for a more secure fit.
The tongue of the shoe is nice and soft. You are going to enjoy wearing it because it's going to provide you with a plush feeling and keep your midfoot stable.
Outsole
The outsole durability is one of the key weaknesses of this shoe. It's not going to give you good durability on the court. As a result, if you are a player that is very hard on your outsole then I wouldn't recommend this type of shoe.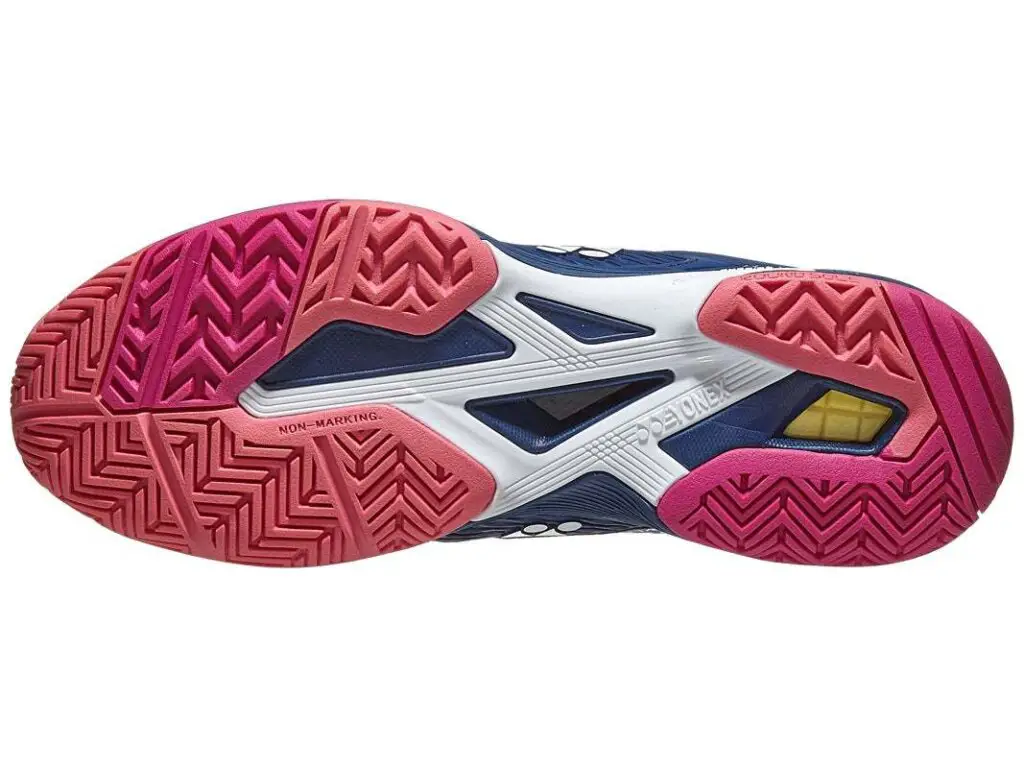 I would suggest that you try other shoes such as KSwiss Hypercourt Supreme or Air Zoom Vapor Cage 4 because they have excellent durability.
And lastly, the multi-directional tread pattern offers a high level of traction on all court surfaces.
Colour Options
This shoe comes in varieties of colours.
This is another great job by Yonex because having more colour options provides you with more options to choose from and select the perfect colour that suits your tennis outfit.
Weight and Size
Coming at a weight of 11.2 ounces with a 10.5 size. This shoe is definitely on the lightweight category and it's going to improve your speed on the court.
The size of the shoe is more suitable for players who have narrow and medium feet. If you have a wide foot I would suggest you try a different kind of shoe that would make you more comfortable on the court.
Price
The last point to talk about is the price of the shoe. It comes around the $100 price point and the features it's going to give you on the court is amazing.
However, if you think that this shoe is still expensive then I suggest you check out these posts that show you shoes that are below $100 and even under $60. You would find them very useful.
Final Thoughts!!
As this post comes to its conclusion about the Yonex Sonicage 2, I hope you have found it very useful and knowledgeable. Yonex did a great job of producing an ultra-lightweight and comfortable tennis shoe.
However, there are some areas the Yonex can improve on such as the design, making the fit of the shoe more suitable for everyone and lack of durability on the outsole.
With that said it's still a fantastic tennis shoe to wear and add to your tennis shoe collection. I would end by saying if you manage to pick this shoe up, I wish you a lot of success in your future matches.