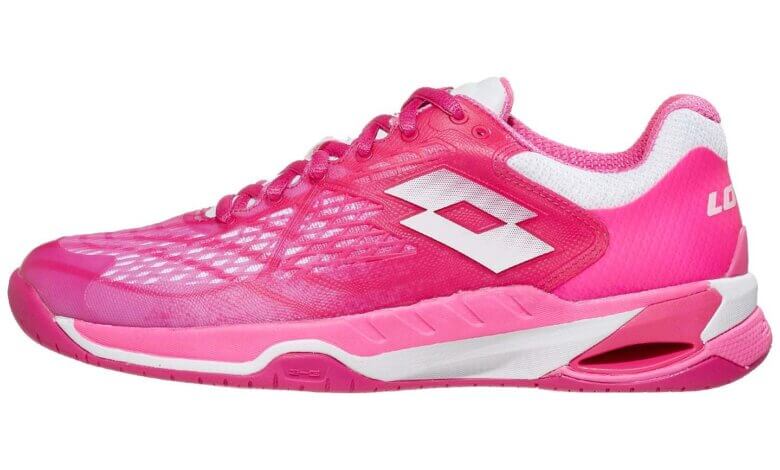 We're an affiliate
We hope you love the products we recommend! Just so you know, we may collect a share of sales or other compensation from the links on this page. Thank you if you use our links, we really appreciate it!
Product Overview
Comfort

Durability

Stability

Breathability

Weight

Fit and Size
Summary
Without a doubt, the Lotto Mirage 100 SPD is one of the lightest tennis shoes on the market and it's going to improve your speed tremendously. Also, you are going to enjoy the excellent support and stability that comes with it.
However, the only downside to this shoe is how it lacks colour options to choose from. Apart from that if you are an aggressive mover then you would enjoy this shoe. 
Pros
Good traction
Lightweight
Excellent support
Good stability
Good lacing system
Cons
Are you a tennis player looking for a shoe that is stable, supportive and at the same time lightweight? If you are then you have arrived at the perfect place.
Lotto released a new shoe in 2020 and it's called the Lotto Mirage 100 SPD which comes with amazing features. If you are a big fan of Lotto shoes then you have arrived at the perfect place.
In this post, I'm going to provide you with an in-depth review of the different parts of this shoe and help you decide if it's the perfect shoe for you.
I suggest you make yourself comfortable because you are in for a nice roller-coaster ride. Let's begin with the design of the shoe.
Design
Right out of the box the design and cosmetic of the shoe look simple, clean and amazing. Lotto did a fantastic job with the design which reminds me of the KSwiss Hypercourt Supreme.
If you were to ask me which one is my favourite I would say the green/black and the white/navy. It's not very bright like other tennis shoes such as the Yonex Sonicage 2. I believe wearing the Lotto Mirage could boost your confidence and self-esteem as you walk on the court.
Upper
Next up is the upper of the shoe. Lotto designed the upper with multi-layer Kurim. The purpose of this material is to provide you with lightweight comfort and support.
This is awesome because it would allow you to move comfortably on the court and still maintain your support.
This helps you to hit the ball with enough power and precision and still be able to maintain your balance.
On top of that, the combination of the net and multi-layer Kurim provides you with good breathability.
This is huge for players because it would allow the moisture and sweat to exist the shoe easily and quickly and allow fresh air to come inside. This helps to keep your feet fresh and allow you to play for long and intense matches.
And lastly, the shoe does not require any break-in period which is a big plus for most players. This means once you wear the shoe you are ready to go.
Toe Box and Heel Area
When you take a closer look at the toe box, you would notice that the outsole material has covered it. This is similar to the Yonex Sonicage 2.
The toe area is not going to be the best durable shoe on the market so it's good to take some precaution when playing on the court especially if you are toe-dragger.
With that said you are not going to experience lots of extra room in the toe area which is good news for some players. The heel area is nicely made and it's going to keep your heel in perfect position as you move around the court.
Midsole
The midsole of the shoe has got a lot of things going on so I would break it down and make your life easier.
First and foremost, the midsole has a moulded EVA which is going to provide you with a nice cushioning while at the same time the shank would provide you with stability.
Also, it has an internal Punto Flex which adds flexibility while SYN-PULSE technology provides cushioning, rebound and comfort to reduce court shock and keep you moving as quickly as possible. 
Insole
One of the things that makes this shoe unique is the insole. It comes with two Ortholite insoles which have different thickness.
One has 5.5mm for more comfort underfoot and the other one has 4.0mm for a slimmer fit. This is great from Lotto because you have an option to choose which insole suits your feet and your game style.
Lacing System and Tongue
The lacing system is very fascinating. Firstly, it has two extra lacing holes on each side of the shoe to give you the opportunity to tighten your laces for secure fit and stability if you need to.
Secondly, the round rubber lacing holes are connected to the shoe to make it easier and faster to lace. Furthermore, there are two leather holes connected to the tongue to keep the tongue stable and provide you with more grip. In terms of the tongue, it's going to provide you with comfort and keep your mid-foot stable.
Outsole
Next up is the outsole. It has an innovative and geometric outsole design which is going to give you excellent traction on all court surfaces. However, the traction would be more on the grippy side.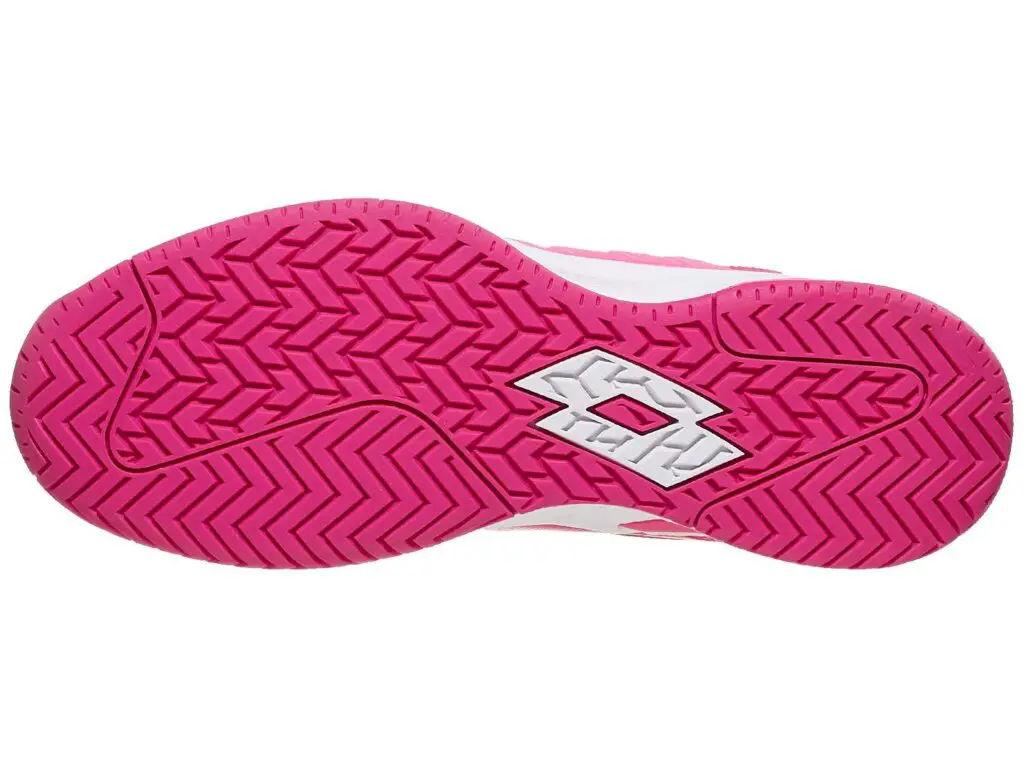 In terms of durability, it is not the best on the market when you compare it with other shoes such as the Asics Gel Resolution 7.
Colour Options
Currently, at this point in time, there aren't a lot of colour options for players.
This is not good for players because they cannot select their favourite colour that can match their tennis outfit.
Weight and Size
Coming at a weight of 12.6 ounces with a size of 10.5. This shoe is definitely on the lightweight category and it's going to improve your speed on the court. In terms of size, surprisingly this shoe can fit most players feet from narrow, to medium and wide.
Price
The last point to talk about is the price of the shoe. It comes just above the $100 price point which can be a bit expensive for some players. However, if you think about it the shoe comes with amazing features such as lightweight, support and stability.
However, if you think that this shoe is still expensive then I suggest you check out these posts that show you shoes that are below $100 and even under $55. You would find them very useful.
Final Thoughts!!
As this post comes to its conclusion about the Lotto Mirage 100 SPD, I hope you have found it very useful and knowledgeable. 
As you can see from the post, Lotto did a great job by collaborating with professional tennis players and making a shoe that provides good traction, lightweight, support, and stability.
However, the downside to the shoe is how it currently lacks colour options which can be a bit annoying for some players. With that said it still has good features like breathability and lacing system. I would end by saying if you manage to pick this shoe up, I wish you a lot of success in your future matches.