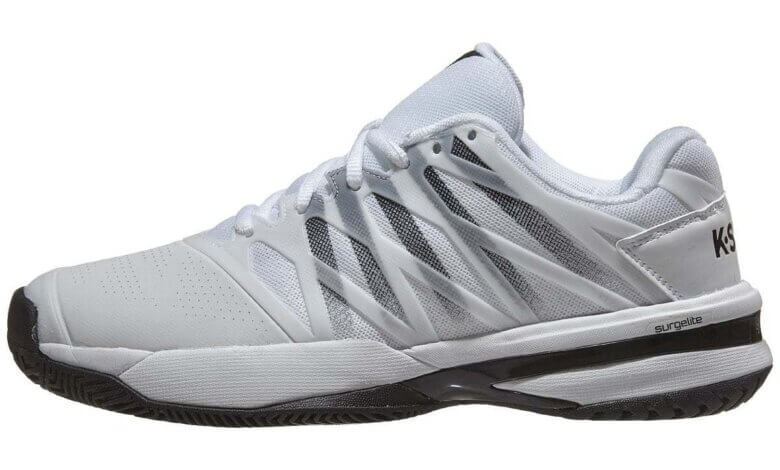 We're an affiliate
We hope you love the products we recommend! Just so you know, we may collect a share of sales or other compensation from the links on this page. Thank you if you use our links, we really appreciate it!
K-Swiss has developed a reputation for making comfortable tennis shoes. No matter what tennis shoe you pick from K-Swiss it's going to be comfortable. If you are a player and comfort is at the top of your list when it comes to tennis shoes then K-Swiss is the company to go to.
Over the years K-Swiss has made countless tennis shoes for all types of players. The downside to this is that it can be very tricky and hard to find which ones are the best. In this post, I'm going to make your life easy by showing you 5 all-time best tennis shoes that K-Swiss has made over the decades.
Each shoe I have listed below would be a thorough view of the different parts of the shoe. If you are ready like me, I suggest you make yourself comfortable because you are in for a nice ride.
K-Swiss Ultrashot 2
Upper
The new updated K-Swiss Ultrashot 2 is loved by players and fans with the awesome features it has. The upper of the shoe is made of synthetic material. This material is going to make your feet comfortable during the match however, it lacks ventilation.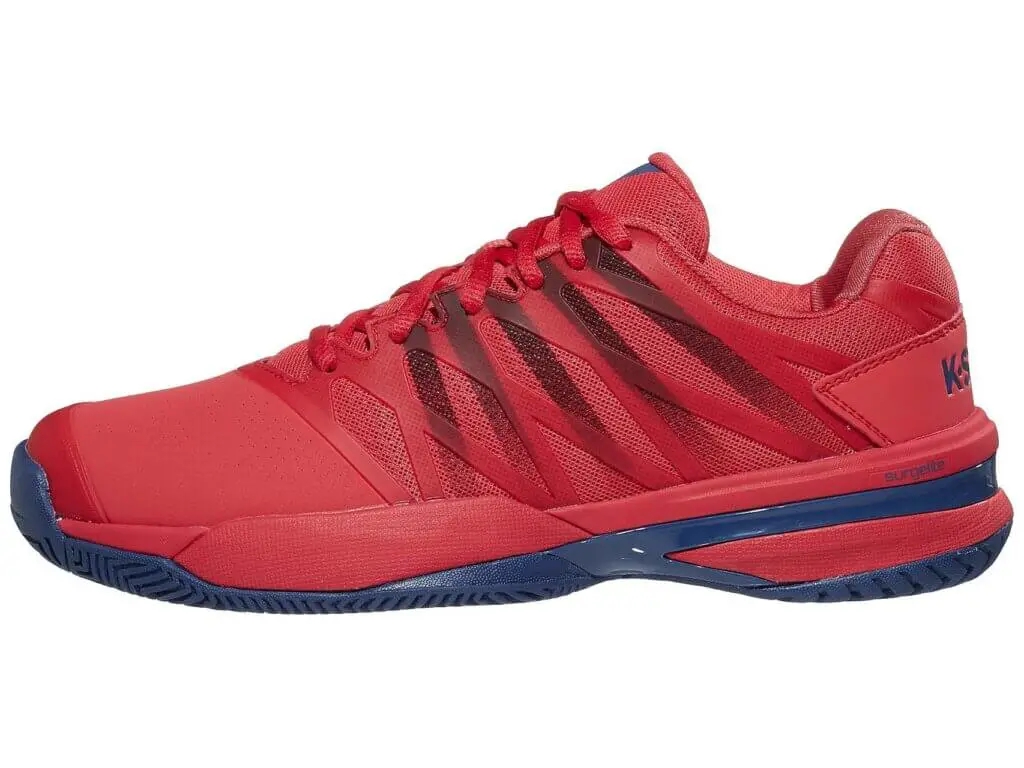 If you are a player who tends to play long and intense matches then this may not be a great shoe. With that said it's still better compared to the old version.
Tongue
One of the key areas that were improved from the old version was the tongue.
It comes with a padded tongue which is going to provide you with comfort and nice cushioning as you move around the court.
Outsole
The outsole is made of tough Aosta rubber compound. This material makes the sole durable and can cope with long and intense matches without seeing any wore on it. On top of that, it comes with a six-months guarantee which is awesome.
In addition, the outsole is going to provide you with excellent traction. This is great when you are sliding on hardcourt and moving quickly.
Weight
With a weight of 15.3 ounces at size 10.5. It may not be the best lightweight on the market, however, it does a great job at helping you to move quickly on the court. And at the same time providing you with good stability. If you like this shoe make sure to read the full review.
K-Swiss Hyper Court Express 2
Upper
Are you are a player looking for a tennis shoe that is comfortable and stable? If you are then you want to check out the K-Swiss Hyper Court Express 2.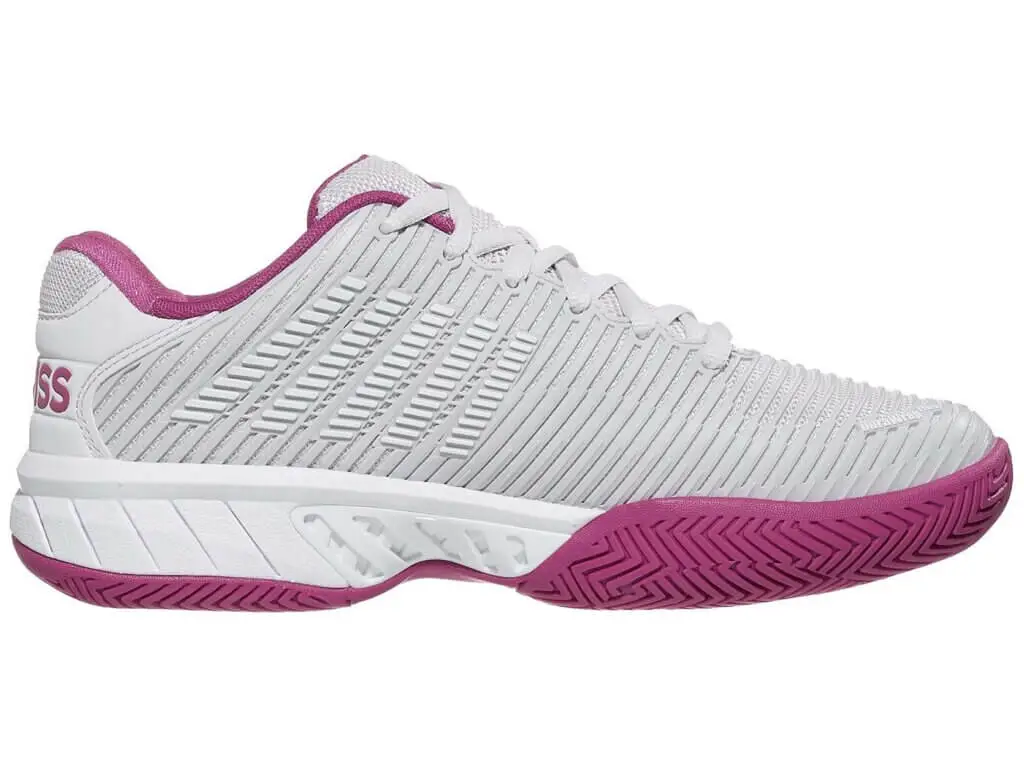 The redesigned of the upper is going to provide you with nice comfort and cushioning as you move around the court. And the great thing is your shoe gets more and more comfortable as the match progresses.
Weight
Another key strength of this shoe is the weight. K-Swiss did a fantastic job by distributing the weight throughout the shoes.
This is a smart strategy from K-Swiss because it makes your feet feel light and fast on the court. If you are looking for a lightweight K-Swiss tennis shoe then this is the perfect one. You wouldn't be disappointed.
Outsole
The outsole is made of Kunststoff. To be honest this is not the best durable outsole or the worst either. It's pretty average like most people would call it.
Despite the low-average durable outsole, it comes with excellent grippy traction. This is great at providing you with good stability on the court.
Fit
In terms of fit, this shoe is more suitable for players with medium to a wider foot. If you have a narrow foot you may have to wear two socks to get the perfect lock-in. If you like the features of this shoe then make sure to read the full review.
K-Swiss Aero Knit
Design and Lacing System
This is one of the sleek-looking tennis shoes you would get from K-Swiss. With the laces hidden underneath the upper and the chosen colour scheme, this makes the shoe look like streets shoes.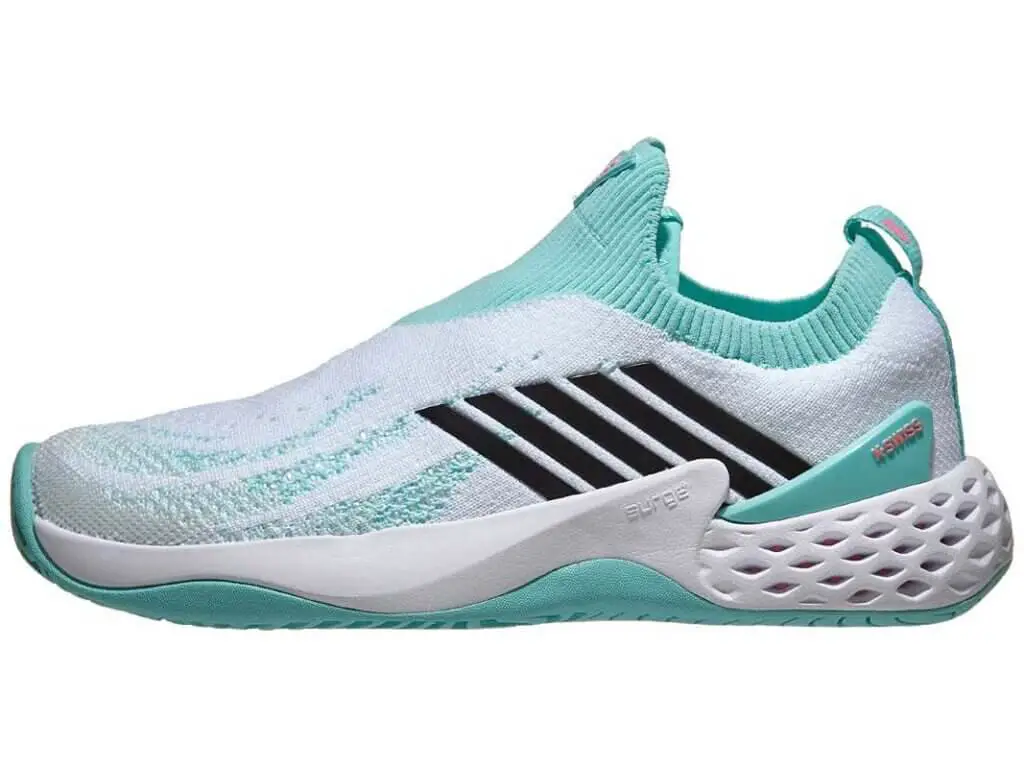 Speaking more about the lacing system, this Infi-Knit casing with K-Swiss' seamfree upper construction protects the upper of the shoe along with the toe and forefoot.
With the way the lacing system is structure, this could make it very difficult to lace and put your feet through the shoe.
Midsole
Now let's take a closer look at the midsole. It's made of both surge and midsole technology to provide you with excellent lightweight cushioning. On top of that, the new technology provides a strong energy return for you to anticipate your opponent's next move.
Outsole
The outsole is made of sticky rubber. This is going to provide you with good traction even when you make an aggressive move. However, the downside to this outsole is how it lacks durability. It would be great to see in the future that K-Swiss improve this area of the shoe.
Weight and Comfort
With a weight of 11.1 ounces at a size of 8.5. This shoe is by far the lightest tennis shoes K-Swiss has produced up to date. It's going to improve your speed on the court.
And lastly is comfort. This shoe is extremely comfortable to wear. You are going to enjoy wearing it and it helps to keep your feet cool throughout the match.
K-Swiss Aero Court
Upper
The K-Swiss Aero Court is similar to the Aero Knit but they are very different. One of the major difference is the upper. The upper of the Aero Court is made of a combination of synthetic and mesh material.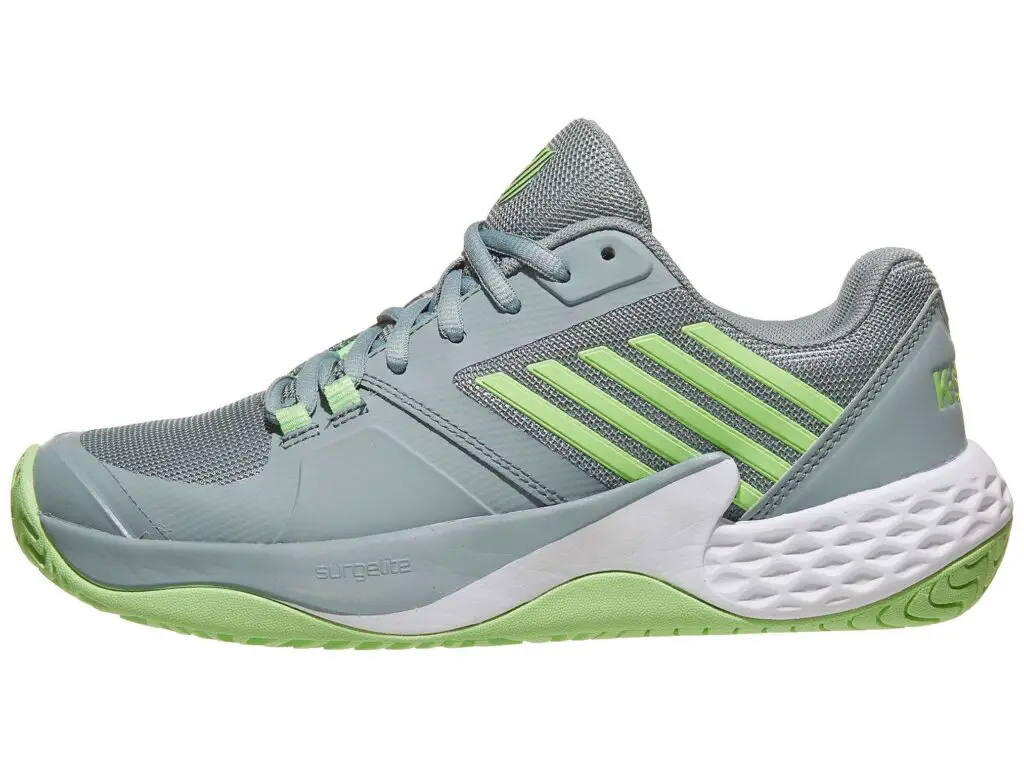 This is a great combination from K-Swiss because the shoe is going to provide you with excellent breathability. This is great for players who like to play outdoors in hot conditions and long matches.
Outsole
The outsole has a modified herringbone which is going to provide you with good traction on the clay court surfaces. On top of that, K-Swiss used their usual austere rubber to provide you with durability and traction on the court.
Midsole
The midsole is well constructed to provide you with a serge light cushioning. This is perfect when you put on the shoe because it's well-cushioned from the get-go. However, it does require a minimal break-in period. Apart from that, the midsole is nicely built.
Size and Lacing System
In terms of size, the shape of the shoe makes it ideal for all foot size. This is great because K-Swiss tennis shoes are either wide or narrow.
And lastly is the lacing system. The lacing system is easy to lace when you compare it with other tennis shoes such as Adidas Adizero Ubersonic 2, which can be tricky.
K-Swiss Bigshot Light 3
Upper
The last all-time best tennis shoe for K-Swiss is the Bigshot light 3. This shoe is built upon support and stability for all-rounded players. The upper is made of lightweight synthetic upper which is going to provide you with good breathability on the court.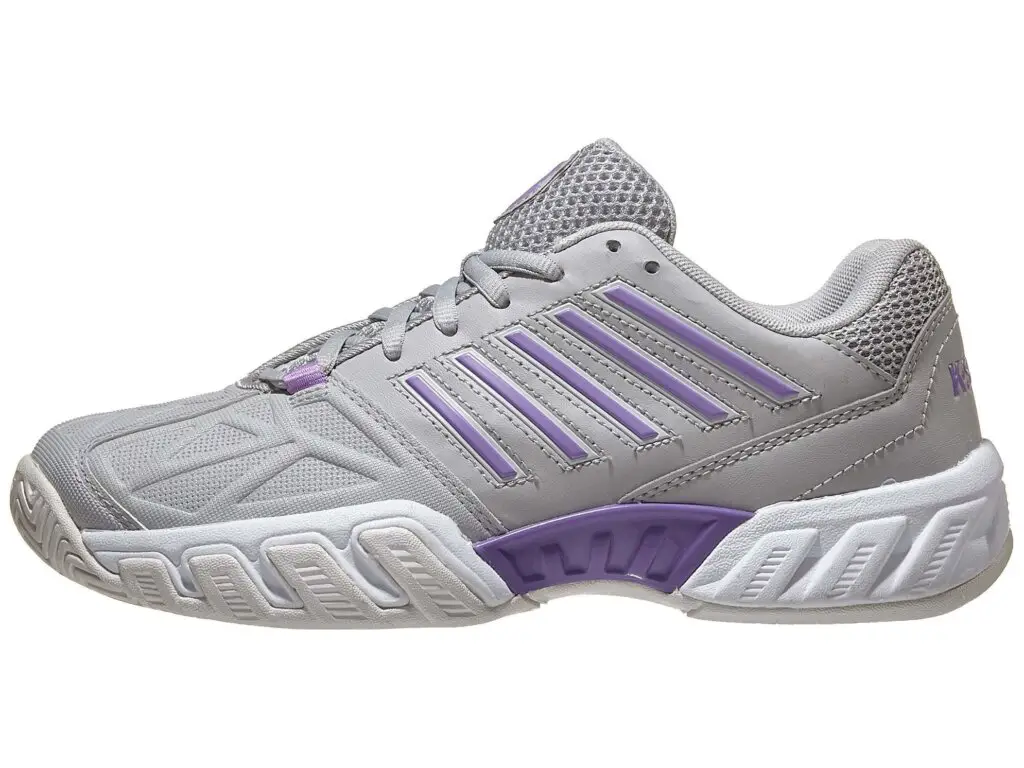 Furthermore, this synthetic upper adds support and protection for even the most aggressive movers. If you are an aggressive player you would surely enjoy playing in this shoe.
Outsole
The outsole is made of rubber. This is going to provide you with decent durability and excellent traction on all court surfaces. The awesome traction would also provide you with enough grip to move aggressively when playing rallies.
Weight
This shoe appears bulky which does not make it lightweight or fast to play on any of the court surfaces. However, it's still a decent weight to use on the court and it's going to give you the stability you need.
Colour Options
Lastly, this shoe comes in varieties of colours. So it's worth looking through the colour options and see which ones you prefer and suit your tennis custom.
Final Thoughts!!
In conclusion, I hope you have found the 5 All-Time Best K-Swiss Tennis Shoes For Both Men and Women useful and knowledgeable. As I said earlier, K-Swiss is known for its amazing comfortable tennis shoes and some of them are durable and stable.
However, there are a few criticisms of K-Swiss tennis shoes such as fit. If they can produce shoes that can fit players of all sizes then they would be part of the big players such as Nike and Adidas.
Overall K-Swiss is such an amazing company at making excellent shoes for players. If you manage to pick up one of these shoes I wish you the very best on your future matches.