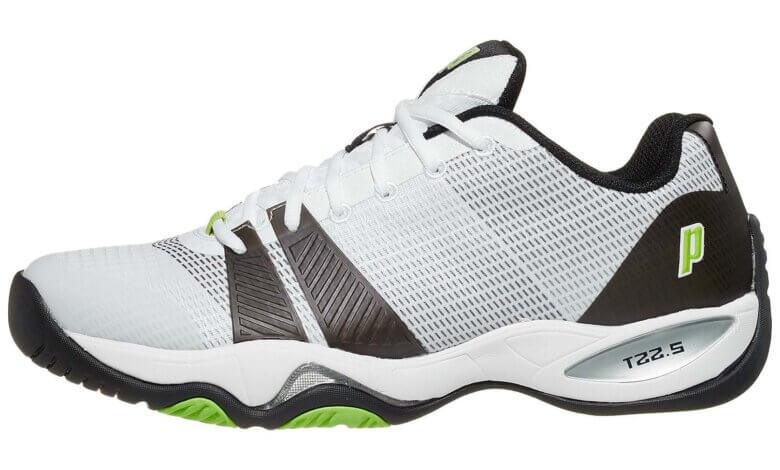 We're an affiliate
We hope you love the products we recommend! Just so you know, we may collect a share of sales or other compensation from the links on this page. Thank you if you use our links, we really appreciate it!
Product Overview
Comfort

Durability

Stability

Breathability

Weight

Fit and Size
Summary
Prince has added a new iteration to their line of tennis shoes which is called the Prince T22.5. This shoe is going to provide you with lightweight, durability and stability. 
However, there are some areas that need improvements such as the comfort of the shoe and limited colour options to choose from. With that said, it's still a great shoe to have on the court and it's getting a lot of positive reviews. 
Pros
Very stable
Durable
Supportive
Breathable
More flexibility
Cons
May require some break-in period
Comfort needs improvement
Lack of colour options
The Prince T22 Mid became a hit on the market and was loved by both fans and players. In their new edition, Prince has made some changes to the upper to make it more breathable and lightweight.
However, Prince still maintains a lot of the previous version material to provide you with the same old stability, durability and supportive fit. In this post, I'm going to provide you with an in-depth review of the Prince T22.5 and how it can benefit your game. Let's start off with the design.
Design
Straight out of the box, the design and cosmetic of the shoe look sleek and simple. I really like the men's white/green/black and the women's white/blue blemished. Both look stunning and would hopefully uplift your mood when you wear them onto the court.
Upper
Now let's take a closer look at the upper material. Straight out of the box, you would notice that Prince has made some major changes in the upper from the previous version. The upper is covered with a lot of mesh material which is going to make the shoe lightweight and supportive.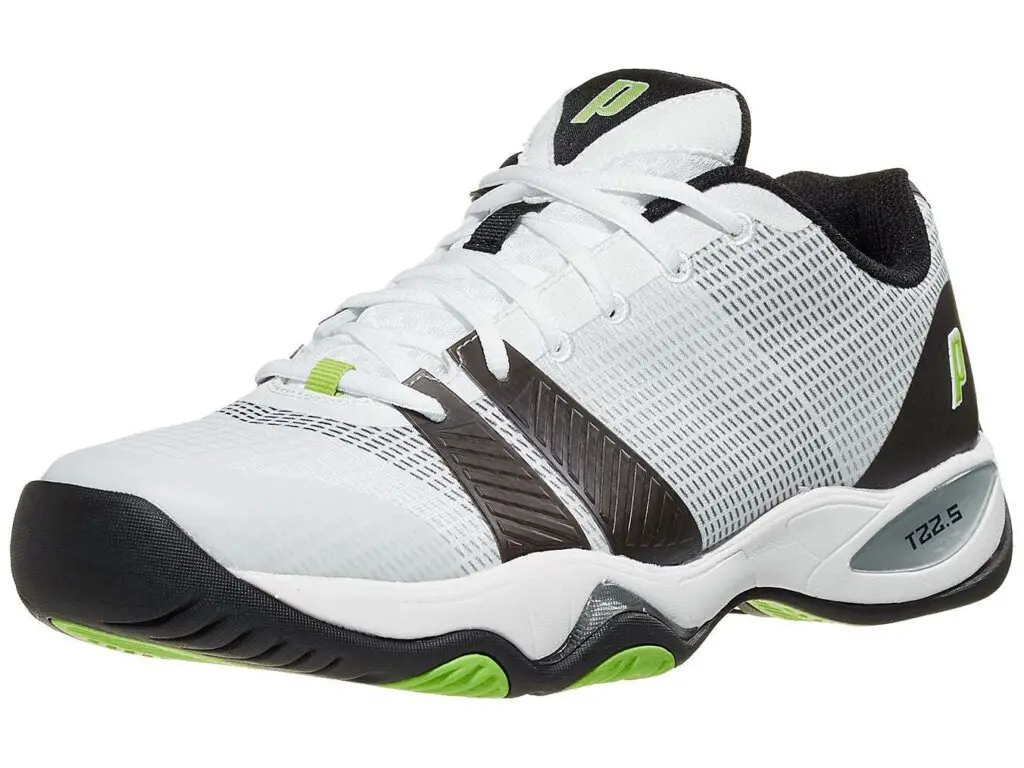 Next, it's going to be a little more flexible than the last version. This would allow you to move around the court with ease and slide without experiencing any of the rigidness.
Lastly, since the upper is made of mesh material it's going to provide you with good breathability. This is awesome because it would allow you to play long hours of matches whiles at the same time keeping your feet fresh.
Toe Box
The materials used on the outsole is also the same as the toe box area. This is going to provide you with good durability and protection. If you are a player that likes to wear your toe box quickly then you would find this shoe useful.
Arch and Ankle Support
The arch area is nicely done to provide you with good stability. This would really help with your movement on the court. The heel and ankle area may not be the tallest height compared to other shoes such as the Diadora Speed Blushield 5 AG. But it still does a good job at holding your ankle and feet in perfect position for stability. 
Lacing System and Tongue
There is nothing peculiar about the lacing system like the Adidas Stycon which is the first laceless tennis shoe to be made. The lacing holes are made of leather and woven into the upper to make it last longer than normal.
Also, it makes it easy to lace through the holes quickly. Furthermore, it comes with an extra lacing hole for more grip and stability. The tongue is well padded to provide you with nice cushioning and comfort.
Insole and Midsole
There is nothing special about the insole. It's fairly basic and would provide you with decent comfort when you wear it. Next up is the midsole. It is made of EVA material with a ShockEraser heel which does a very good job at absorbing shock.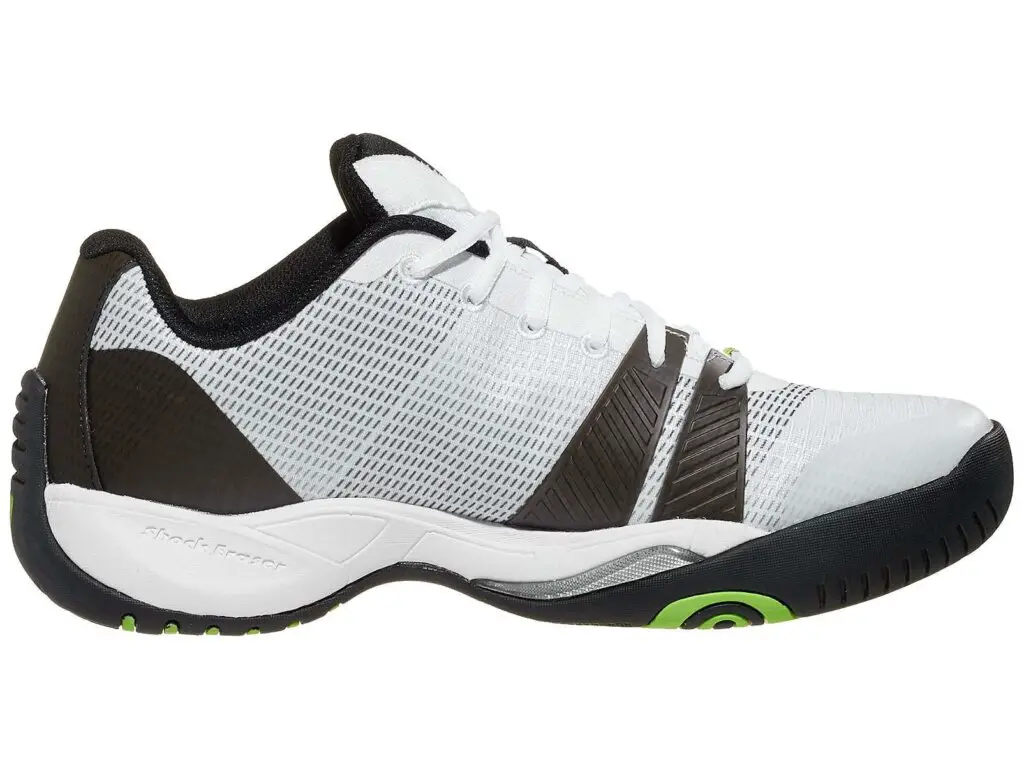 In addition, the foot area is made of SoftSpring PU plastic that helps to disperse the shock in the impact, whiles increasing comfort and cushioning.
This is great at preventing you from getting any serious injuries when you jump and land on the court unforgiving.
Weight
The Prince T22.5 comes at a weight of 15.3 ounces with size 10.5. I would say it's more lightweight than the previous version. This is great because it can give you an advantage in the game by allowing you to move fast on the court. This helps you to maintain your pace and speed in the match.
Fit
In terms of fit, this shoe may require some break-in period. It could take a few minutes to a couple of hours to break in and get your feet comfortable. It's important to be a little patient during this period because it can feel very uncomfortable and you may even struggle to play your style of tennis.
I would say the shoe is more suitable for players who have a medium to wide foot. If you have any of these foot types then you don't have to go either up or down a half size because it's true to length. On the other hand, if you are a player with a narrow foot don't get discouraged because you can find the perfect shoe size by reading this in-depth review of the best tennis shoes for narrow feet.
Outsole
Now let's take a closer look at the outsole. Firstly, it is made of PRC 1000 durable outsole compound. This unique material is going to provide you with good durability.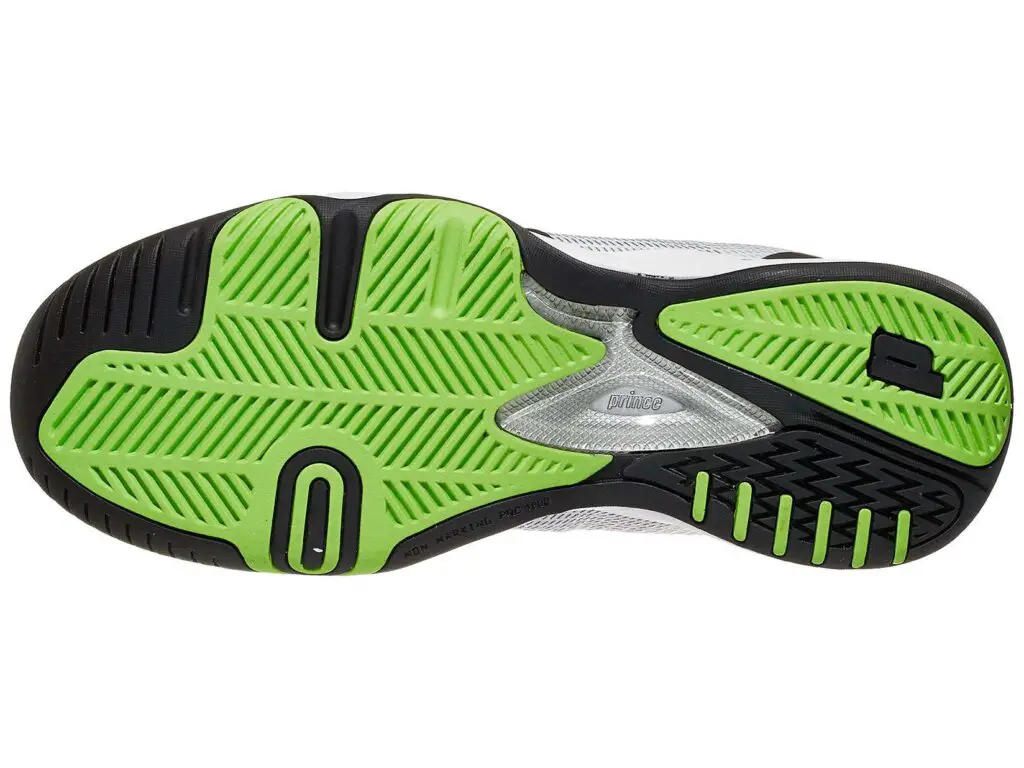 If you are a player that is very hard and aggressive on their outsole then you would benefit a lot from the outsole material.
And secondly, the outsole is made of the popular herringbone tread pattern. This material does a great job at providing you with excellent traction on all court surfaces.
In addition, the herringbone tread pattern would allow you to move and slide on the court with ease without losing balance.
Colour Options
Unlike the Fila Axilus 2 Energized which comes with different colour options to choose from. This is not the case for Prince T22.5. Some players may be disappointed not to have many colour options to select from that can suit their tennis outfit. Let's hope Prince release many different colours in their next iteration.
Price
The last point to talk about is the price of the shoe. The Prince T22.5 comes around the $100 mark. This is a fair price point for a shoe that provides you with a good fit, flexibility and stability. If you are the type of player that is looking for these features in a tennis shoe then the price of the shoe is a deal compared to other expensive shoes such as the Lacoste AG-LT 21 Ultra.
Conclusion
In conclusion, I hope you have found this in-depth review about Prince T22.5 very useful and helpful. As you can see Prince has made some changes to the shoe to make it even better than the previous version. Overall it's going to provide you with a lightweight, stable, supportive fit and many more.
However, there are some areas of the shoe that needs some improvement such as comfort and comes with limited colours to choose from. Apart from some of these weaknesses from the shoe, it's still a fantastic shoe to have on the court.
People are already loving this shoe on the market as you can tell by the overwhelming positives that are coming from the reviews. I hope you like this shoe and helps you to play better on the court. I wish you the very better on your next match.