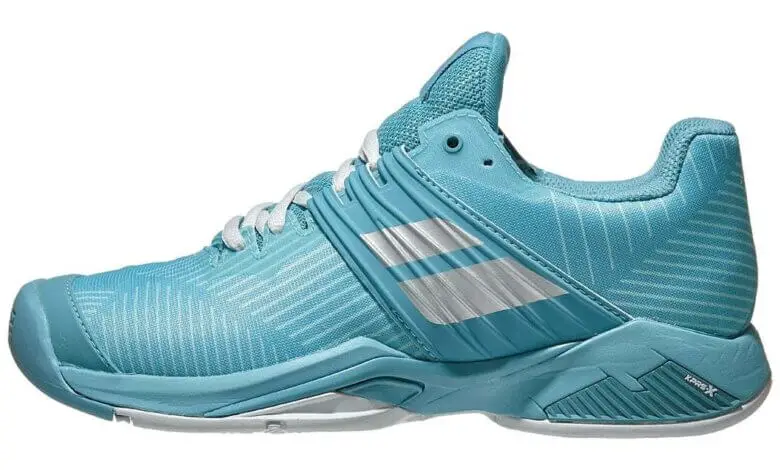 We're an affiliate
We hope you love the products we recommend! Just so you know, we may collect a share of sales or other compensation from the links on this page. Thank you if you use our links, we really appreciate it!
Product Overview
Comfort

Durability

Stability

Breathability

Weight

Fit and Size
Summary
If you are looking for a good tennis shoe that is stable, durable and comfortable with a decent price range then this is the shoe to go for.
However, some of the drawbacks that come with this shoe are how it lacks some cushioning in the forefoot area and would be nice to see improvement in the design. With that said, it's a great tennis shoe to have with good product overview.
Pros
Good stability
Durability
Lightweight
Good breathability
Cons
Needs improvement in the design
Lack of cushioning in the forefoot area
There is a new Babolat tennis shoe on the market and its called the Babolat Propulse Fury. As we learnt from the 5 all-time best Babolat tennis shoes, Babolat is known for making comfortable, stable and durable shoes.
The burning question that everyone wants to know is how good is this tennis shoe? This post is an in-depth review of this shoe and whether it's worth buying it.
If you are ready for this review I suggest you relax because you are in for a long interesting ride. Let's start with the design.
Design
To be honest, when I look at this Babolat Propulse I get mix feelings about their design. Some of the colour options for the shoe looks spectacular whiles others look dull. For examples, the white and blue colour looks great whiles the black and pink look unattractive.
With that said I feel that Babolat is doing a great job at improving their overall design. Because when you compare their design with other tennis shoe companies such as Nike and Adidas they are far behind.
Upper
The upper of the shoe is made of mesh material. It's going to provide you with good breathability.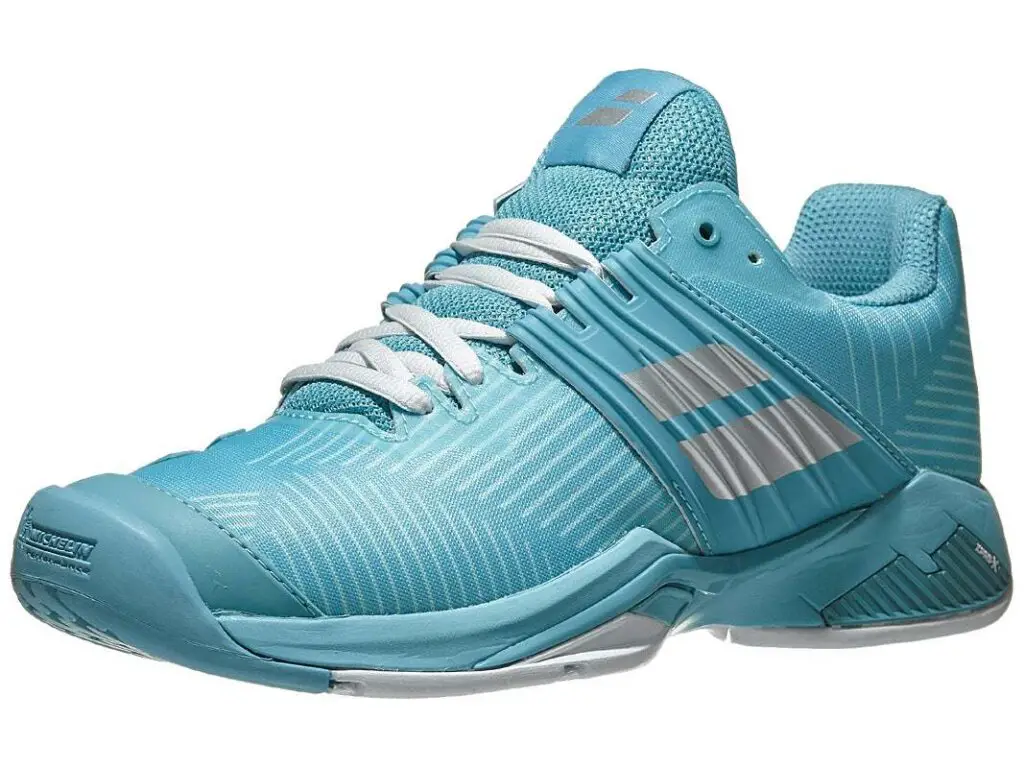 This is great because if you play long matches you are assured that your feet are going to stay comfortable and cool throughout.
In addition, the upper has nice padding which is going to make your feet feel a little comfortable.
It also helps to lock your feet in perfect position when you are moving around the court.
Lacing Structure
In terms of the lacing structure, its very simple to lace compared to other complicated lacing structure such as Adidas SoleCourt and Adidas Adizero Ubersonic 2.
The laces are fairly easy to tighten and loosen for a perfect fit. Whiles the tongue will lie flat on the foot ensuring that the laces don't loosen up and district your game. Lastly, it has an extra hole for a secure fit.
Midsole and Insole
The midsole is made of compressive EVA technology. This technology used by Babolat is going to provide you with excellent cushioning and stability on the court. However, the downside of the midsole is that it may require some break-in period.
Next is the insole. This insole is well padded which is going to provide you with nice comfort. Also, it would keep your feet locked in perfectly.
Outsole
Now let's take a closer look at the outsole. Without a doubt, this shoe is one of the best durable outsoles on the market. It's made of Michelin rubber outsole which is going to provide you with enough grip and slide on the court.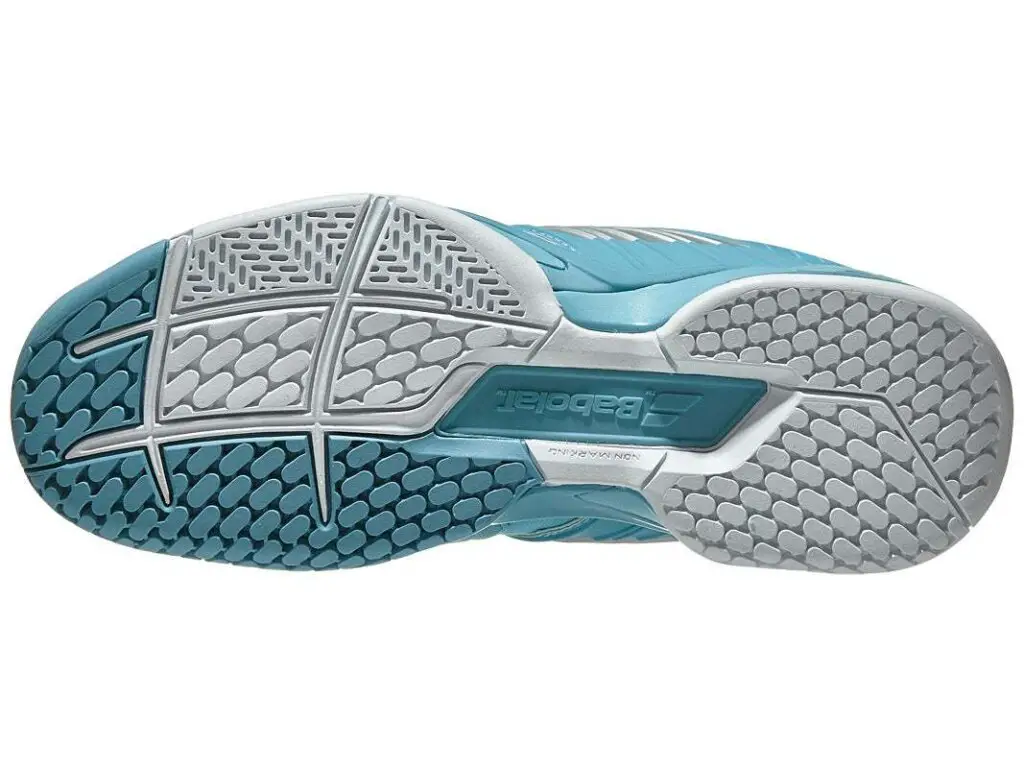 In addition, the rubber outsole gives you the opportunity to slide into or out of shots on aggressive pivots. 
This is very useful when you are going to be playing on either hard or clay courts.
However, the caveat to this outsole is it may not be the best movement tennis shoe. Overall, it's still an excellent outsole to have if you play long and intense matches regularly.
And the crazy thing is it comes with six-month durability which is awesome. So have no fears when you are racking up a lot of hours on the court.
Forefoot Area and Tongue
One of the criticisms of this tennis shoe is the forefoot area. The forefoot area lacks a bit of cushioning and requires a slight break-in period.
The forefoot area may not be the best on the market but it comes with a great tongue. The tongue is well padded which is going to keep your feet lock-in as you play rallies and move up and down the court.
Weight and Size
The shoe weighs 15.4 ounces with a size of 10.5. When you put the shoe on it would feel lightweight. This is great because it would increase your speed on the court.
On top of that, it provides you with a solid and stable feel as you play on the court. In terms of the size, this shoe comes in varieties of different sizes which makes it perfect for all kinds of players.
Fit
This shoe may require a slight break-in period. This is great because after a few hours your feet would adjust to it. I would say the shoe can fit a narrow, medium and wide foot.
Colour Option
This shoe comes with a variety of colours to choose from. This is fantastic to have as a player because you get to select which colour suits your tennis outfit.
Pricing
The pricing of this shoe is not that bad when you compared it with expensive tennis shoes such as Nike Air Zoom Vapor X Knit. With the Babolat Propulse Fury, it comes with excellent durability, stability and traction on the court at a decent price.
If you are someone who thinks this shoe is still expensive and you want a cheaper one. Then you want to check out my two posts about tennis shoes under $60 and $100. You may find them very useful.
Final Thoughts!!
As this post about the Babolat Propulse Fury comes to its conclusion I hope you found it very useful and knowledgeable.
This shoe does very well in many areas compared to some of the Babolat previous tennis shoes. It has amazing features such as the outsole, midsole and lacing structure. However, the area that is lacking is the forefoot area and a little improvement in the design.
Also, Babolat did a create job with the weight and size of the shoe. It provides an opportunity for all players with different foot sizes.
If you are looking for a good tennis shoe that is stable, durable and comfortable with a decent price range then this is the shoe to go for. If you manage to pick this shoe up then I wish you a lot of success in your future matches.