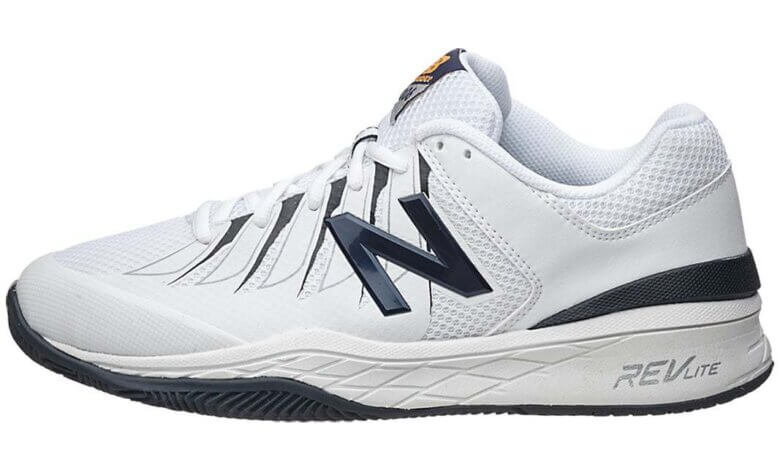 We're an affiliate
We hope you love the products we recommend! Just so you know, we may collect a share of sales or other compensation from the links on this page. Thank you if you use our links, we really appreciate it!
Product Overview
Comfort

Durability

Stability

Breathability

Weight

Fit and Size
Summary
Are you are player looking for comfort and cushioning? If the answer is YES then you need not look any further. The core of New Balance 1006 is purposely built to offer you these features. Not only that but it's going to offer you speed due to the lightweight of the shoe. 
However, there are some areas that need improvements such as the stability and lack of durability. It would be great to see New Balance improve on these features in their next edition. All in all, it's a fabulous shoe that is great for traditional club players. 
Pros
Excellent comfort and cushioning
Lightweight
Good traction
Very breathable
Nice looking shoe
Cons
Lack of durability
Limited colour options to choose from
Stability needs improvement
New Balance may not be popular as the big brands such as Nike and Adidas. However, some of their tennis shoes are excellent and high-performing. They can allow you to play well and even take your game to the next level. The New Balance 1006 is an improved version of the previous one.
This shoe is getting a lot of attention on the market with a lot of positive reviews. So the question that everyone wants to know is why is this shoe doing so well? Let's found out in this thorough in-depth review starting with the design.
Design
Right out of the box, the shoe is nice looking and sleek. It's a great shoe to wear on the court to boost your confidence. If you were to ask me what is my favourite colour for this shoe, I would say both the men's and women's white/navy are spot on. Overall, New Balance did their homework very well when it comes to design.
Upper
Now let's talk about the upper and the materials used. It's made of synthetic with lots of mesh materials. This is going to provide you with good breathability and nice comfort. This is fantastic because your feet are not going to get overheat and it's going to stay fresh throughout the match.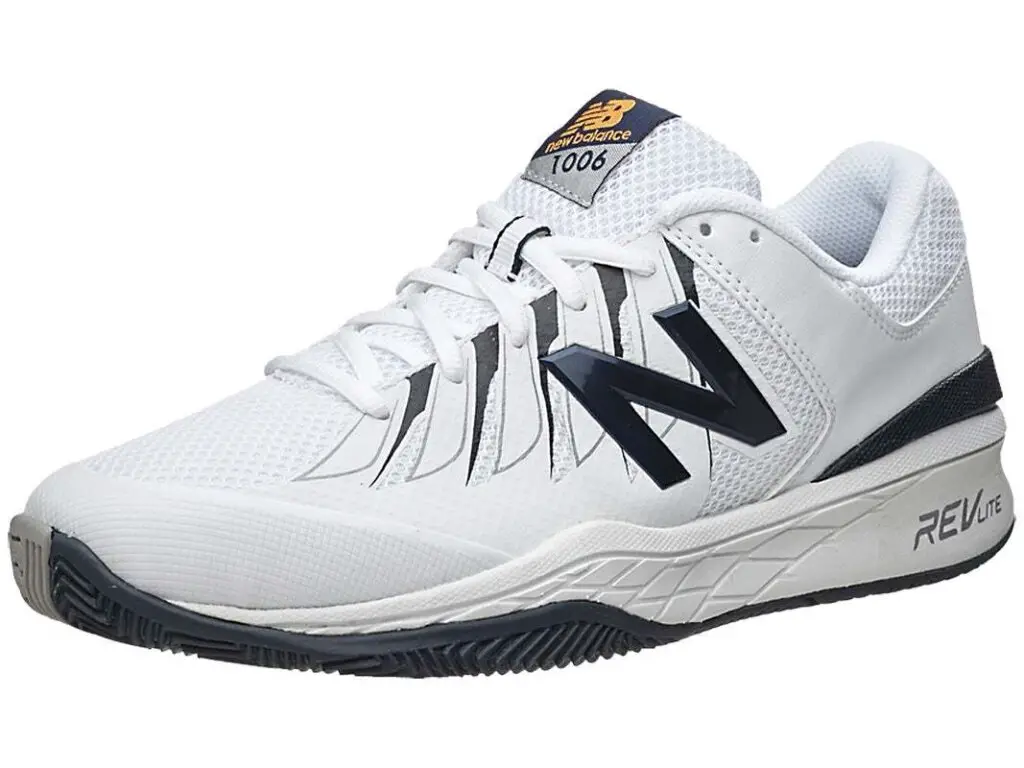 Also, the upper material is not going to be the most durable shoe on the market. If you like to slide a lot or an aggressive mover then you want to be a little cautious when playing in these.
Toe Box
The toe area can get a little uncomfortable and stiff when you wear it for the first time. However, once the shoe loosens up and it breaks in, your toes would be fine.
Also, the toe box is going to provide you with good protection however, they may wear out quickly if you tend to drag your toes a lot.
If you are a player that tends to wear their toe box quickly then you want to check out this in-depth post of shoes that are good at dealing with toe dragging.
Heel Counter and Ankle Support
Both the heel counter and ankle support are very plush which is going to provide you with a lot of cushioning and comfort around your ankles and heels. However, both the heel counter and ankle support are not strong and thick enough.
Therefore, if you are suffering from a chronic ankle sprain I wouldn't recommend this tennis shoe. Instead, you want to try other shoes that have higher tops and wider lateral flanges such as the Nike Tech Challenge 20.
Tongue and Lacing System
There is nothing unusual with the tongue and lacing system compared to the Wilson Kaos Mirage which comes with a one-strap lacing system. However, this approach saves you time from tieing your laces all the time.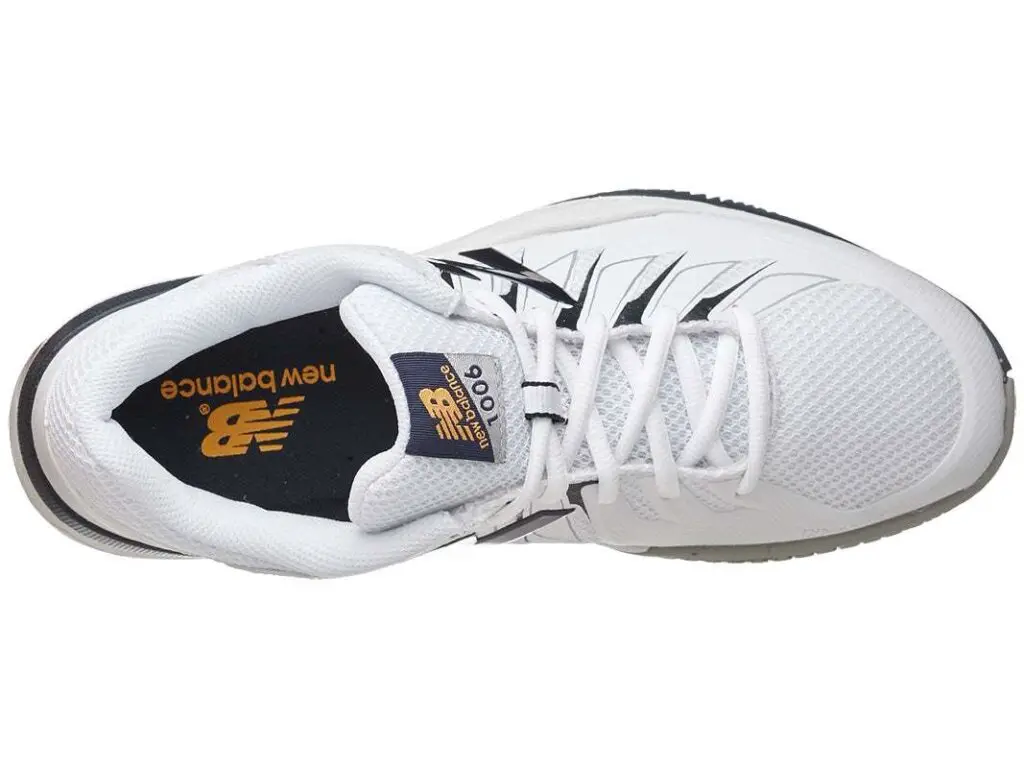 The tongue is well padded which is going to provide you with nice cushioning and comfort. This helps your forefoot to stay comfortable throughout the match and put less pressure on it.
Also, the tongue has a leather hole attached to it so that you can lace through. This helps to keep the tongue stable and stops it from distracting you over the course of the match.
The lacing system has got extra lacing holes for more grip and support. Some of you may need it due to the lack of stability and support this shoe offers.
The only criticism I have for the lacing system is that it's not made of metal eyelets. This makes the lacing holes less durable.
Weight
Another feature that you may enjoy about the shoe is the weight. It comes with a weight of 14.8 ounces with a size of 10.5. It may not be the lightest shoe on the market, however, it's light enough to increase your speed on the court. This would help you to compete in today's game that requires a lot of speed.
Insole and Midsole
The New Balance 1006 comes with a removable insole which allows you to replace the insole with your preferred insole. Also, the insole is going to provide you with excellent cushioning and comfort. This makes it enjoyable and fun to play inside of the shoe.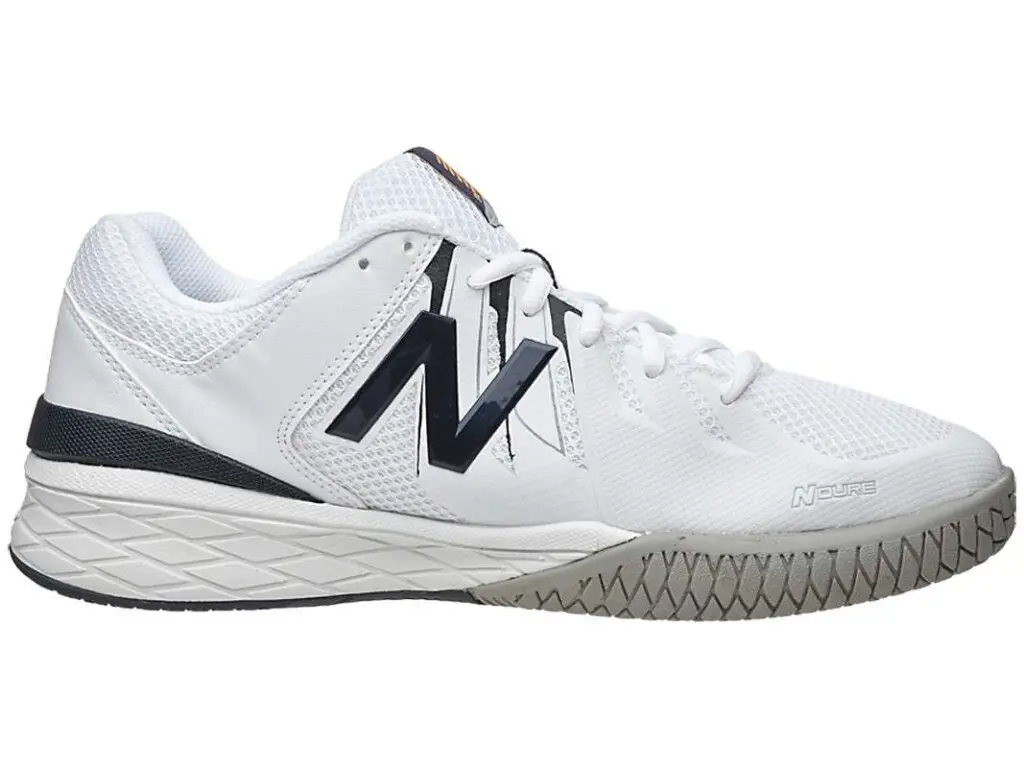 The midsole on the other hand is made of REVlite EVA. The purpose of this is to offer you excellent plush cushioning and comfort. This allows you to play better and move with ease on the court.
However, it's not going to provide you with the best support and stability when playing in these shoes. As a result, when playing in this shoe try to be more cautious about it.
If you are a player that support and stability are your two most important features when choosing a tennis shoe then I highly recommend that you check out Adidas Stella Court.
Fit
The fit of the shoe is more suitable for players who have narrow to medium feet. If you are a player who has a wide foot you shouldn't get discouraged because you can read this full in-depth review post and find the perfect shoe that suits your size. You would definitely find it very useful.
In terms of the length of the shoe, this shoe is generous. This is great because you don't have to go either a half size up or down. Also, the shoe may require some break-in period for your feet to get used to it. This may take one to five hours so be a little patience with yourself when you wear it for the first time.
Although, the good thing with this shoe is you are going to get a lot of comforts and cushioning right out of the box so you may not notice the break-in period.
Outsole
Next up is the outsole. It is made of New Balance popular non-marking NDurance rubber. This is going to offer you decent durability when playing in them. If you are a player that is very hard or aggressive on their outsole then I would suggest that you try other shoes such as the Asics Court FF 2.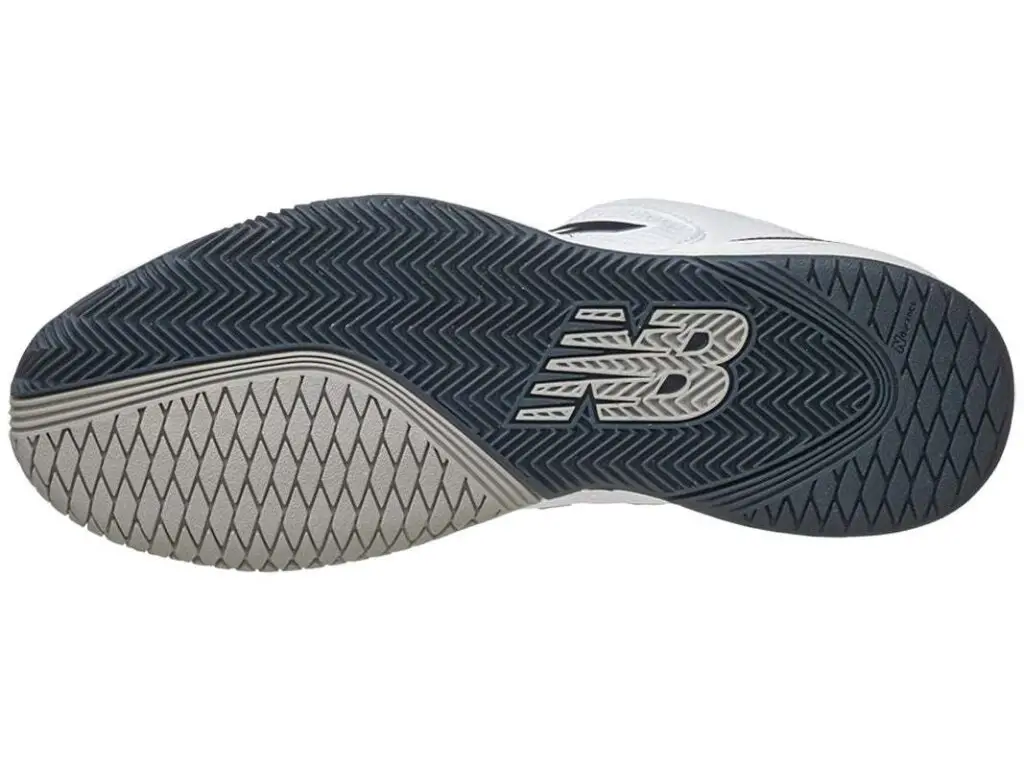 This shoe is going to provide you with excellent durability and also help you to play better.
In addition, the outsole is made of a modified herringbone tread pattern.
I have to say the traction is more on the sticky side which means it's going to give you excellent traction on all court surfaces. This would enable you to move better and with more confidence on all court surfaces.
Colour Options
As nice as this tennis shoe looks, unfortunately, it does not come with many colours to choose from. Currently, it only has four different types of colours which are white, pink, blue and black. I would love to see New Balance release more colour options in their future update. This gives players more options to select which colour suits their outfit.
Price
The last important point to talk about regarding this shoe is the price. It's more than $100 which is on the high end of expensive tennis shoes. Despite how expensive this shoe maybe it still does a good job at offering you some of the best features such as excellent comfort and cushioning.
If you are a player that is on a lower budget and feels that this shoe is very expensive then I would recommend that you check out other shoes such as New Balance 696 V4. This shoe comes under $80 which is a bargain and it comes with many amazing features that can help you perform well on the court.
Summary!!
In summary of the New Balance 1006 Review, this shoe is going to provide you with excellent comfort and plush cushioning. This makes it enjoyable and fun playing in this shoe.
However, this shoe is not going to be the most stable and supportive on the market. Also, the durability of the shoe needs improvement in future updates.
Apart from that, there is so much to love about this shoe such as the design, breathability, good traction, and lightweight. If you manage to purchase this shoe, I wish you the very best of luck in your next match.