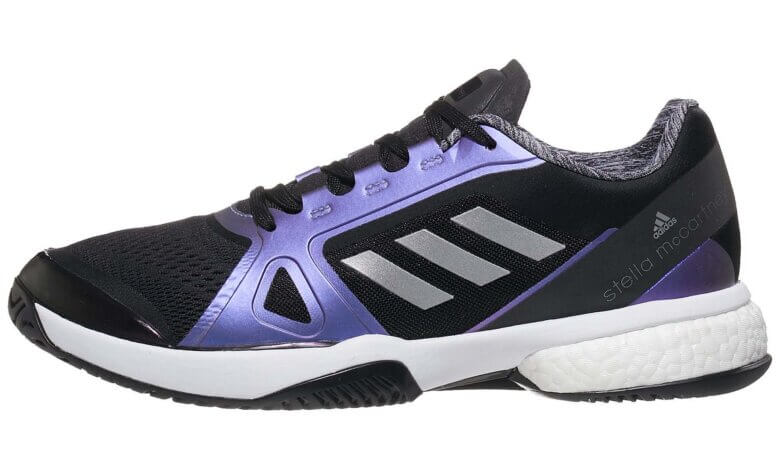 We're an affiliate
We hope you love the products we recommend! Just so you know, we may collect a share of sales or other compensation from the links on this page. Thank you if you use our links, we really appreciate it!
Product Overview
Comfort

Durability

Stability

Breathability

Weight

Fit and Size
Summary
The Adidas Stella Court is a shoe that most players and fans love. It's a shoe that has awesome great features such as excellent comfort, cushioning, and durability. It's truly a shoe that every player can find something positive out of it. 
The only caveat to this shoe is that it lacks colour options to choose from. Apart from that, it's a fantastic shoe that would help you play better and have more fun on the court. 
Pros
Nice looking shoe
Very comfortable and stable
Great cushioning
Good durability and traction
Lightweight
Cons
Lack of colour options
Expensive
If you haven't heard the news already, Adidas has released the popular Adidas Stella Court again on the market. It comes with the same awesome features that made it popular on the market for the first time.
The only major difference is that the name has been changed from Adidas Stella Barricade Boost to Adidas Stella Court. If you liked the previous version then it's worth checking this edition out.
In this post, I'm going to provide you with a thorough in-depth review of the Adidas Stella Court and how it can help you to perform better on the court. Let's start off with the design and cosmetics of the shoe.
Design
Right out of the box, the design and cosmetics of the Stella Court look amazing and sleek. It's done in a simplistic way but very attractive to wear. The sleek-looking design makes it look similar to the New Balance 696 V4 which also looks beautiful. Overall, it's a thumbs-up to Adidas for this nice-looking shoe.
Upper
Now let's talk about the upper material. It is made of two-layer seamless Primeknit and meshes upper. The purpose of these materials is to provide you with excellent fit and comfort. This is great because it would allow your feet to feel more comfortable when playing in them.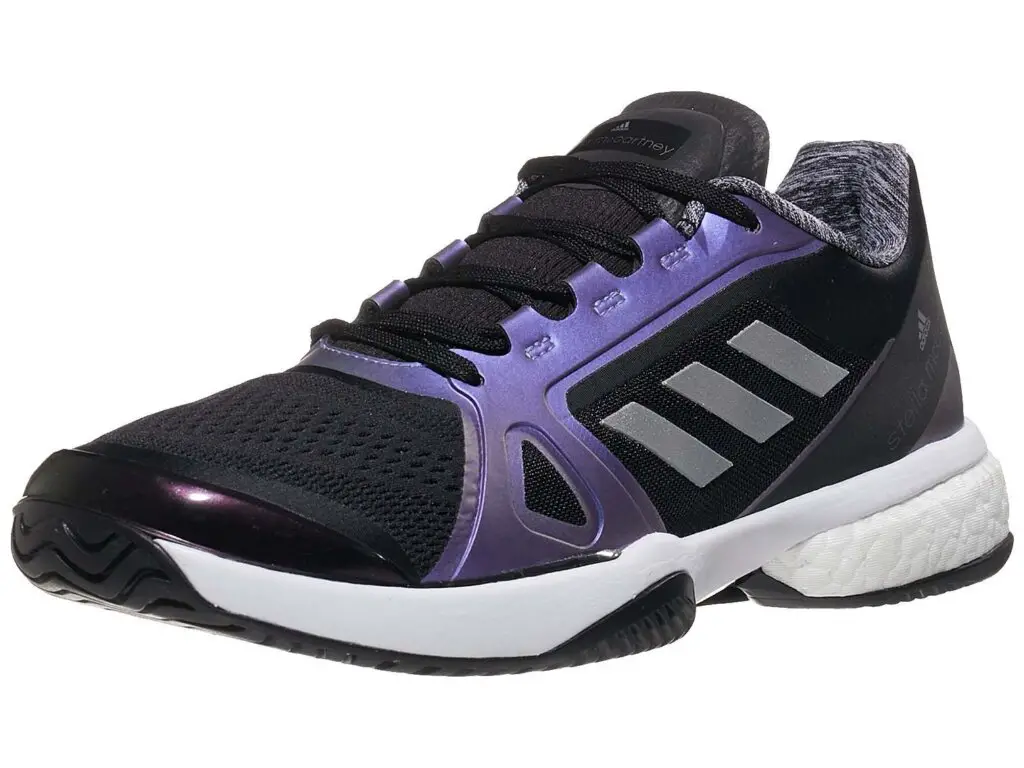 Also, the materials are going to provide you with good breathability.
This is great because moisture can easily leave the shoe whiles allowing fresh air. This is very helpful in helping you to keep your feet fresh and not getting too hot.
Another important feature of the upper material is durability. It has great durability because if you are an aggressive player you wouldn't worry about your shoe wearing out.
Moreover, the upper durability would be able to deal with the tough condition on the court.
Toe Box
There is enough room in the toe box area that makes your toes feel comfortable when you wear them. This is great because it prevents you from straining your toes or getting any toe jamming issues.
In addition, you are going to get good protection from the toe box area. This limits your chances of you getting any serious injuries during the match. And lastly, the toe box has got good durability. If you are a toe dragger you are going to benefit a lot from this toe box because it takes a lot of time before it wears out.
Heel Counter and Ankle Support
The heel counter may not be the longest height I have seen on the market when compared to other shoes but it still does a good job at locking your heels and ankle in perfect position. This enables you to be very stable and comfortable when moving around the court.
The ankle area is well-padded to provide you with comfort and good support. This would make movement on the court more comfortable for you.
Tongue and Lacing System
There is nothing peculiar with the tongue and lacing system compared to the Wilson Kaos Mirage which comes with a one-strap lacing system. However, this approach saves you time from tieing your laces all the time.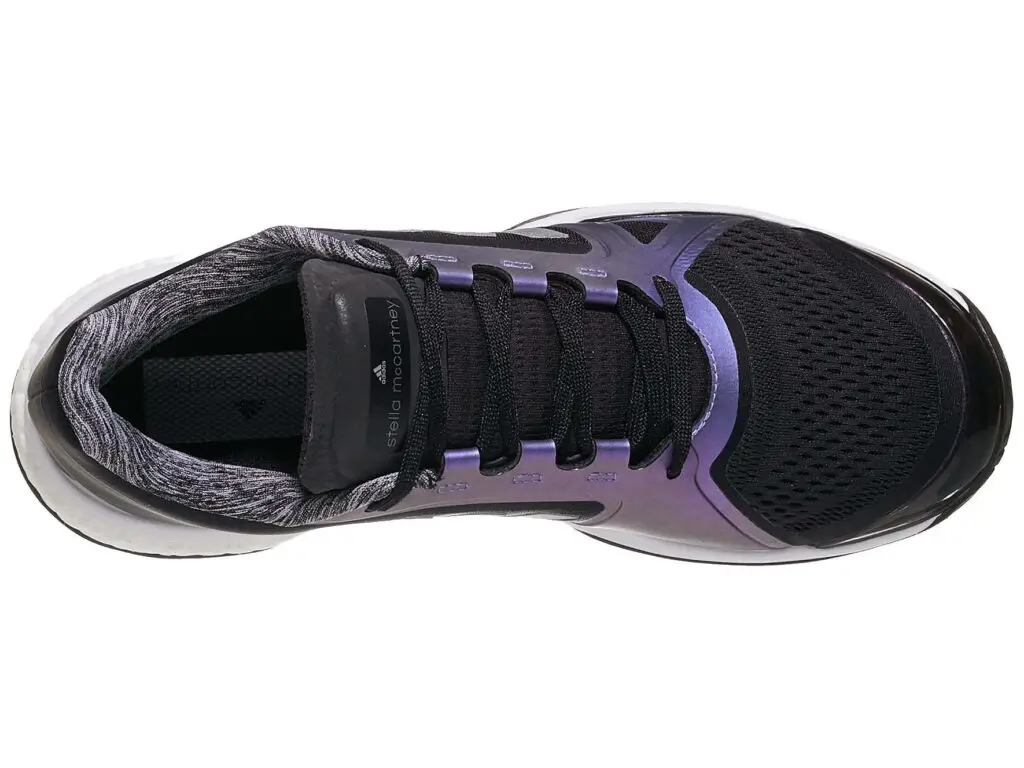 Just like the ankle, the tongue is well-padded to provide you with comfort, cushioning, and support. This allows you to play better and more effectively on the court.
Also, it helps to prevent putting less pressure on your arch so that you don't get any sore.
I would have loved Adidas to put one leather hole on top of the tongue so that you can lace through. This helps to keep the tongue stable whiles playing and stops it from distracting you.
The lacing system on the other hand comes with extra lacing holes for you to utilize so that you can get more grip and support. Also, the lacing holes are connected to the upper material which is great because it would allow the lacing system to last longer.
Weight
Another key strength of this shoe is the weight. It comes with a weight of 11.8 ounces with a size of 8.5. This puts the shoe in the lightweight category. This is a bonus because tennis is a sport that requires you to be very quick in your game. And having a shoe like the Adidas Stella Court can give you the edge you need in this era of tennis that is so competitive and fast.
Insole and Midsole
The Adidas Stella Court comes with a removable insole which allows you to replace the insole with your preferred insole. Also, the insole is going to provide you with excellent cushioning.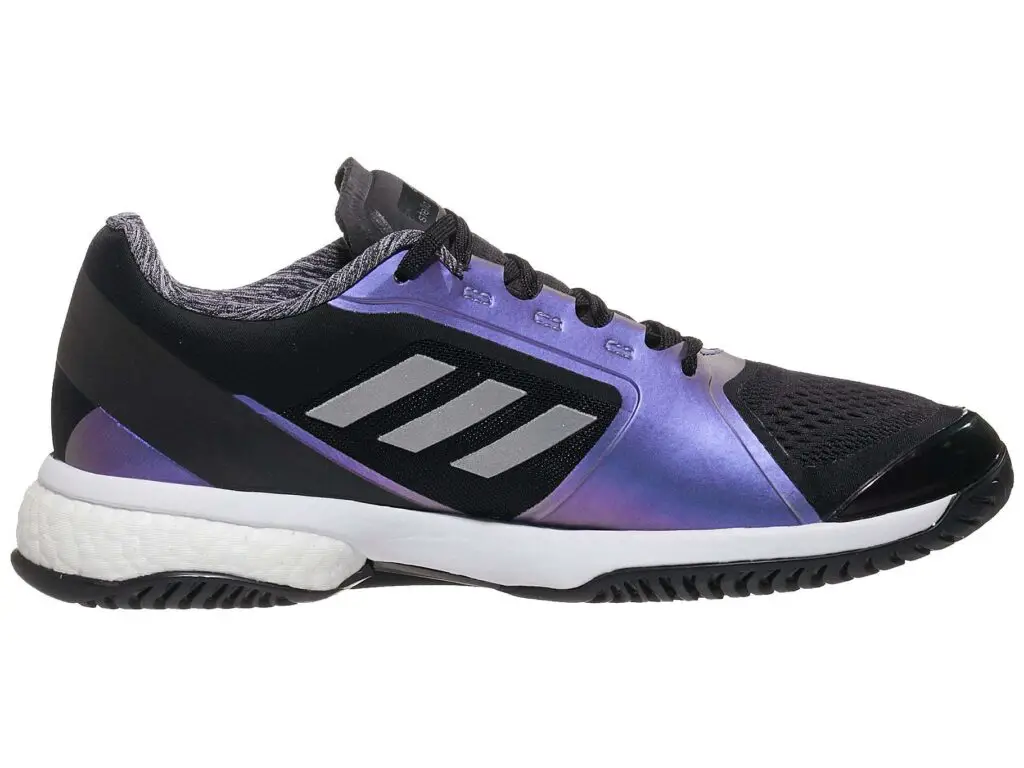 The midsole is made of boost technology which does a great job at providing you with comfort and a responsive feel in every step you take. This helps you to move well and with ease on the court.
In addition, it has 3D Torsion for lightweight and gives you adaptive support.
This enables you to adjust your movement on the court comfortably. And lastly with the midsole is that it has 360-degree TPU to provide you with good support and stability.
Fit
The fit of the shoe is more suitable for players who have a medium to wide foot. It's true to size so you don't have to worry about going an either size up or down. If you have a narrow foot you shouldn't worry because you can try other amazing shoes such as Asics Gel-Game 8.
It would fit you perfectly and you would benefit tremendously from the awesome benefits that come along with it. Furthermore, the Stella Court does not require any break-in period which is fantastic because your feet can easily get used to it.
Outsole
Another part that we need to take a closer look at is the outsole. It comes with a durable rubber which is going to provide you with good durability. If you are a player that is very hard on their outsole or aggressive then you would love playing in this shoe. It would last you longer than most tennis shoes would.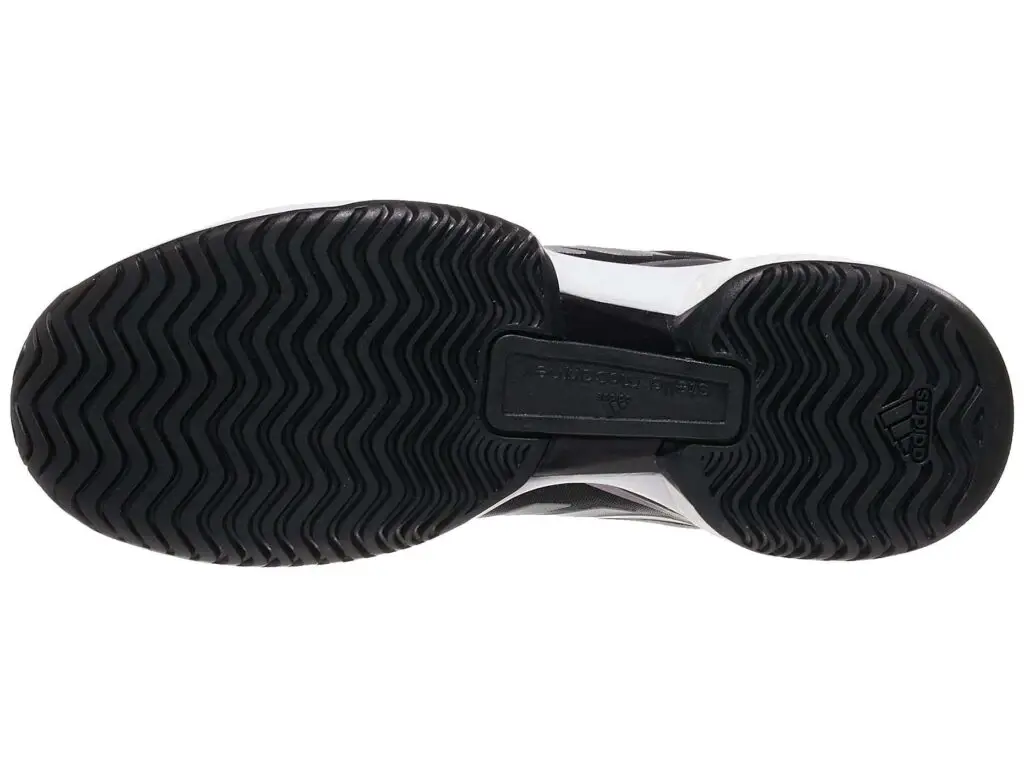 Moreover, the shoe comes with the same modified herringbone pattern.
This is going to provide you with excellent traction on all court surfaces. Also, it's going to allow you to get a good grip and help you to slide and move better on the court.
Colour Options
As nice as this tennis shoe look, unfortunately, it does not come with varieties of colours to choose from. It would be great to see Adidas release different colours in their next iteration.
Price
The last important point to talk about is the price of the shoe. The Adidas Stella Court comes around $150 which is in the high price range. This can prevent players who are on a lower budget to avoid this type of shoe. However, the amazing features that come with the shoe make the price worth it because it can take your game to the next level.
Summary!!
In summary, I hope you have found this post very useful in understanding why the Adidas Stella Court is still one of the best shoes on the market. It's a shoe that can add a lot to your game such as allowing you to play quickly because of the lightweight, nice cushioning, and good durability.
However, the shoe can be costly and comes with limited colour options. Overall, the positive features of the shoe completely outweigh the negatives. I believe it's a shoe that is worth checking out and could take your game to the next level. If you manage to purchase this shoe, I wish you the very best of luck in your next match.