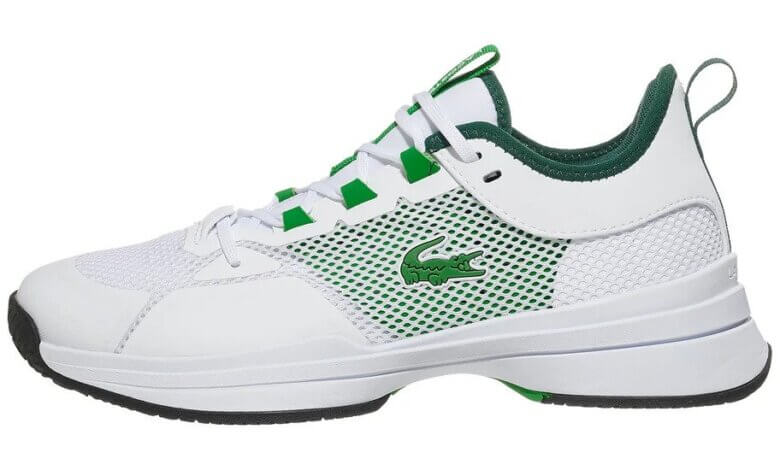 We're an affiliate
We hope you love the products we recommend! Just so you know, we may collect a share of sales or other compensation from the links on this page. Thank you if you use our links, we really appreciate it!
Product Overview
Comfort

Durability

Stability

Breathability

Weight

Fit and Size
Summary
The Lacoste AG-LT 21 is built for the club player who is looking for comfort, ventilation and stability. If you are the type of player looking for these features then you need not to look any further because the AG-LT 21 has got you covered. 
However, there are some disadvantages that you need to be aware of the shoe such as it's expensive to afford and has limited colours to choose from. All in all, it's the perfect tennis shoe for the club player and even beginners. 
Pros
Very comfortable
Well ventilated
Stable
No break-in period
Durable
Good traction
Cons
Limited colour options
Expensive
Not suitable for a narrow or wide foot
Design and Cosmetic
Right out of the box, the design and cosmetics of the shoe are sleek and simple looking. It looks decent but not as great as other shoes on the market such as Diadora Speed Blushield 5 AG.
However, I like how Lacoste designed their logo and placed them on the shoe. Also, I like the white/green colour version.
Upper
Let's take a closer look at the upper material. Unlike the Lacoste AG-LT 21 Ultra that comes with Helix-woven mesh material. That is not the case for AG-LT 21. Instead, it comes with textile and synthetic materials.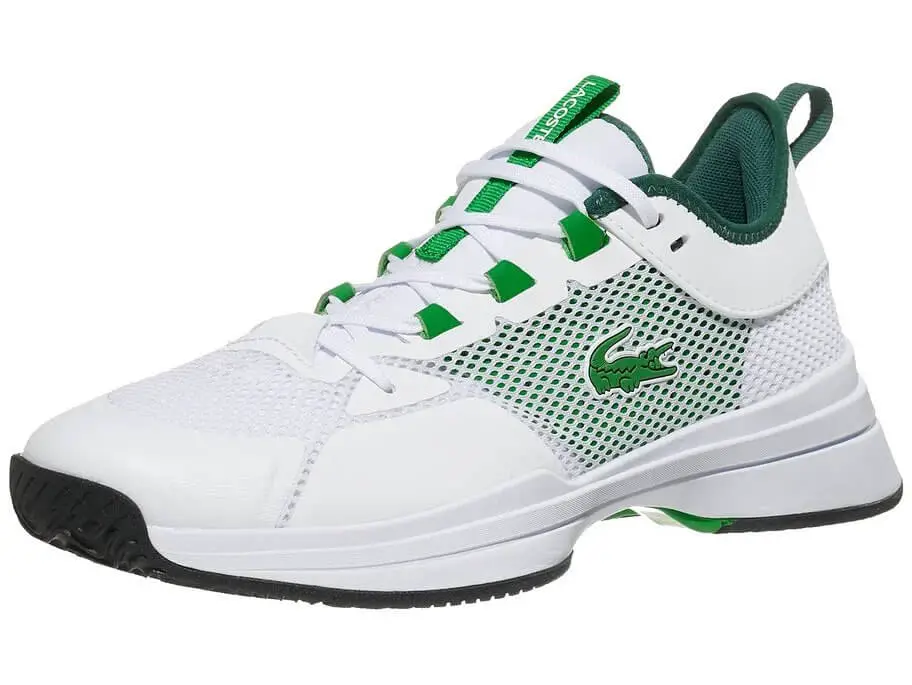 The purpose of this is to provide you with the best comfort and support when playing in this shoe.
Also, it does really well at holding your foot very well and allows you to move better on the court.
Moreover, the use of mesh panels does really well to provide you with great ventilation. This is fantastic at allowing moisture to leave the shoe and making fresh air enter.
Ankle Support, Collar and Toe Box
One of the things I really like about Lacoste tennis shoes is how the ankle area is always long to keep your ankle and heel in perfect position and locked in. This allows you to move better and comfortably on the court.
Moreover, the collar does really well at providing you with comfort and a secure fit when playing in them. The toe area is durable to provide you with durability and protection when sliding on the court.
Lacing System and Tongue
The way the lacing system is made is interesting. Firstly, it has got extra lacing holes for extra grip and stability on the court.
And secondly, the lacing holes are made of leather instead of metals. Leather holes can be tricky to lace through but the way it's woven into the upper material is going to make it last very long.
Next is the tongue. The top of the tongue has the shape of a V which makes it easy to wear the shoe. Also, the tongue has a really nice padded feel when you wear it and it's going to protect you on the court.
Insole and Midsole
The insole is nicely made which is going to provide you with nice cushioning when playing in them. This makes it more fun and enjoyable when playing in them.
The midsole is made of EVA foam to provide you with a plush feeling and a lot of cushioning on the court.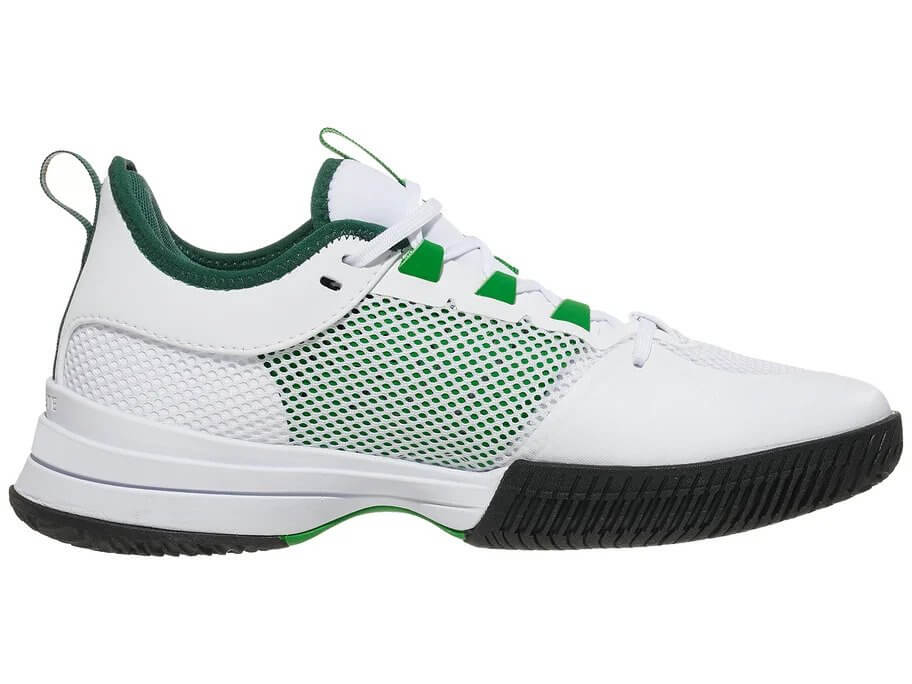 Also, Lacoste included a Pebax bridge inside of the midsole to increase lateral stability and provide you with a lot of energy return during running gait.
Weight and Size
The shoe comes with a weight of 14.2 ounces with a size of 10.5. This puts the shoe in the lightweight category in my opinion.
This gives you an advantage on the court because it allows you to move quickly on the court. In terms of size, it comes with different options which allow you to select the size that suits your fit.
Fit
The shoe is more suitable for players who have a medium foot. However, due to the shoe being slightly short it's recommended that you go up a half size. This way you can get the perfect fit for your foot.
If you have a narrow or wide foot then you would want to check out other shoes such as Asics Solution Speed FF 2. Not only is this shoe going to provide you with a good fit but you are going to enjoy some of its amazing features such as durability, stability and comfort.
Outsole and Shank
Next up is the outsole. It comes with the famous modified herringbone pattern. The purpose of this material is to provide you with excellent traction on all court surfaces. Moreover, this would enable you to move effectively on the court whiles maintaining your balance.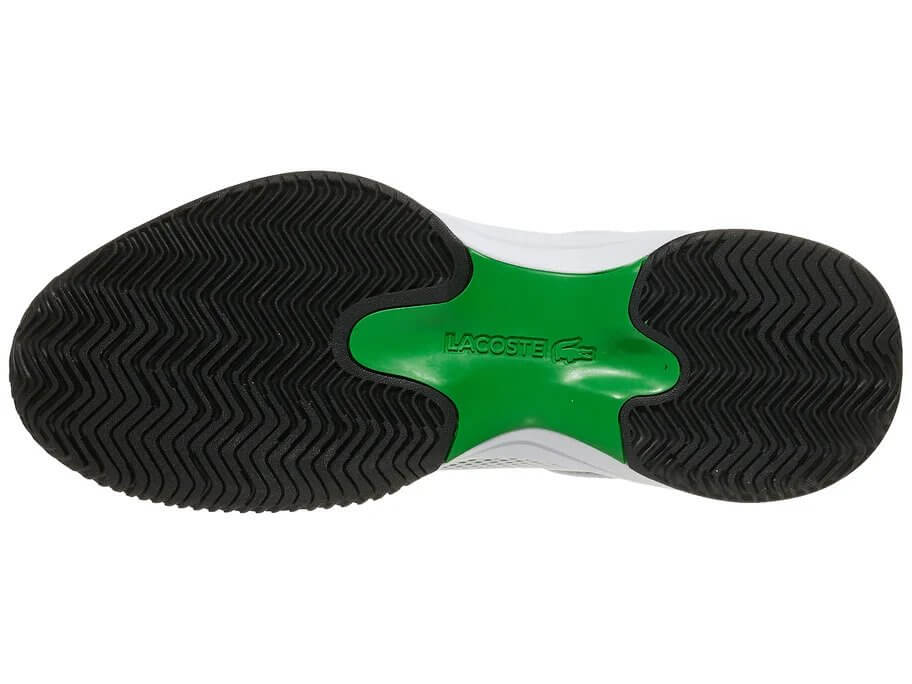 Secondly, the outsole has Goodyear rubber instilled with the modified herringbone pattern to provide you with good durability. This is great for players who tend to wear their outsole quickly.
In addition, I really like the way Lacoste shaped their outsole shoe because it allows you to pivot and change direction in a comfortable way.
This way you can maintain your stability throughout the rallies. If you have watched Daniil Medvedev play then you would know what I'm talking about.
The last point regarding the outsole is the shank. It is connected to the midsole area to provide you with a stable feel and keep your feet locked in when you make an aggressive move.
Colour Options
Unlike the Lacoste AG-LT 21 Ultra that comes with different colours to choose from. This unfortunately is not the case for the Lacoste AG-LT.
It would be great to see Lacoste release varieties of colour schemes to suit players' outfits on the court. This helps to boost their self-esteem on the court.
Price
The last point to discuss in this post is the price of the shoe. This shoe is more than $100 which may not sound a lot but for the beginner and club player, this may be expensive for them.
However, once you managed to get your hands on these shoes you would benefit a lot from the amazing features that come along with the shoe such as excellent comfort and ventilation.
Conclusion
In conclusion, it's nice to see Lacoste make a similar iteration of the AG-LT 21 for both beginners and club players. It comes with great benefits such as comfort, support and is well ventilated.
However, the downside to this shoe is it can be expensive for players to afford and comes with limited colour options. Overall, the positive completely outweigh the negative and if you are a club player then it's worth giving this shoe a shot.