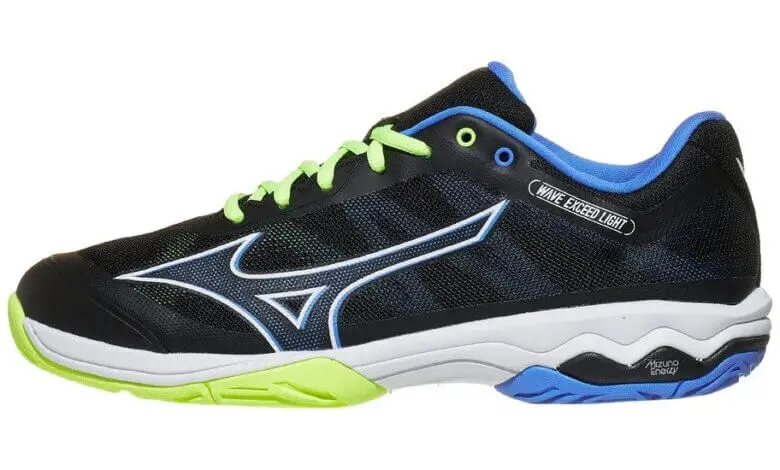 We're an affiliate
We hope you love the products we recommend! Just so you know, we may collect a share of sales or other compensation from the links on this page. Thank you if you use our links, we really appreciate it!
Product Overview
Comfort

Durability

Stability

Breathability

Weight

Fit and Size
Summary
The Mizuno Wave Exceed Light is purposely made to provide you with the best possible lightweight shoe on the court, without compromising comfort. If you are the type of player that speed is part of your game then you would love playing in these shoes.
However, this may not be the most durable shoe on the market. Overall, it's a great addition shoe on the market by Mizuno.
Pros
Very lightweight
No break-in required
Comfort
Stable
Cons
Durability needs improvement
Lack of colour options to choose from
Mizuno has released their second tennis shoe for 2022 just before the start of Wimbledon. This shoe has one main objective which is to provide you with exceptional lightweight.
The purpose of this is to help increase your speed and at the same time play with comfort. If you think this shoe would suit or benefit your game then read on to find out more.
Design
When it comes to design and cosmetics, Mizuno always delivers. The combination of the colour scheme and format of the Wave Exceed Light is a spot from my point of view. It looks clean, awesome and attractive right out of the box.
If you are someone who loves design then you would love wearing this shoe. If you were to ask me what is my favourite colour of all the shoes, I would say the men's black and neo lime. It's beautiful and makes it cool to wear them outside of the court.
Upper
Next up is the upper. The upper material comes with a reinforced mesh material which does really well to provide you with flexibility and light support. This would help you to slide and move better on the court.
In addition, the use of mesh panels provides you with easy breathability. The way it does this is by allowing cool air to circulate, whiles removing uncomfortable heat build-up. 
This is awesome because it helps to keep your feet feeling cool. 
The only downside to the upper material is its durability. This may not be the most durable upper on the court. Therefore, when playing in this shoe you should take some precautions.
Arch and Ankle Support
Mizuno has developed a reputation for developing good arch and ankle support. And the Wave Exceed light is no exception. You are going to enjoy a nice comfort and cushioning when you wear the shoe. This makes the movement on the court smooth and easy.
Toe Cap, Heel Area and Shank
The toe cap is decent when it comes to durability. If you are a toe dragger I wouldn't recommend this type of shoe for your game.
The heel area has a decent height and size. This is great because it's going to give you a good grip and place your heels in a perfect position when moving on the court.
This is fantastic because it reduces your chances of getting any serious injury. And lastly, the shank is very responsive.
Insole and Midsole
Now let's take a closer look at the insole and midsole. Let's see if Mizuno either nailed it or not. The insole comes with a removable layer which you can replace anytime with your prefered choice.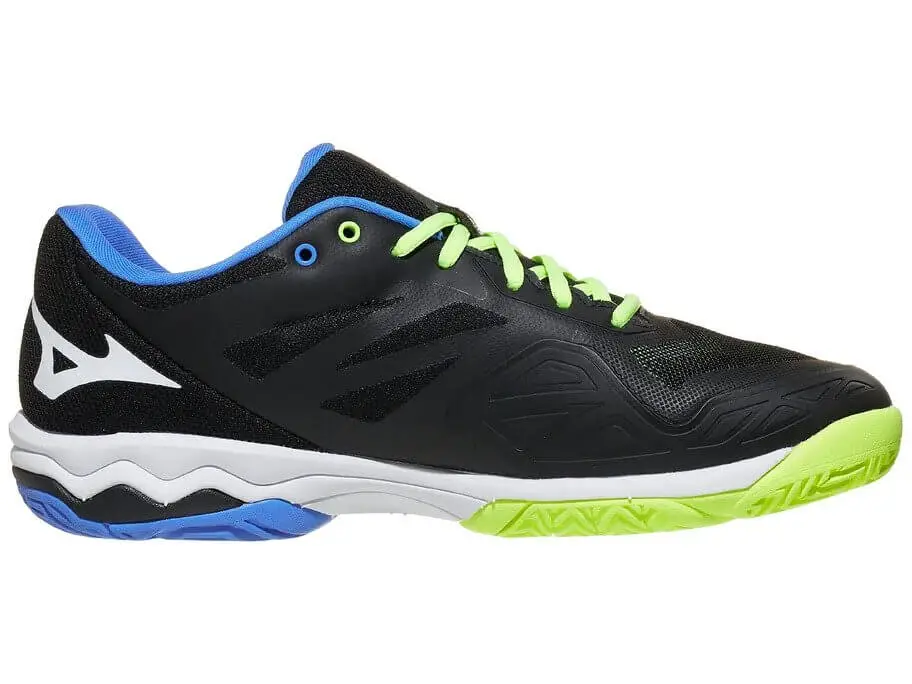 Also, when you wash the shoe, you can take the insole out for it to dry quickly.
If you want to know how to wash your shoe effectively then make sure to read our full step-by-step guide.
The midsole is equipped with plush cushioning underfoot. This really supports your movement on the court and adds some comfort and stability.
Moreover, the signature Wave plate helps to add energy to every step you take on the court. 
Weight
The backbone of this tennis shoe is the wight. It's incredibly lightweight compared to a lot of the shoes on the market. On average it comes with a weight of 9.3 ounces with a size of 8.5.
This would really help your game a lot by improving your speed and at the same time keeping you low to the ground. The helps you to move better on the court and reserve your energy.
Lacing System and Tongue
Both the lacing system and tongue are done in a simplistic fashion to give you the best experience on the court. Let's break it down.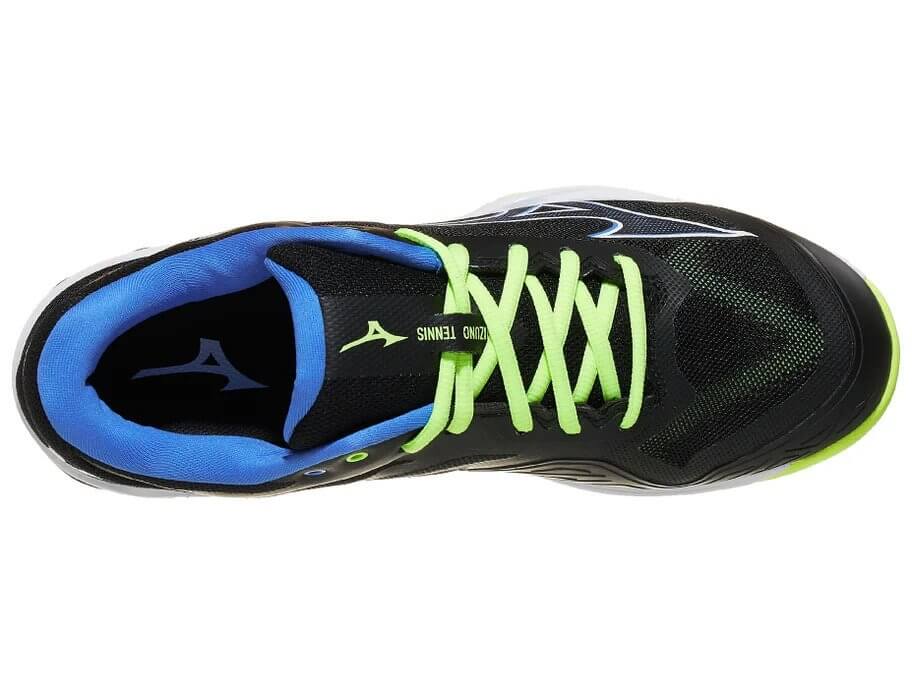 The lacing system has got extra lacing holes for you to use if you need more grip and support. This is great to have such a feature under your belt.
Also, the lacing holes are made of rubber and the material used to design the shoe. This makes it easy to lace the shoe quickly.
The tongue on the other hand comes with a well-padded material. The purpose of this is to provide you with comfort and nice cushioning when playing in them. This makes your life easy and fun when playing in these shoes.
Fit
The way the Mizuno Wave Exceed Light is designed and shaped makes it suitable for players who have a medium to slightly wide foot. If you have any of these feet then playing in this shoe would be a joy and fun.
If you are someone who has a narrow foot then I would suggest you try other shoes such as the Wilson Rush Pro Ace. Not only that but you would enjoy the nice breathability that comes with it.
The Wave Exceed Light does not require any break-in period. This is awesome because your feet can adjust to the shoe quickly without experiencing the pain and discomfort of adjusting to the shoe.
Outsole
The outsole comes with its pros and cons. Firstly, it comes with a multi-directional herringbone pattern which is going to provide you with good traction on all court surfaces.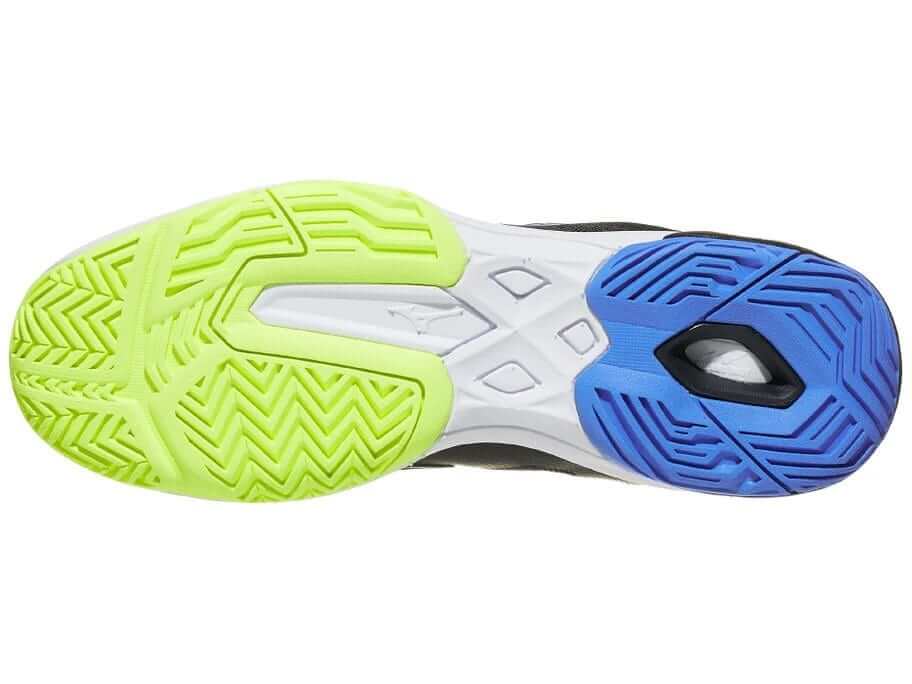 This is great at stabilizing you on the court and allowing you to move better on the court. Also, it helps to reduce the chances of you getting any serious injury.
And secondly, the outsole comes with X10 durable rubber. I wouldn't say it's the most durable outsole on the market but it does a decent job.
If you are a player that is looking for a durable outsole then you would like to check out the Lacoste AG-LT 21.
The AG-LT 21 with its Goodyear rubber is going to provide you with excellent durability when sliding and moving on the court.
Colour Options
Another drawback to the shoe is the lack of colour options it comes with it. Personally, when I'm buying tennis shoes I always want to have varieties of colours to choose from.
This way I can select a colour that goes with my tennis outfit. Therefore, I would love to see Mizuno add more colour options as the season goes along.
Price
The last essential point to discuss before deciding to buy this shoe is the price. The shoe is around the $100 price mark which is the ideal price for most tennis shoes. This is great for all types of players such as beginners, club players etc to afford it.
Conclusion
In conclusion, this is a great shoe for the player who is searching for speed, lightweight and comfort. If you are the type of player that looks for these features when looking for a tennis shoe to buy then don't hesitate to check this shoe out. You wouldn't be disappointed because there is a lot to love about it.
For example, the design is nice looking, no break-in is required and it's very cushioning. On the other hand, the durability of the shoe needs some improvement and it's more colour options to choose from.