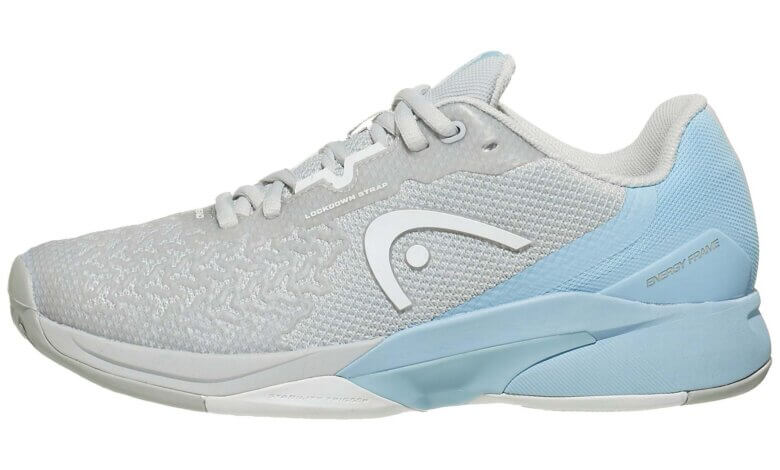 We're an affiliate
We hope you love the products we recommend! Just so you know, we may collect a share of sales or other compensation from the links on this page. Thank you if you use our links, we really appreciate it!
Product Overview
Comfort

Durability

Stability

Breathability

Weight

Fit and Size
Summary
The Revolt Pro 3.5 is the new update from Head. This shoe comes with some minor updates which are noticeable when you play with them. You are going to enjoy the excellent durability, comfort, and stability of the shoe. 
However, it would have been nice to see Head improve the cushioning of the shoe and make it true to size. Overall, it's a great-looking shoe that would allow you to play better on the court. 
Pros
Excellent durability
Good traction
Nice stability and support
Lightweight
Comestic of the shoe looks great
Cons
Not true to length
Cushioning needs improvement
Head has updated their previous version of the Revolt Pro and made it slightly better. If you enjoyed playing in the previous version then you would love this new update. The updates that Head has made are settled but very noticeable when you play with it on the court.
In this post, I'm going to provide you with an in-depth review of the Head Revolt Pro 3.5 and how it can improve your game. If you are ready let's start off with the design and cosmetics of the shoe.
Design
Right out of the box, the design and cosmetics of the shoe are spots on. They are sleek looking and colouful to wear on the court and potentially outside of the court. Head did a great job with the colours they selected and how they combined them to make it attractive.
Personally, I love the grey/light blue and the neon red/dress blue. These cosmetics are lovely and you can't help yourself get excited when you wear them on the court.
Upper
Let's take a closer look at the upper material. It comes with a combination of both mesh and PU molded frames. The purpose of this is to provide you with comfort and support. This would enable you to move well during rallies and turn around the court.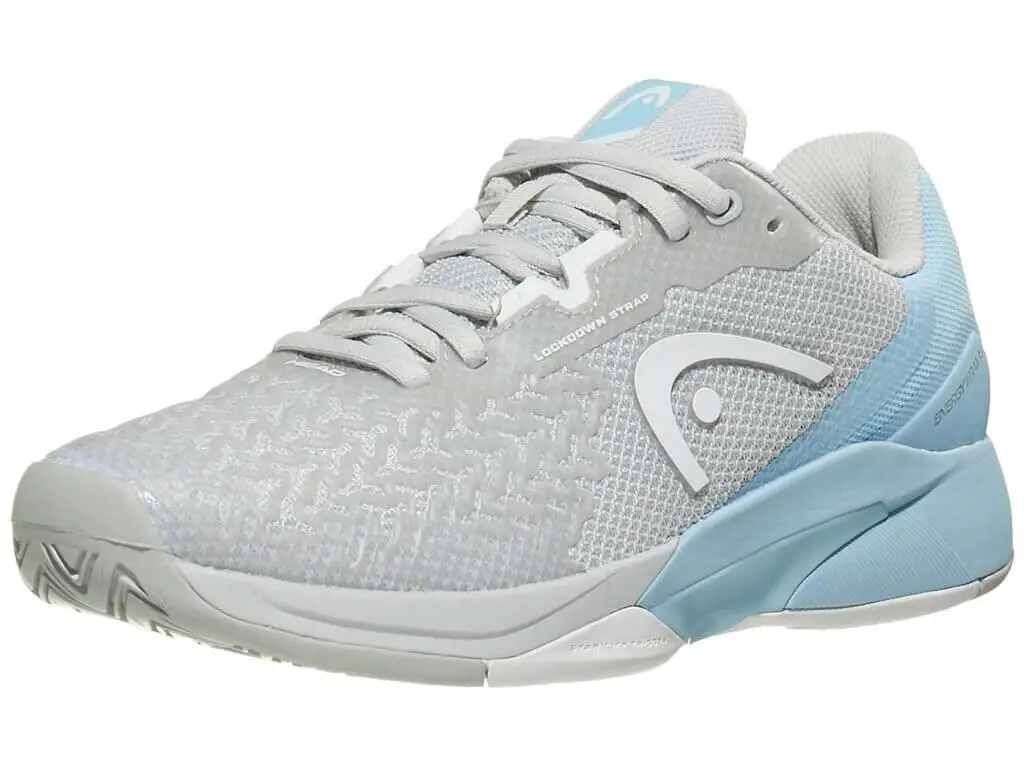 Also, you are going to enjoy the awesome breathability that comes with this shoe. I would say it's a lot better when compared with the Head Sprint Pro 3.0 SF.
This means that moisture would leave the shoe quickly and allow fresh air to enter.
This helps to keep your feet fresh throughout the match and enables you to play for long hours without getting discomfort.
Toe Box
Are you a toe dragger? If yes then this shoe has got you covered. You are going to enjoy the durability that comes from the toe box area. On top of that, it would protect you from hurting or injuring your toes. Also, you are going to have less room in the toe box area and keep your feet stable.
Arch and Ankle Support
The arch area is nicely made to provide you with good support and comfort. This allows you to move really well on the court with confidence and hit the ball with enough power.
The heel and ankle area may not be the tallest height compared to other shoes such as Diadora Speed Blushield 5 AG. But it still does a good job at holding your ankle and feet in perfect position for stability. Although, I have to say that under the forefoot area it can feel a little firm when playing in it.
Lacing System and Tongue
There is nothing different about the lacing system and tongue compared to the previous model. It comes with extra lacing holes to provide you with more grip and stability if you need it.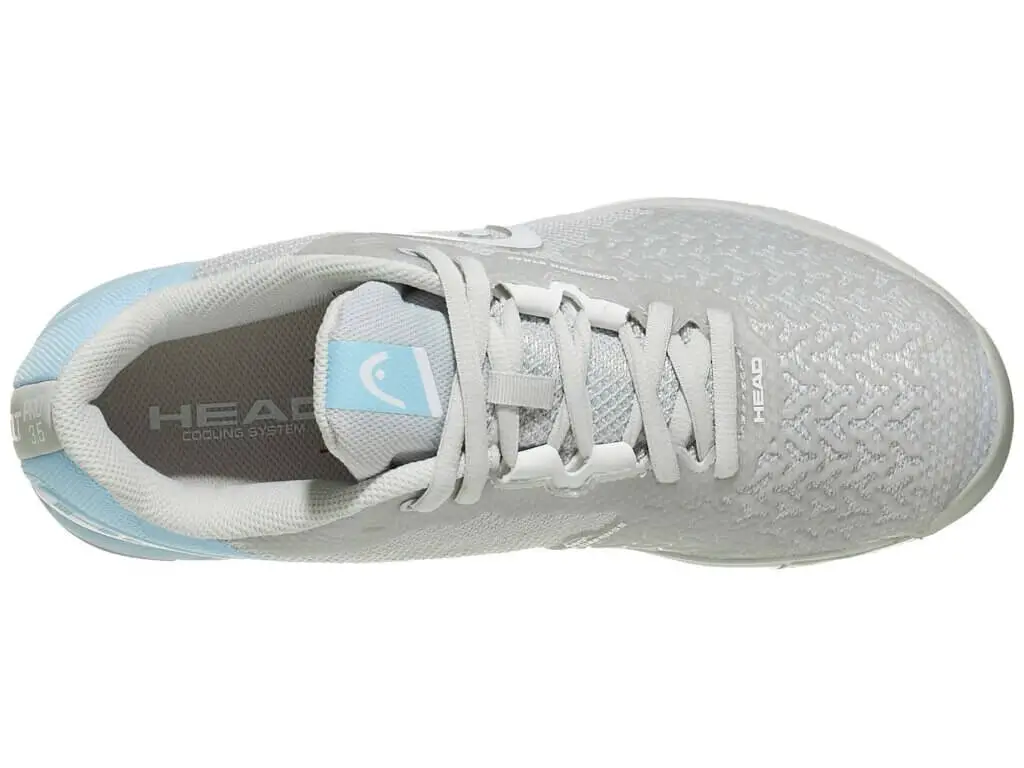 Also, there is a leather hole connected to the tongue to keep it stable and prevent it from distracting you.
The tongue is well padded to provide you with comfort and cushioning as you play with them. This makes playing in this shoe fun and enjoyable.
Weight
The shoe comes with a weight of 11.3 grams with a size of 8.5. This is definitely on the lightweight spectrum which is awesome for your game because it would allow you to move at full speed on the court.
Insole and Midsole
The shoe comes with a well-padded insole to provide you with decent cushioning. This gives you a smooth feeling when you wear the shoe and would accommodate your movement.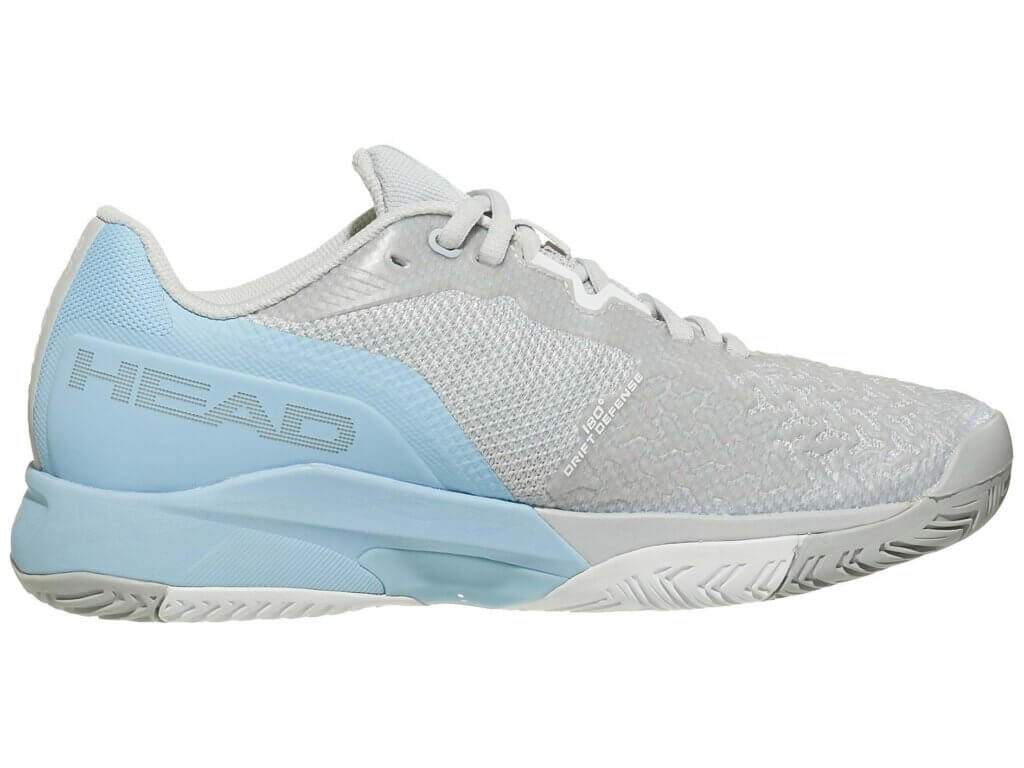 The midsole is made of Head's own TRI-NRG technology to provide you with lightweight cushioning.
In addition, it would provide you with excellent support and energy return with every step you make. This is great because it prevents you from losing your balance and injuring yourself.
Adding more to the energy return, the energy frame does a good job at locking in your foot to give you more stability during aggressive movements and sharp turns.
And lastly with the midsole is the use of a 3D anti-torsion midfoot shank which does really well to keep your foot stable and comfortable.
Fit
The Head Revolt Pro 3.5 is more suitable for players who have a narrow to medium foot. However, the sizing of the shoe is not generous so it's recommended that you go half a size to get the perfect fit for your foot size.
If you have a wide foot then I recommend that you read this in-depth review. You would find it very useful at finding the best shoe that suits your size.
In terms of a break-in period, some players may experience some break-in period whiles others wouldn't. Even players that require a break-in period would get used to the shoes within a couple of hours of play.
Outsole
Another key strength of this shoe is the outsole. Firstly, the hybrasion+ rubber outsole is going to provide you with excellent durability. If you are a player that is very aggressive on your outsole then you would love playing in this shoe because it can deal with today's game and the surface.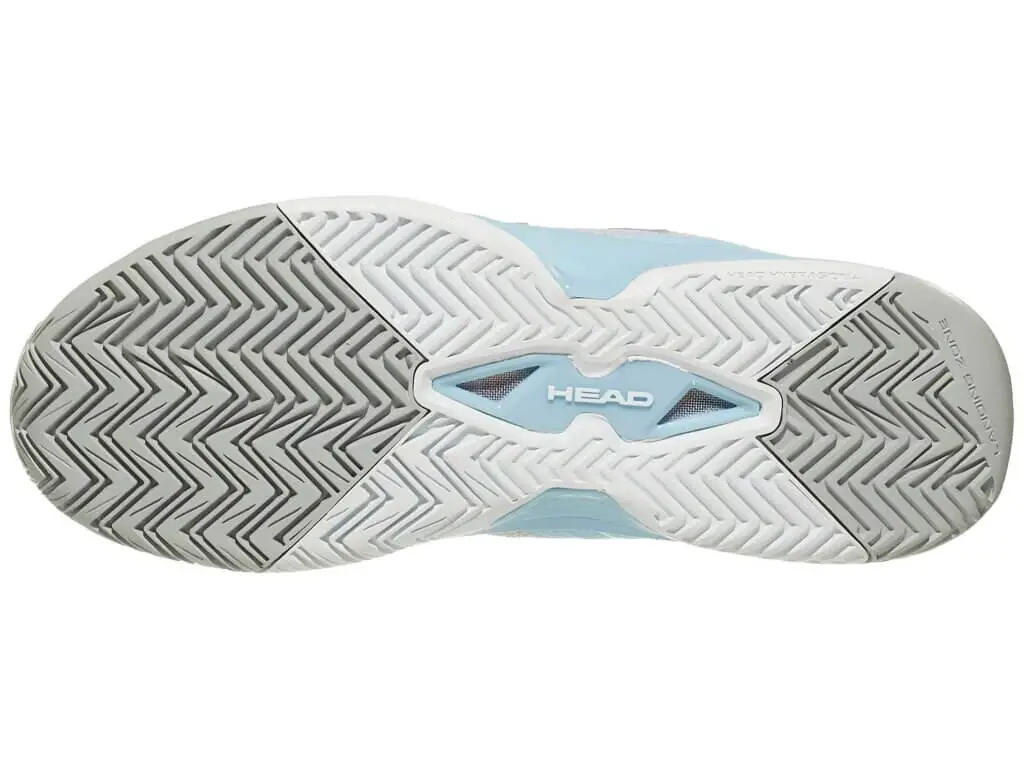 Secondly, the modified tread pattern is going to provide you with excellent traction on all court surfaces.
Also, Head specifically placed ventilation holes underneath the outsole to provide you with good breathability.
Colour Options
As of now, there are limited colour options to choose from with this shoe. The men usually come in a maximum of two colours whiles the women only one.
As a big fan of tennis, I'm hoping that as the season progress Head would release more colours for players to choose from.
Price
Another key point that is worth talking about is the price of the shoe. The Head Revolt Pro 3.5 is nearly $200 which is very expensive. It's on the same price point as other tennis shoes such as Lacoste AG-LT 21 and NikeCourt Air Zoom Vapor Pro. Despite how expensive this shoe is, it still comes with amazing features that would benefit your game tremendously.
If you are a player that wants a shoe that has a low price point then I recommend that you read the full review of the best shoes under $100. You would find it very useful and maybe even find a shoe that suits your needs.
Wrapping Up!!
As this post comes to its conclusion, I hope you have really found it useful and knowledgeable. Overall, this shoe is going to provide you with excellent durability, traction, and stability.
However, it would have been nice to see Head make the shoe more responsive cushioning and true to length. Despite a few weaknesses of the shoe, you would really enjoy playing with them in tournaments.