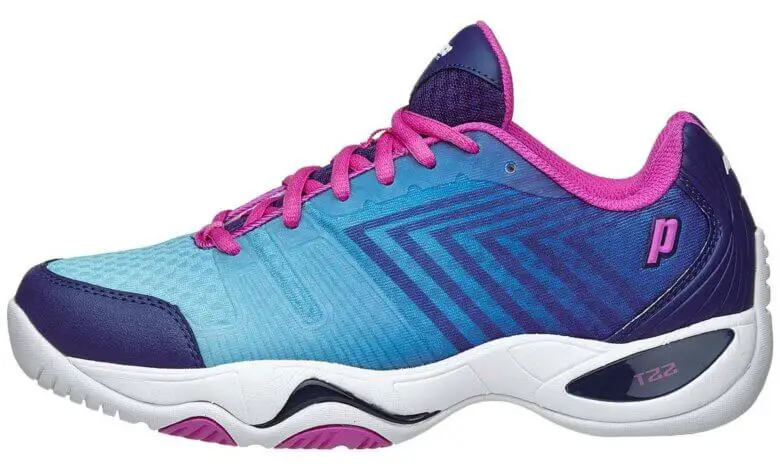 We're an affiliate
We hope you love the products we recommend! Just so you know, we may collect a share of sales or other compensation from the links on this page. Thank you if you use our links, we really appreciate it!
Product Overview
Comfort

Durability

Stability

Breathability

Weight

Fit and Size
Summary
Prince has improved their successful tennis shoe on the market and make it more breathable, comfortable and stable.
However, the weight of the shoe needs improvement and would be great to see more colour options in their next iteration. Overall, it's such a fantastic shoe to wear both on and off the court with its amazing design and cosmetic. 
Pros
Excellent outsole durability
Comestic of the shoe looks awesome
Nice cushioning
Good support
Very comfortable
Great traction
Cons
Not that lightweight
Lack of colour options to choose from
Expensive
The Prince T22.5 was a success on the market and continue to be up to this day. Prince has taken some of the awesome features from the previous version and made it even better in this new version. The T22 Lite is going to provide you with excellent breathability, lateral stability and good comfort.
In this post, I'm going to provide you with an in-depth review of the Prince T22 Lite and how it can benefit your game. Let's start off with the design and cosmetic of the shoe.
Design
Right out of the box, the cosmetic and design of the shoe looks amazing and spot on. The women's white/pink and the men's black/white/red are all good looking. The nice-looking shoe makes it cool to wear it both on and off the court. Wearing such a sleek shoe onto the court is going to uplift your mood and confidence.
Upper
The upper is made of breathable mesh material. This is going to provide you with excellent breathability. This means fresh air would be able to enter the shoe quickly whiles allowing moisture to exit.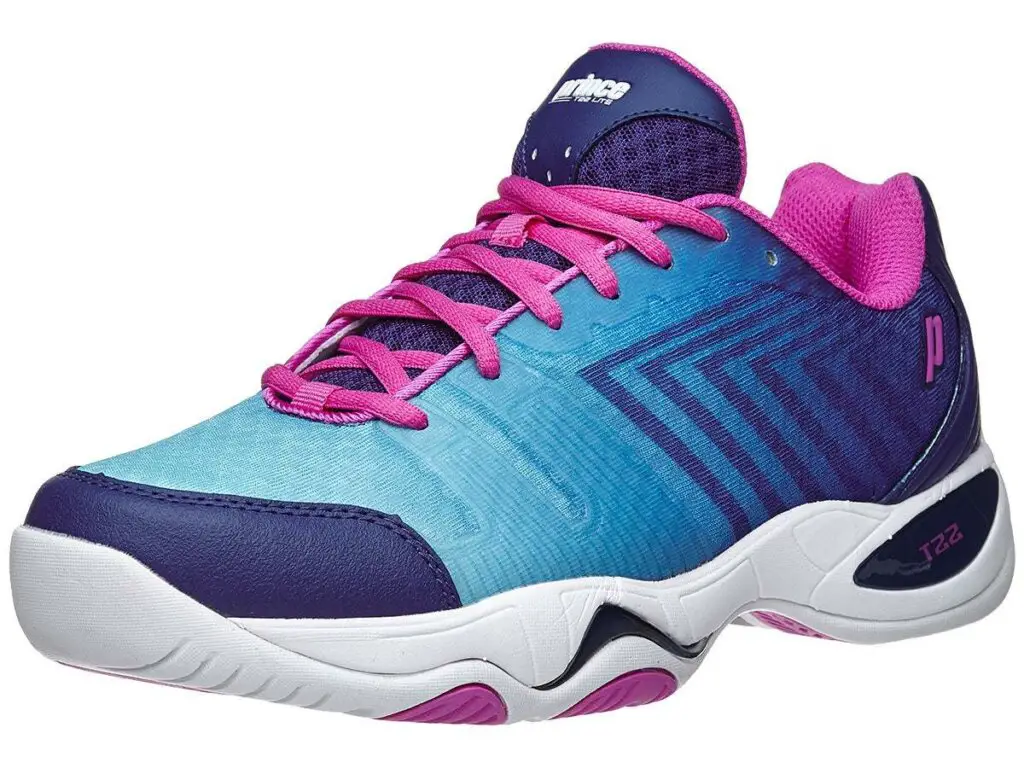 As a result, this helps to keep your feet fresh throughout the match. On top of that, this allows you to play with this shoe indoors because your feet are not going to get very hot.
The upper materials are going to enhance you with comfort and flexibility. This makes it a joy to play in the shoe with how comfortable and smooth it feels inside.
Toe Box
The toe box is a little wide which is going to provide you with enough room for your toes to manoeuvre.
On the other hand, the toe box is not very durable compared with the outsole. If you are a toe dragger and want a durable toe box then I would recommend that you check out the Head Sprint Pro 3.0 SF.
Lacing System and Tongue
Now let's take a closer look at the lacing system. It comes with extra lacing holes to give you a secure and stable fit when you need to use it.
There are two leather holes connected to the tongue to help keep the tongue stable when you are moving around the court and prevent it from distracting you. Also, the tongue is a well-padded material to provide you with nice comfort and cushioning.
Insole and Midsole
The insole is an Ortholite sockliner which is going to provide you with good cushioning and comfort. This would allow you to move comfortably on the court whiles maintaining your balance.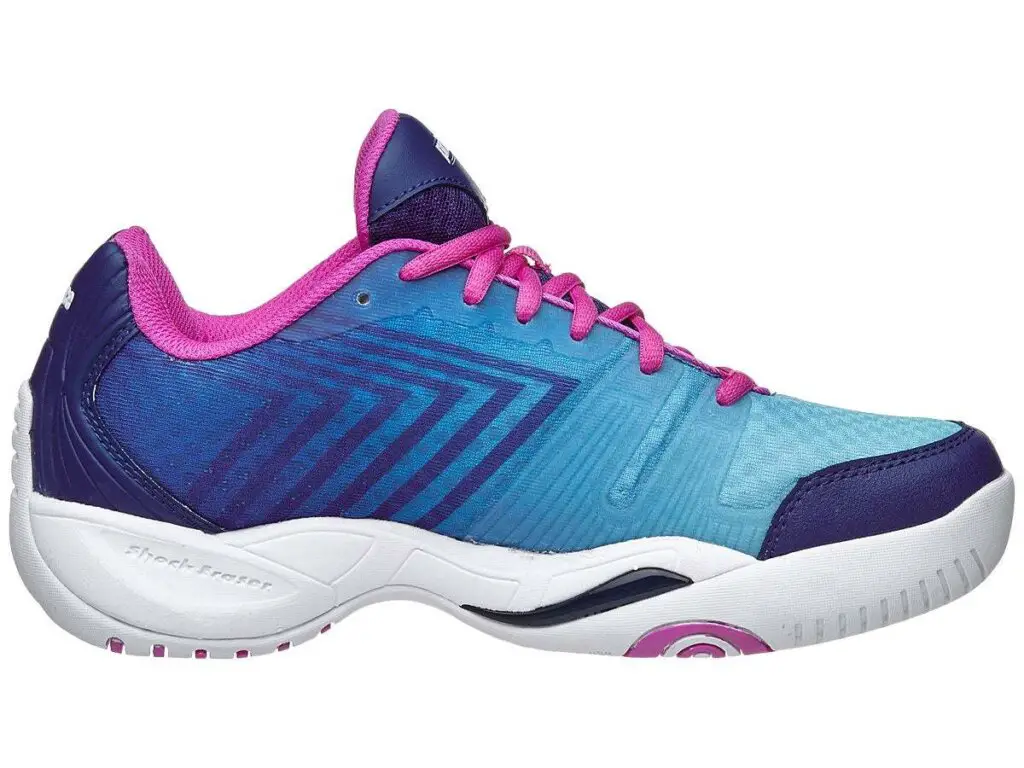 The midsole is made of TPU material to provide you with secure fit and stability on the court.
This is great at preventing you from getting any serious injuries when you jump and land on the court unforgiving.
Weight
The weight of the shoe is around 12.8 ounces with a size of 8.5. This shoe on paper may seem lightweight but that's not the case when you put it on. I wouldn't say is that heavy either. It's in between lightweight and heavy.
Fit
The fit of the shoe may require some slight break-in period. This may take a couple of hours for your feet to get used to the shoe. Once the shoe has broken in you are going to enjoy the glove-like that comes with it. The more you play with the shoe the more it moulds to your feet and provides you with excellent comfort.
This shoe is more suitable for players who have a narrow to meduim foot. If you have any of these foot types then you don't have to go either up or down a half size because it's true to length.
Outsole
Next up is the outsole of the shoe. Just like the Prince T22 Mid, this shoe is made of PRC 1000 durable outsole compound. This unique material is going to provide you with excellent durability on the court.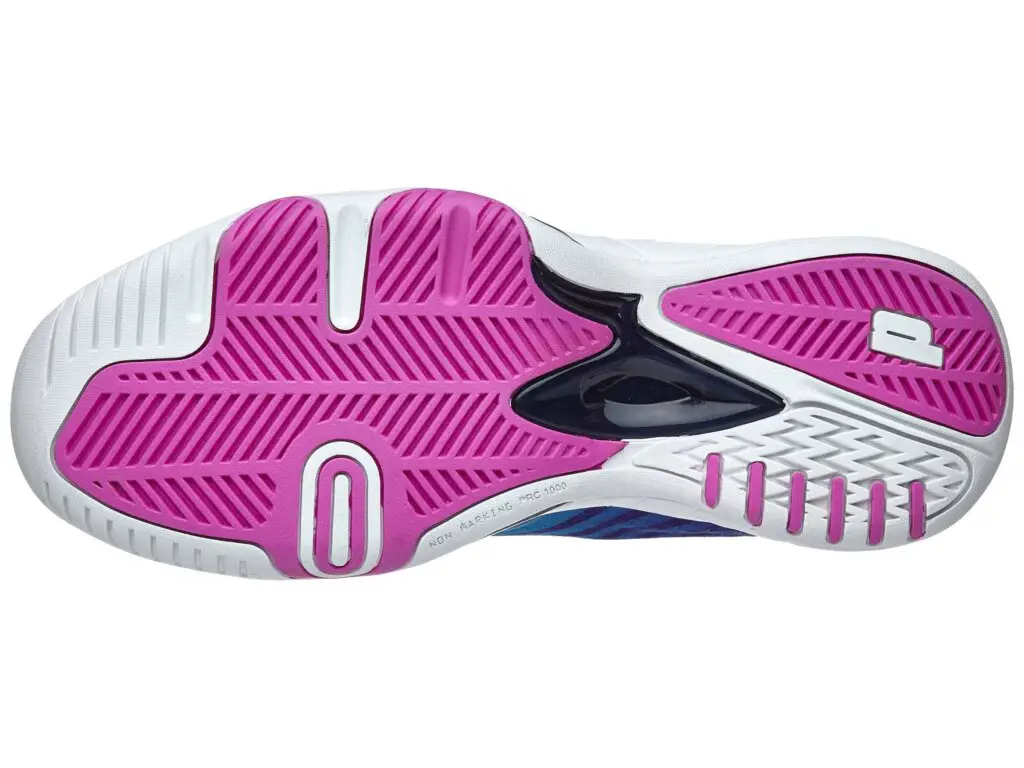 If you are an aggressive mover or someone who likes to slide a lot on the court then you would enjoy wearing this shoe.
In addition, it has the popular herringbone tread pattern to provide you with good traction on all court surfaces by allowing you to move and turn easily without losing your balance. 
Colour Options
This shoe comes with limited colour options to choose from.
It would have been great to see Prince produce more colour options like the Fila Axilus 2 Energized which has varieties of colours to choose from. Both the Prince T22 Lite's men and women usually come in a maximum of one to two colours.
Price
The last essential point to talk about is the price of the shoe. The shoe comes under $150 which is on the expensive spectrum of tennis shoes.
It may sound very expensive for a lot of players especially beginners who are on a lower budget. Despite how expensive this shoe is, it does bring some awesome features to your game such as excellent traction, nice cushioning, and good support.
Final Thoughts!!
As this post comes to its conclusion, I hope you have found it very useful and helpful. As we can see, Prince has done a really good job at making a shoe that is going to provide you with excellent stability, comfort and good traction.
However, there are some areas that need some improvement such as the weight of the shoe, lack of colour options to choose from and it's expensive.
With that said, the positives of the shoe completely outweigh the negatives which make it a great shoe to use on the court. I hope you like this shoe and helps you to play better on the court. I would end by saying good luck in your next match.