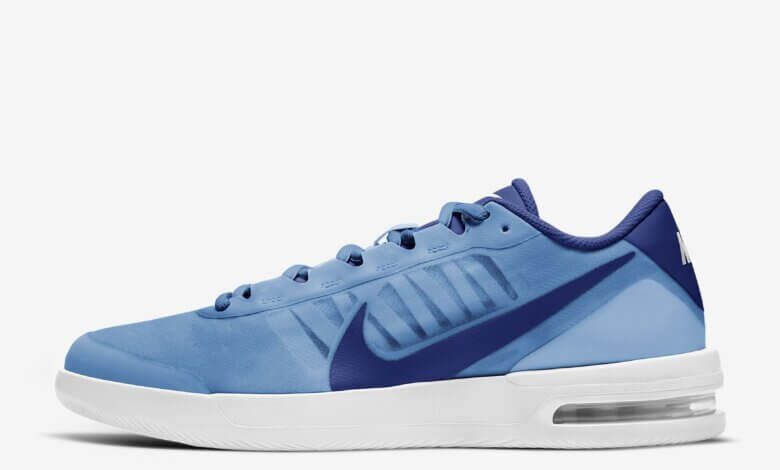 We're an affiliate
We hope you love the products we recommend! Just so you know, we may collect a share of sales or other compensation from the links on this page. Thank you if you use our links, we really appreciate it!
Product Overview
Comfort

Durability

Stability

Breathability

Weight

Fit and Size
Summary
If you are looking for a lightweight, breathable and cushioning tennis shoes. Then I have the perfect shoe for you. It is called the Nike Air Max Vapor Wing MS. You would enjoy playing in these shoes and would benefit your game immensely. 
However, this shoe lacks durability which is not ideal for players who are very hard on their outsole or slide a lot. With that said it's such a nice shoe to have. 
Pros
Excellent breathability
Good traction
Lightweight
 Good cushioning
Great support
Cons
Lack of durability
Lack of colour options
When it comes to making high-quality tennis shoe, Nike is one of the best brands at doing that. They never seem to disappoint with almost every tennis shoe that they release every year.
Earlier in the year 2020, Nike released a new tennis shoe called the Nike Air Max Vapor Wing MS. This tennis shoe is described by Nike as an 'unbelievable lightweight and durable' tennis shoe.
This is a bold statement by Nike, however, the ultimate question that everyone wants to know is how true can this shoe leave up to that claim.
If you are someone who is curious to know how good this shoe is or if it's worth spending your hard-earn money on it. Then you have arrived at the perfect place.
In this post, I'm going to provide you with a thorough review of the different aspects of the shoe and help you make up your mind. If you are ready let's start with the design of the shoe.
Design
To be fair the design of the shoe is not the best I have seen from Nike when you compare it to their other shoes such as the Nike Air Zoom Vapor X Kyrie 5 or Nike Air Zoom Vapor X Knit.
However, what I like about the design is how it has this street-looking style. This makes it perfect to wear outside of the court or even go for a walk with it.
Furthermore, I think the ladies version is more attractive than men. Overall, the design of the shoe is good but it's not the best on the market.
Upper
The shoe is made of synthetic material. Some of you may be thinking what's that!! Basically, synthetic material is made from synthesized polymers of small molecules that are specifically used in this shoe to provide you with excellent breathability.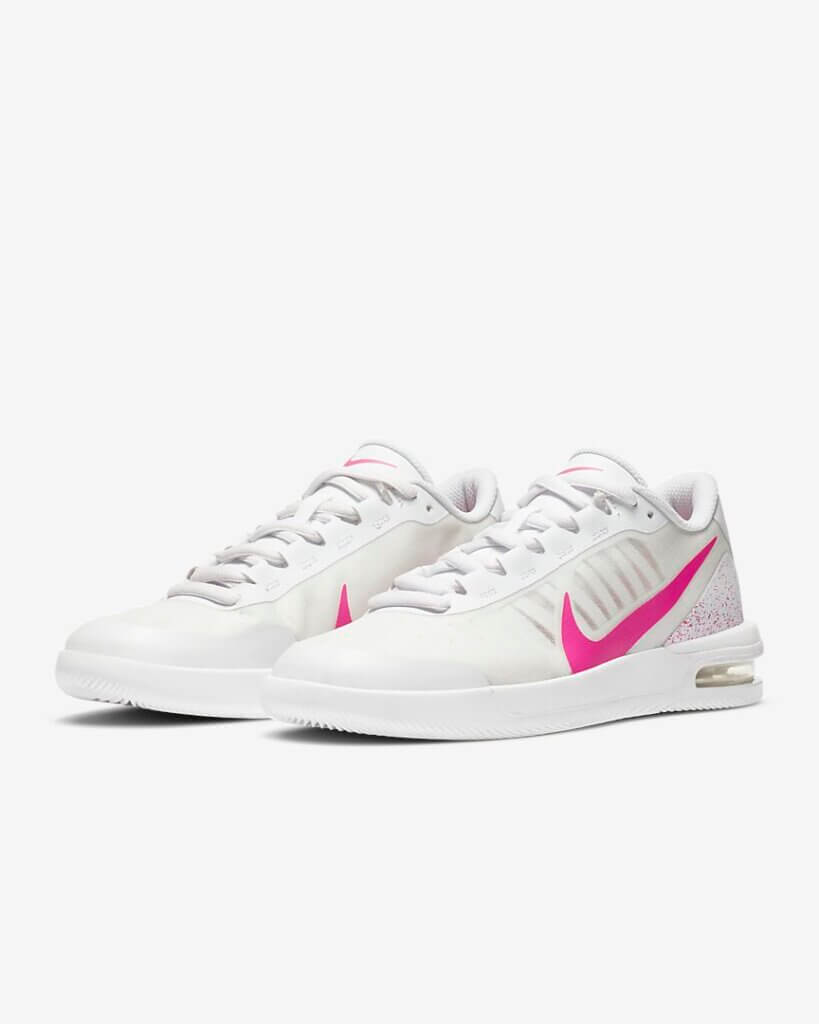 On top of that, if you take a closer look at the upper you would notice that there are some holes to increase the ventilation of the shoe.
This is such a great news for players especially for players who play long and intense matches in hot conditions.
The synthetic material of the shoe would allow moisture to leave the shoe easily and bring in more fresh air. This is very good at keeping your feet fresh throughout the match and not getting any sore.
In addition, the synthetic material makes the shoe lightweight which reduce the amount of weight being put on your feet.
Toe Box and Heel Area
The toe box is covered with a thin rubber to provide you with protection on the court, however, it may not be the most durable.
At the back of the shoe is an Air Max unit which is going to provide you with nice cushioning when you jump and move around the court.
Lacing System
There is nothing peculiar about the lacing system of this shoe when you compare it with other shoes such as Adidas Stycon which comes with a laceless shoe system.
However, despite simple, the shoe is structured in an effective way to keep your feet stable and secure. It also has extra holes to allow you to tighten your laces for extra support and security.
In addition, it has got one lacing hole on top of the tongue to prevent it from moving around. This way your feet stay secure and stable throughout the match.
Outsole
One of the similarities between this shoe and the Vapor is the outsole. The outsole is made of XDR rubber to provide you with great precision when it comes to grip on all-court surfaces.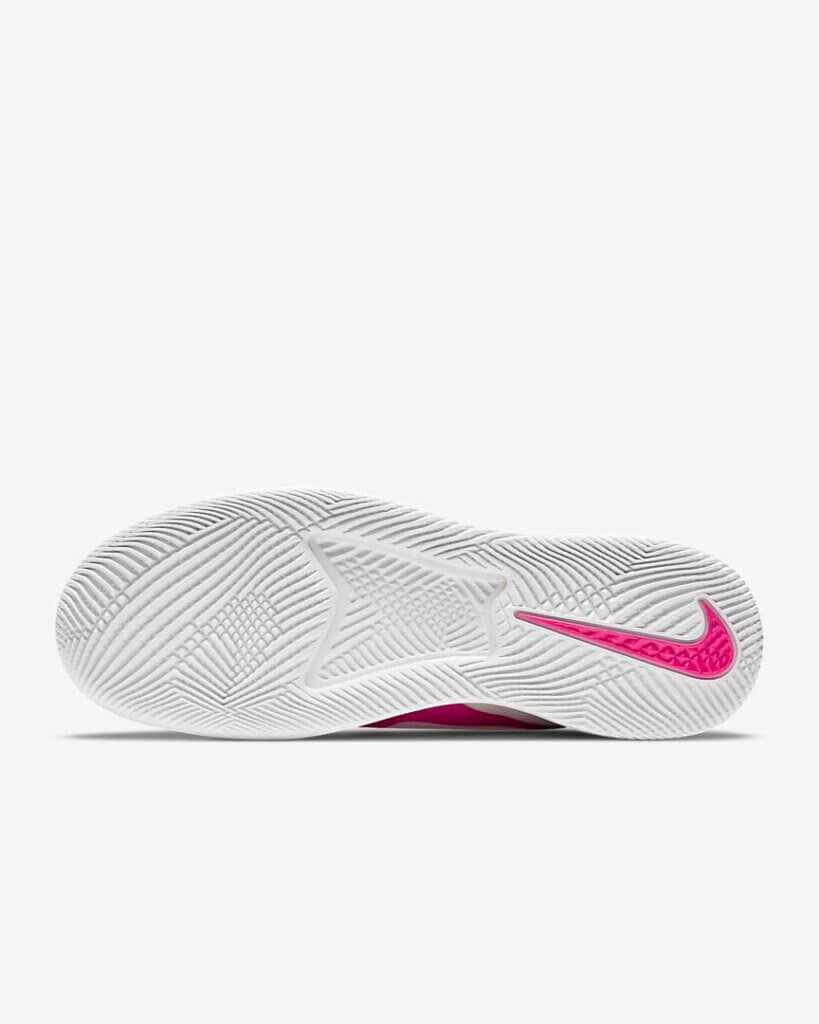 The way the traction is designed is going to allow you to change your direction quickly and still be able to maintain your balance.
This is very useful when you are playing on grass surfaces because things move really quick on the grass.
In terms of durability, the outsole is not the best on the market. However, it does a great job at keeping the outsole going for a long period of time without wearing out quickly.
Colour Options
During my research, I couldn't found many colour options for both men and women. It was mostly white and blue.
It would be great to see Nike provide more colour options for players because it helps them to have more options to choose from. Moreover, having more colour options to choose from helps players to select which one they want and suit their tennis outfit.
Weight and Size
With a weight of 13.7 ounces and a size of 10.5, this shoe is classed as lightweight. It's great to have a shoe that is lightweight because it allows you to move quickly on the court without putting too much weight on your feet.
In terms of sizing, this shoe is more suitable for players who have a narrow foot. Moreover, it's not really true to size so it's better if you order up one-half size. This way you have a pretty good chance for your feet to fit in well.
Ankle Support and Dynamic Fit System
The ankle area has a padded collar which is designed to provide you with excellent cushioning and support.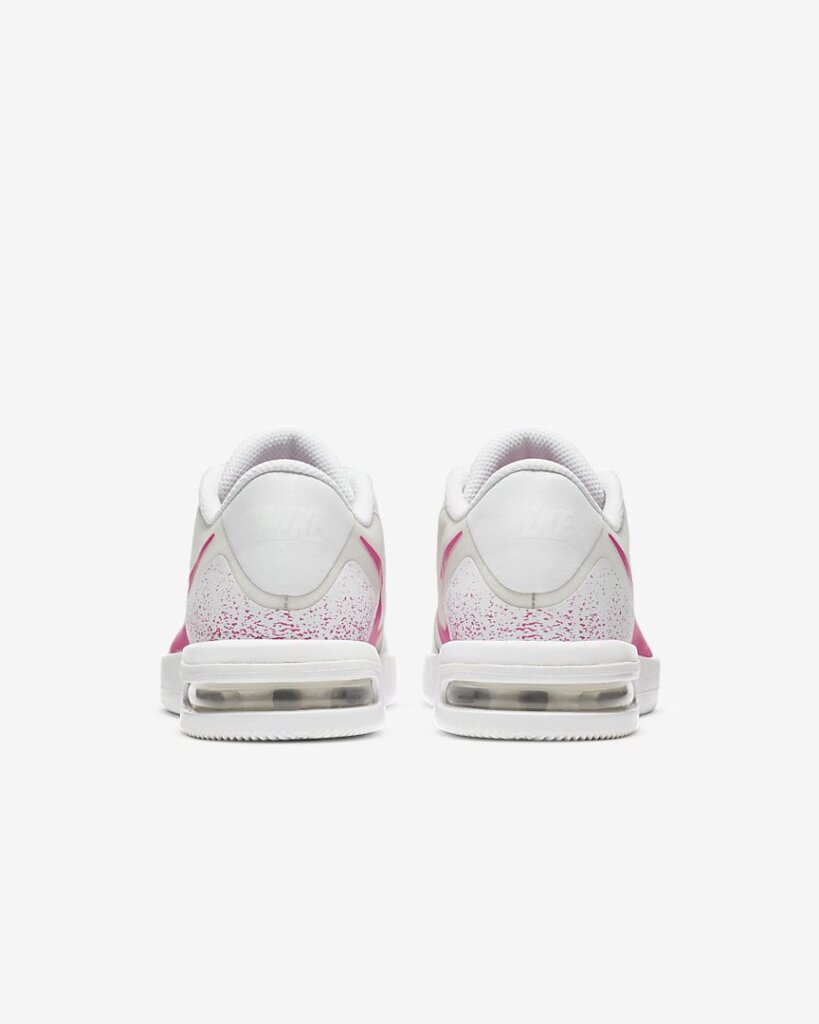 This is very useful when playing rallies and sliding on the court.
Moreover, a translucent panel on the medial side displays the Dynamic Fit System.
This technology helps to wrap around your foot like a web and produce a high degree of support.
Also, the Dynamic Fit System does a great job at providing an extra structure and stability by re-inforcing a little pressure on the heels.
How Is The Air Max Vapor Wing MS Similar And Different From To Vapor?
The Air Max Vapor Wing MS is another version of the Vapor with similar features. However, there are some few differences between them.
Similarities:
Firstly, as I said earlier on this shoe, it has a similar outsole with the Vapor. Both outsoles are going to provide you with a responsive feel and benefit players who like to play aggressive.
And secondly, both shoes have the Dynamic fit system which is going to hold your foot in a perfect and secure position.
Differences:
One big difference between the shoes is pricing. The Air Max Vapor Wing MS comes at a fairly cheap price compared to the normal Vapors.
Next, the Vapor is usually true to size but the Air Max Vapor Wing is more suitable for players with narrow feet.
What Does the MS Stand For?
It stands for multi-surface. This means you can use it on all court surfaces and off-court.
Price
When you compare the price of this shoe with the Vapor Categories then this shoe comes at a reasonable point. It is below $100 which is a fantastic offer when you think about the amazing features it comes with it.
Final Thoughts!!
In conclusion, I hope you have enjoyed reading this post about Air Max Vapor Wing MS. As you can see this shoe comes with amazing features such as the outsole, midsole, and even a great pricing point.
However, there are some weaknesses with the shoe such as durability and lack of colour options. If Nike manages to improve on these areas of the shoe then it would be a world-class tennis shoe. With that said if you manage to pick this shoe up, I wish you a lot of success in your future matches.