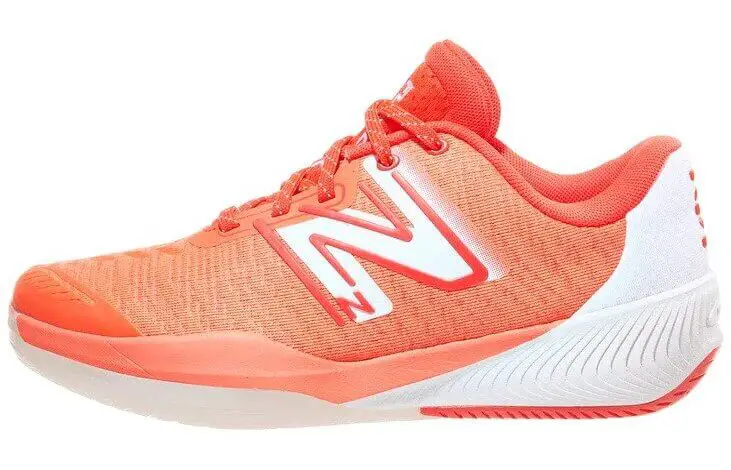 We're an affiliate
We hope you love the products we recommend! Just so you know, we may collect a share of sales or other compensation from the links on this page. Thank you if you use our links, we really appreciate it!
Product Overview
Comfort

Durability

Stability

Breathability

Weight

Fit and Size
Summary
Nearly after two years when New Balance released the New Balance 996v4, they have now updated the version. This version promises to provide you with lightweight, comfort, support, and style. However, there are some areas that need improvement such as the durability of the shoe. All in all is a great update from New Balance.
Pros
Nice design
Lightweight
Very comfortable
Good traction
Comes with six months guarantee
Cons
Durability needs improvement
More colour options needed
Are you a player looking for a lightweight, comfortable and supportive tennis shoe? If the answer is yes then I have the perfect news for you.
The shoe I would recommend is the New Balance 996v5 which comes with all of these features and more. If you want to learn more about these shoes then let's dive deep and start with the design.
Design
Right out of the box, this shoe is very colourful, and simple but very attractive. The colours that New Balance selected are spot on in my personal opinion. Also, the way New Balance has done its logo on the side makes it look cool. This makes it awesome to wear it both on and off the court.
Upper
The upper is well-built to give you the best possible experience both on and off the court. It's made of lightweight synthetic combined with mesh material. The purpose of this is to provide you with comfortable support and stability when you are playing on the court.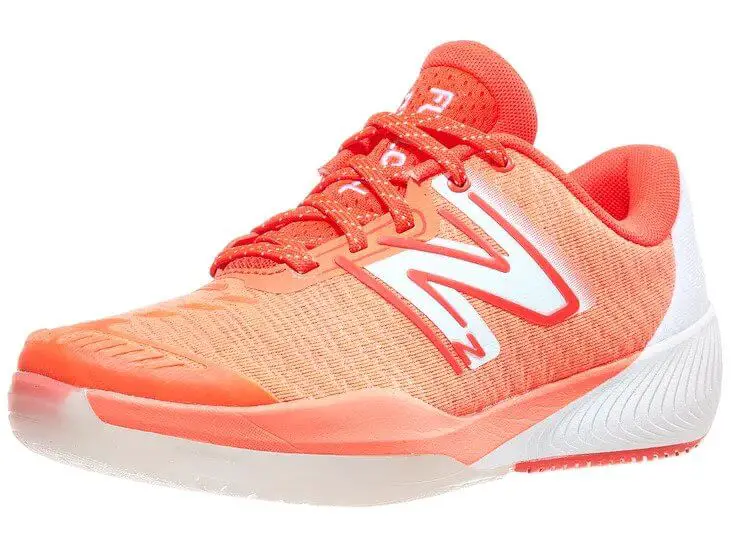 Furthermore, the use of these materials does well to provide you with good breathability.
This is cool because it would allow the moisture to leave the shoe quickly and welcome fresh air quickly. You would really benefit a lot from this shoe when you are playing in hot weather conditions.
And lastly with the upper is the use of the NDure technology for added durability in high-wear areas. Personally, I wouldn't say it's the best durability on the market for this year.
Toe Box, Ankle Support, and Heel Area
When you wear the shoe, you are going to enjoy the comfort and cushioning that comes with the toe box area. Also, you are not going to experience any left roomy space which is a good thing because it would fit you perfectly.
The shoe may not be a mid-cut size but it still does well to give you the best ankle support when you wear it. This reduces your chances of getting any serious injury.
Not only that, the heel area is going to support your movement well and place it in a perfect position when you are moving on the court.
Insole and Midsole
The insole comes in the usual format. It's nicely made to provide you with comfort, cushioning, and support when you play in it. Moreover, it's a removable insole which is good because you can always replace it with your preferred insole.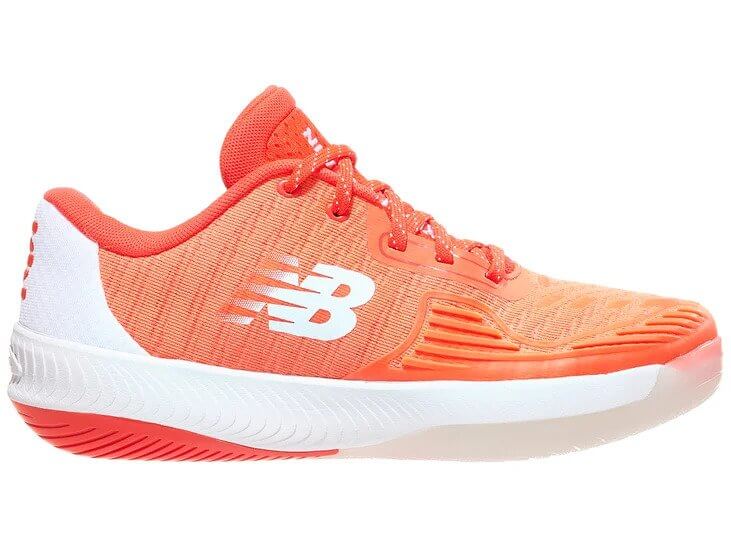 The midsole is another key strength of this shoe. It comes with the unique fuel cell midsole which does really well to provide you with nice cushioning and responsiveness underfoot. This makes your movement on the court better and smooth.
On top of that, there is an added lateral stability piece included in the material to help improve your confidence when moving.
Weight
In terms of weight, it comes in 10.8 ounces with a size of 8.5. This makes it one of the lightest tennis shoes in 2023. Therefore, if you are a player who is looking for lightweight tennis shoes then you should consider this shoe.
Lacing System and Tongue
Unlike the Air Zoom Vapor Cage 4 lacing system which has a unique lacing system that is designed to keep your laces hidden for extra durability while sliding on the court.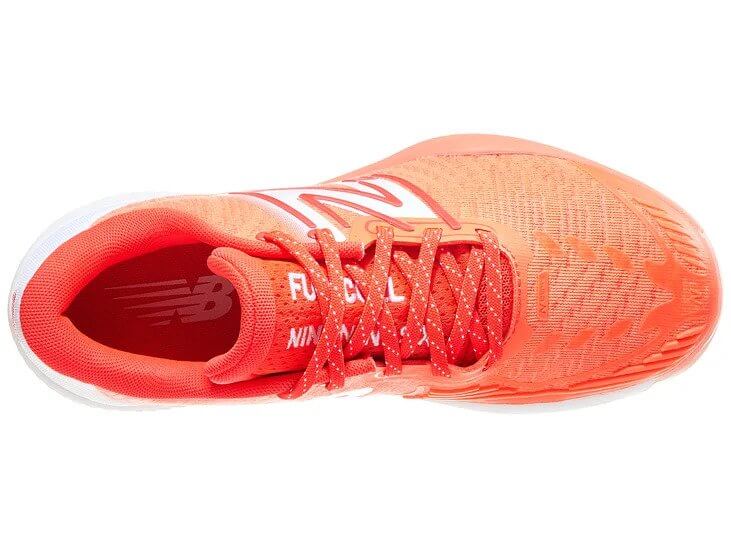 The New Balance 996v5 on the other hand comes with a simplistic and easy lacing system.
The holes are small enough to lace through quickly and with ease. Also, you can get a lot of grip and stability from it.
On top of that, the tongue is well padded to provide you with nice comfort and support when playing in it. This could be a lifesaver when you are playing long matches.
Fit
Similar to the Prince Phantom 1, this shoe is more suitable for players who have a medium and wide feet. If you have any of these foot sizes then you would really enjoy playing in this shoe.
Another benefit of wearing this shoe is that it does not require any break-in period. This is great because your feet can easily get used to it without experiencing much discomfort.
Outsole
Now let's look at the outsole and see how it is constructed. It comes in a modified tread pattern which is going to provide you with good traction on all court surfaces. This is great because you would be able to move on the court comfortably and with great stability.
Furthermore, it comes with an NDurance rubber outsole which provides you with durability. Although, am not entirely convinced with how strong the durability is. I would love to see New Balance make a lot of improvement in that area of the shoe.
The good thing is that it's backed up by a 6-month durability guarantee. This is great because if your outsole wears out quickly within 6 months you can return it.
Colour Options
Another downside to the New Balance 996v5 is the colour options it has. It comes with only one colour option for men and two different colours for women. The men come in dragonfly and black designs. Whiles the woman comes in white and navy blue and dragonfly and white. All of these designs look amazing and attractive.
Price
The last point we need to highlight is the price of the shoe. The cost of this shoe is $134.95 which could be pricey for a lot of players. However, the benefits it brings to your game are enormous and could take your game to the next level.
Wrapping Up!!
As we wrap this post to its conclusion, I hope you find it useful and informative. In short, the New Balance 996v5 is going to provide you with the best comfort, support and lightweight.
However, the durability of the shoe may not be that great and that's why it comes with a 6-month outsole durability guarantee. Also, we would like to see more colour options on the market because the design is very attractive.
Overall, the positives of this shoe completely outweigh the negatives. I recommend you check it out.