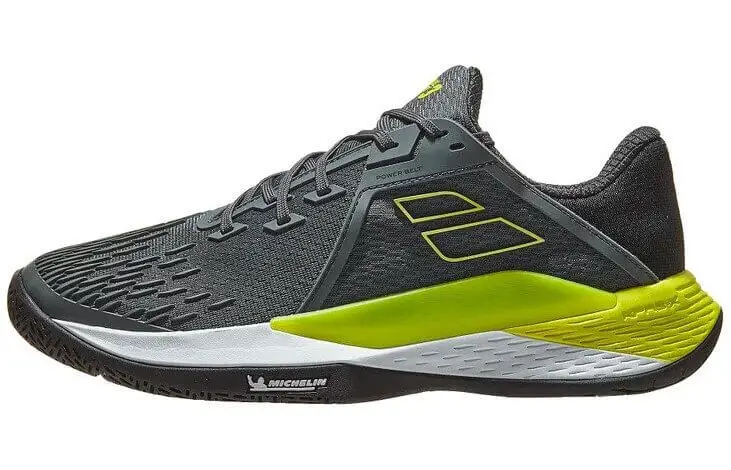 We're an affiliate
We hope you love the products we recommend! Just so you know, we may collect a share of sales or other compensation from the links on this page. Thank you if you use our links, we really appreciate it!
Product Overview
Comfort

Durability

Stability

Breathability

Weight

Fit and Size
Summary
Babolat has released its latest version of the Propule Fury series. This version is designed to provide you with the best support, durability, and comfort. This is great for players who are going to play long and intense matches over the course of the year.
However, you may likely experience heel slippage when you play in this shoe. One way to overcome this issue is to tighten the laces firmly to give you the best possible support.
Pros
Lovely design
Nice support
Good durability
Very comfortable
Breathable
Comes with a six-month outsole durability guarantee
Cons
May likely experience heel spillage
Lack of colour options to choose from
May require a little break in period
Babolat has released their first tennis shoes for 2023 and it's the Babolat Propulse Fury 3. This shoe is the latest version of the Propule Fury series and a lot of people are loving it on the market. The question is does it live up to the hype like everyone is talking about? Let's dive in by starting with the design.
Design
Straight out of the box, the design and colour scheme selected to make this shoe is spot on. It's very attractive, cool and simple.
This makes it amazing to play with it on the court and even wear it off the court to do other activities such as going to the gym etc. Personally, I love the men's grey and aero design. It's awesome.
Upper
Next up is the upper of the shoe. Built with a combination of synthetic materials and mesh to provide you with lightweight comfort and support. This allows you to play more effectively and efficiently on the court.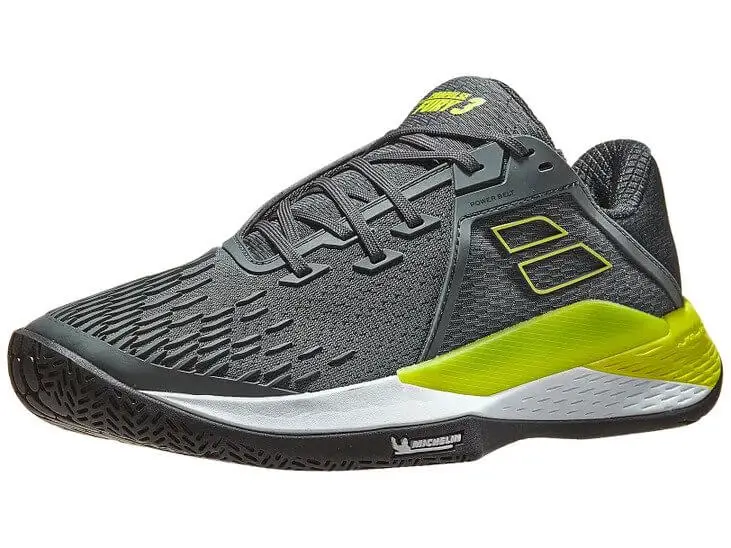 On top of that, the upper is well done to provide you with good breathability. This is fantastic because moisture can leave the shoes quickly whiles allowing fresh air to enter quickly.
This can be a blessing when playing long, intense matches in the sun.
Furthermore, the upper material is well-built to provide you with good durability. This is very helpful when you like to slide on the court very often. Overall, it's a top notch upper from Babolat.
Toe Box, Ankle Support, and Heel Area
The toe box is nicely built to provide you with good protection and comfort when playing in it. Also, it fits your feet perfectly well when you were the shoe.
The ankle on the other hand does well to provide you with stability and a nice fit when you were the shoe. This makes your movement on the court better and smooth.
And lastly is the heel area. The use of Power Belt technology does well to hold your heels to provide you with support and grip when moving and sliding on the court. Also, there is an external shell used for exceptional stability when moving on the court.
Insole and Midsole
The insole comes in the usual format. It's nicely made to provide you with comfort, cushioning, and support when you play in it. Moreover, it's a removable insole which is good because you can always replace it with your preferred insole.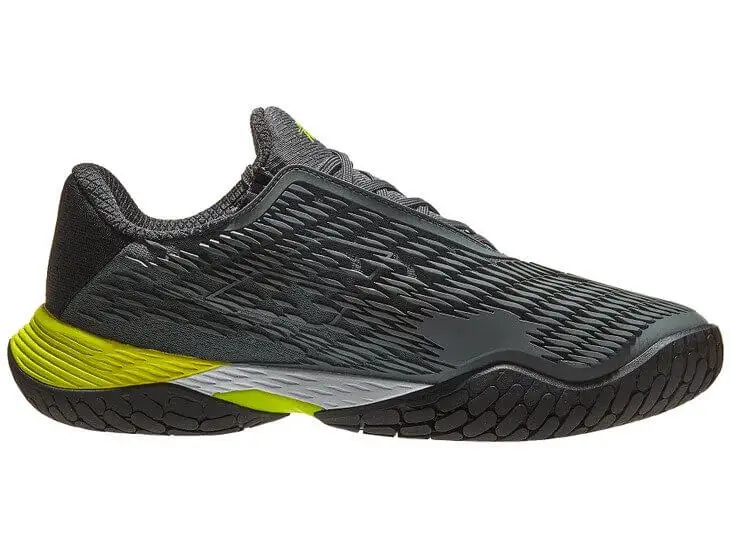 In terms of the midsole, it comes with EVA material which has been purposely increased from the previous versions to provide you with the best cushioning, support and responsiveness underfoot. This makes playing in this shoe more enjoyable and fun.
Moreover, there has been a reinforcement plate that helps to improve your stability when moving especially the powerful ones. The use of KPRS-X gives a plush ride, with increased shock absorption.
Weight
In terms of weight, the Babolat Propulse Fury 3 comes in 14.4 ounces with a size of 10.5. It may not be the most lightweight tennis shoe on the market but you would greatly enjoy the benefits that come along with it.
Lacing System and Tongue
The way the lacing system and tongue are constructed is similar to Rafael Nadel's shoe. Let's take a closer look at the lacing system.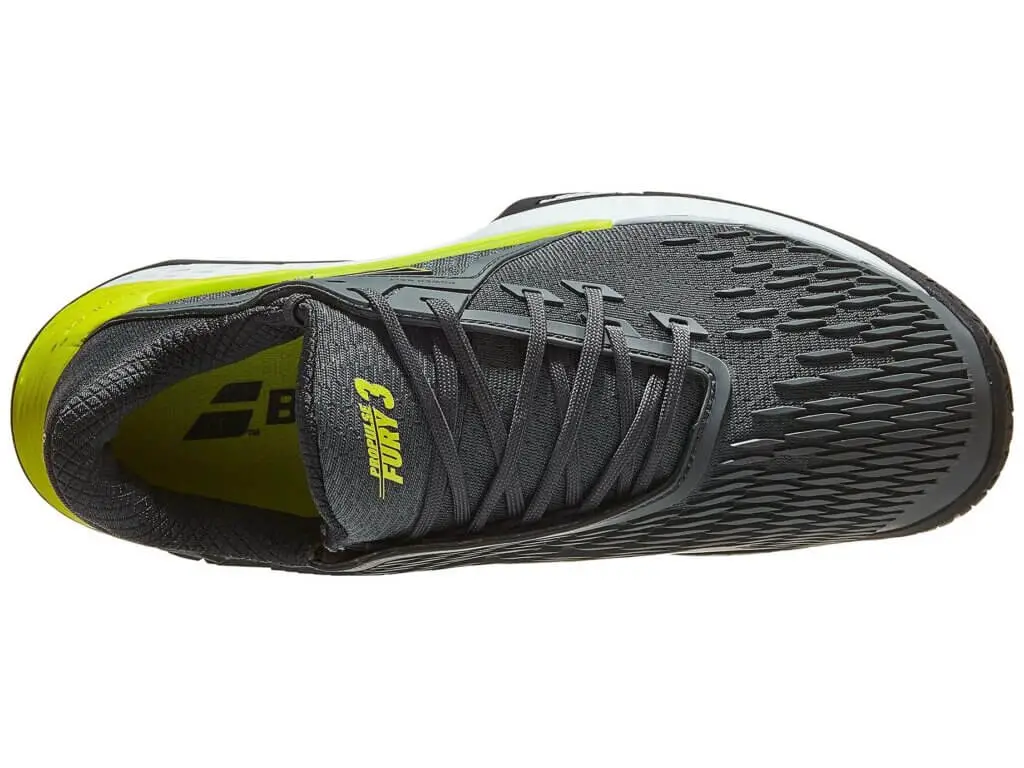 Firstly, the lacing system on the medial side is hidden inside to avoid any breakage. This is great at keeping the lacing structure durable.
Not only that but it makes it easier to lace the shoe quickly. Next, it comes with extra lacing holes to help you get more grip and stability when you need it.
In terms of the tongue, it's well-padded to provide you with the best comfort, support and cushioning when playing in it.
Fit
Let's talk about the fit of the shoe now. The shoe is ideal for players who have a narrow or medium feet. The length is true to size which is great because if you have a narrow or medium foot it would fit you perfectly.
If you have a wide foot you could still wear it but you may have to go up a size in order to find the perfect shoe that suits you. The downside to the fit of the Babolat Propulse Fury 3 is that it does require a break-in period in order for your feet to adjust perfectly with it. Although the break-in period does not require a lot of time.
Outsole
Are you a player that likes to wear their shoes quickly? If the answer is 'yes' then this is the perfect shoe for you. It comes with the famous Michelin's premium rubber formula with dense zones in high-wear regions.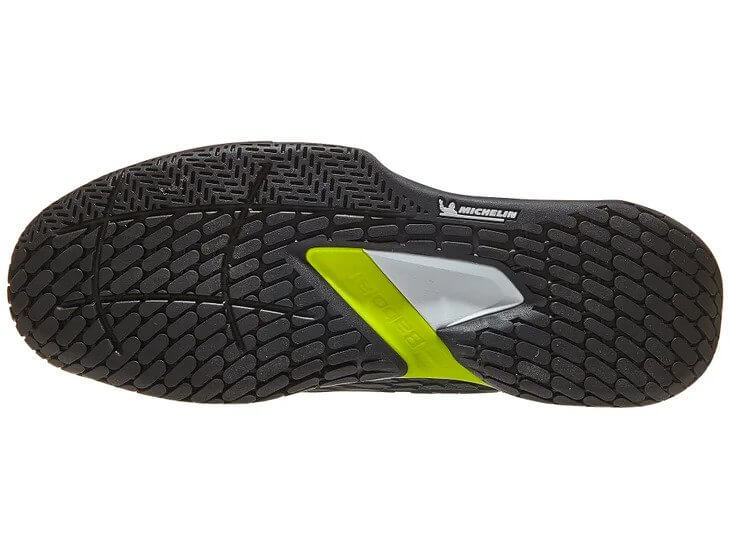 The purpose of this is to help you cut weight which would enable you to move better and with ease on the court. Not only that, the durability that comes with this shoe is spot on.
You are going to enjoy the longevity of this outsole. Not only that, but it comes with a six-month outsole durability guarantee which is another bonus.
Furthermore, the tread pattern underneath the outsole is done in a brilliant way to provide you with the best traction on all court surfaces, specifically hard courts.
Colour Options
Another drawback to this shoe is the colour options it has. As of now, it comes in only two different colours which are grey/aero and white/blue versions. Both colour options look amazing and cool on the court. However, it would be great if Babolat could release different colours as the season progress.
Price
And lastly is the price of the Babolat Propulse Fury 3. It comes to around the $139.00 mark. This is a little bit more than the New Balance 996v5 which also came out earlier this year. Although the Propulse Fury 3 may be expensive but the amazing features such as comfort,
Conclusion
It's pretty clear why a lot of people are loving these new updates on the market. It's a shoe that comes with a lot of amazing benefits such as stability, support, comfort and durability.
Although there are a few weaknesses to the shoe such as the break-in period required and you may likely experience heel spillage. All in all, it's a brilliant update from Babolat.