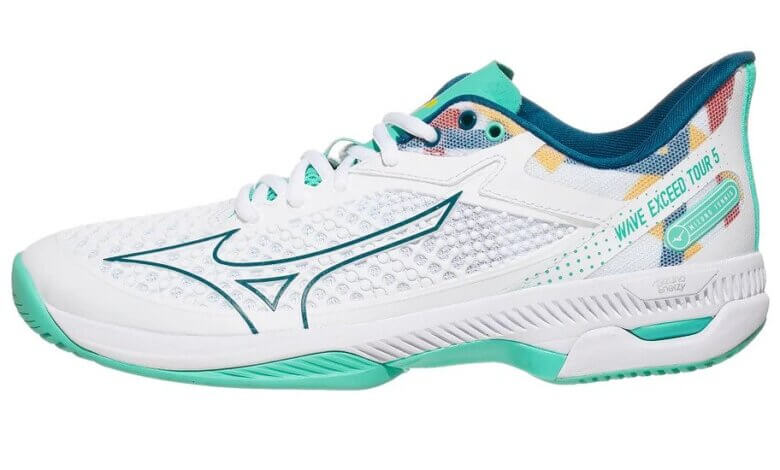 We're an affiliate
We hope you love the products we recommend! Just so you know, we may collect a share of sales or other compensation from the links on this page. Thank you if you use our links, we really appreciate it!
Product Overview
Comfort

Durability

Stability

Breathability

Weight

Fit and Size
Summary
Quick, comfortable and lightweight are the mantra that comes with the Mizuno Wave Exceed Tour 5. If you are a tennis player looking for these features then you need to check this shoe out. It would help you to be more effective and efficient on the court. 
However, this shoe is expensive to afford compared to most tennis shoes. Overall, it's a great tennis shoe to have in your arsenal. 
Pros
Lightweight
Very comfortable
Quick
No break-in required
Different colour options to choose from
Cons
Expensive
Durability needs improvement
Mizuno has released their first tennis shoe for 2022 and it's the next edition for the Wave Exceed Tour series. This version according to Mizuno is designed to provide you with the best comfort, lightweight and speed. The big question is 'did Mizuno manage to meet these objectives?' Let's find out by analysing every part of the shoe.
Design
Just like the Adidas Avacourt, this shoe looks amazing right from the box. The colour scheme and design look great on the court and even off the court. This makes it great to use in the gym. Of all the designs and colour schemes, my favourite is the men's Moroccan blue.
Upper
Next up is the upper. It is made of a 3D solid upper which is going to provide you with a natural fit and excellent durability. This is awesome to hear from Mizuno because you are going to have a better fit compared to the last version.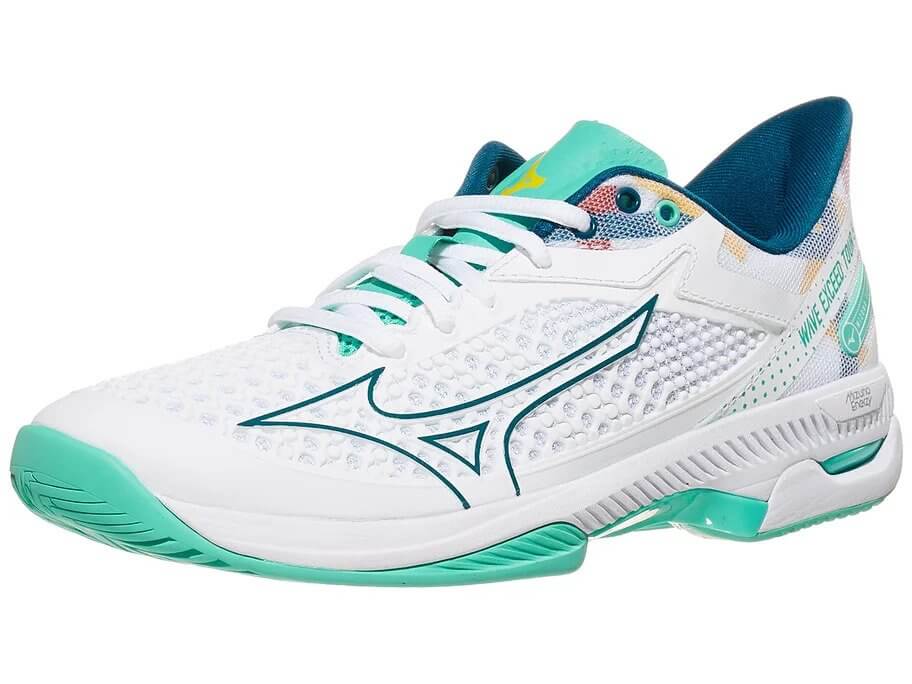 In addition, if you are an aggressive mover or someone who slides on the court often then you would want to check this shoe out.
You are not going to have any issue with the upper wearing out sooner or later.
These shoes are fantastic at allowing cool air to circulate, removing uncomfortable heat build-up. This is great because your feet can thrive inside of the shoe.
And lastly, the outside of the 3D Solid is incredibly durable, protecting against lateral drag and abrasion whilst delivering essential support and stability needed for fast and dynamic movement.
Arch and Ankle Support
Just like the Head Sprint Pro 3.5, Mizuno did a great job at building a great arch and ankle support. The purpose of this is to help place your foot and ankle in a perfect position when you wear the shoe.
This makes the movement on the court smooth and easy. And it reduces your chances of you getting any serious injury.
Toe Cap, Heel Area and Shank
I wouldn't say the toe cap is durable like the previous version. If you are an aggressive or toe dragger then I wouldn't recommend this version. Instead, you want to use the previous edition.
The heel area is going to put your heels in perfect position and make your movement on the court more convenient. And lastly, the shank is very responsive and it's probably one of the best on the market this year.
Insole and Midsole
Now let's take a closer look at the insole and midsole. The insole comes with a removable layer which you can replace anytime with your prefered choice.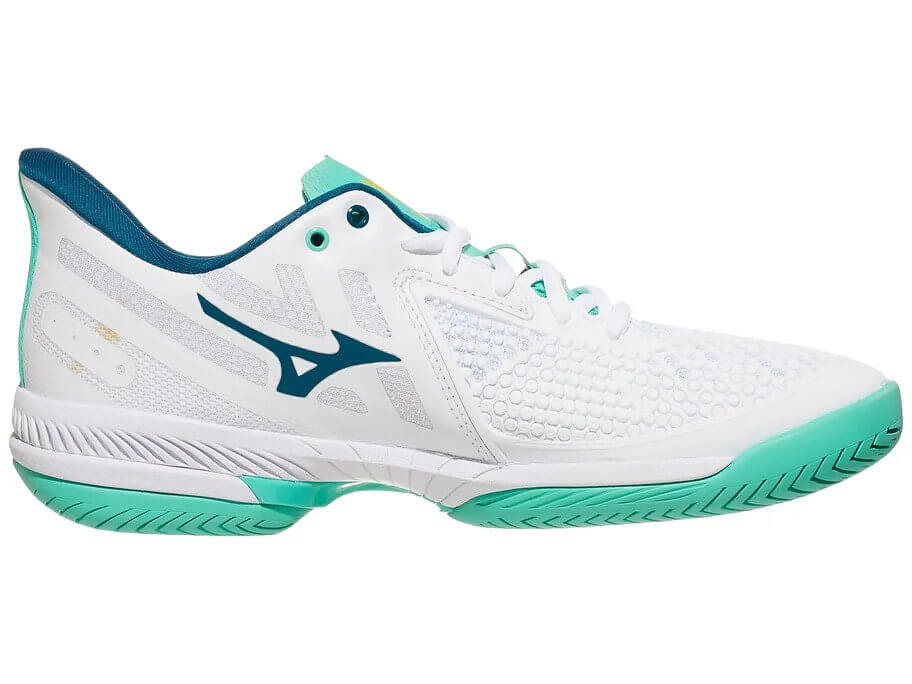 Also, when you wash the shoe, you can take the insole out for it to dry quickly.
In addition, the lightweight insole helps with rebound and shock absorption when moving around the court.
The midsole on the other hand comes with Mizuno owns Enerzy paired with Mizuno Wave technology which provides cushioning and rebound.
Weight
Another key strength of the shoe is the weight. If you like a tennis shoe that is lightweight then you would love the Wave Exceed Tour 5. The shoe comes with 9.7 ounces with a size of 8.5.
This would give you an advantage in the game because you can increase your speed and at the same time keep low to the ground. This helps you to reserve your energy and make your movement on the court smooth.
Lacing System and Tongue
The lacing system and tongue come with the traditional format. The lacing system comes with extra lacing holes for you to use if you want more grip and stability during the match. Moreover, the lacing holes have decent sizes to make it easy to lace the shoe quickly.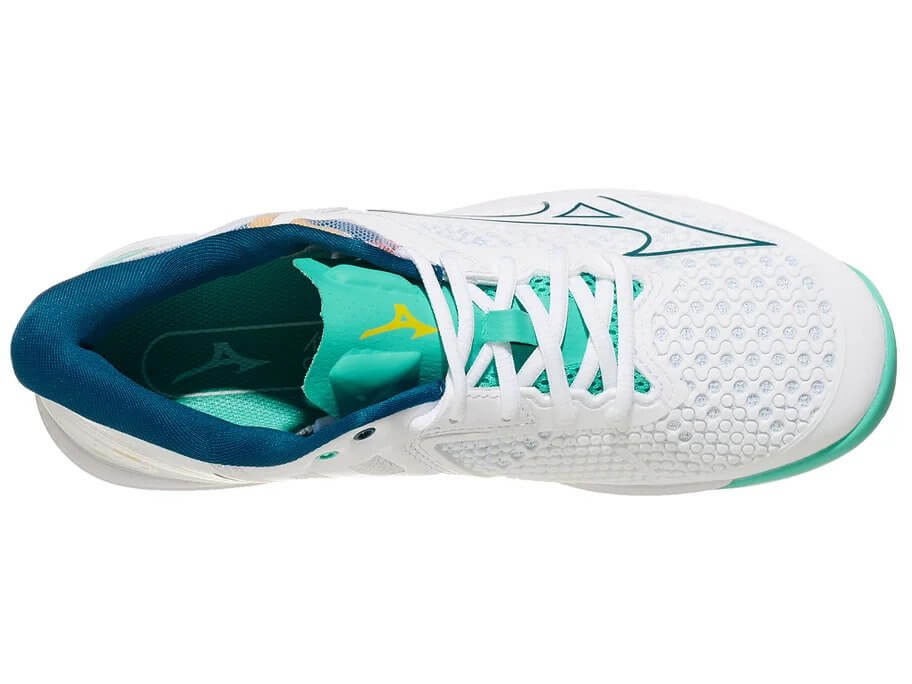 The shoe comes with a well-padded tongue to provide you with comfort and cushioning when playing in them. This makes it fun and enjoyable to play in it.
Fit
In terms of fit and size, I would say this shoe is more geared towards players who have small to medium feet. If you have any of these feet then you would really enjoy playing in this shoe.
Another wonderful thing about the Exceed Tour 5 is that it does not require any break-in period. This is such a relief for most players because you don't have to play for a while in-order for your feet to get used to the shoe.
Outsole
Another key element of the shoe is the outsole material. It comes with the unique D-Flex Groove material which is going to provide you with durability. Although, I wouldn't say it's the best durability outsole on the market.
Therefore, if you are a player that tends to wear their outsole quickly then I wouldn't recommend this shoe. Instead, I would recommend the Asics Court FF 2.
This shoe is specifically built to last you longer than most average tennis shoes.
The Mizuno Wave Exceed Tour 5 has DuRubber material to provide you with flexibility on the court and add quick steps and pivots on the court.
This allows you to move with ease and comfort without putting too much pressure on your Achilles and knees.
Colour Options
As beautiful and spectacular as this shoe looks, it also comes with different colour options to choose from. As of now, the shoe has about six different colours to choose from. This is great because it allows players more options to select what colour scheme suits their tennis outfit.
Price
The last essential point to discuss before deciding to buy this shoe is the price. The shoe is close to $130 which is on the expensive side for most tennis shoes. Despite how expensive this shoe is, it comes with amazing features such as lightweight, comfortable and low on the court.
However, if you are someone who feels that this shoe is expensive for your budget then you want to check out other shoes such as the Adidas Stella Court.
Conclusion!!
As this post comes to its conclusion, it's clear that Mizuno has done an incredible job at building a shoe that is lightweight, comfortable and fast. If that's the kind of features you are looking for then you would enjoy wearing this shoe.
However, there are some areas that need improvements such as the outsole durability and its expensive to afford. Overall, it's a great shoe by Mizuno and it's great at improving your game and allowing you to perform at your best.