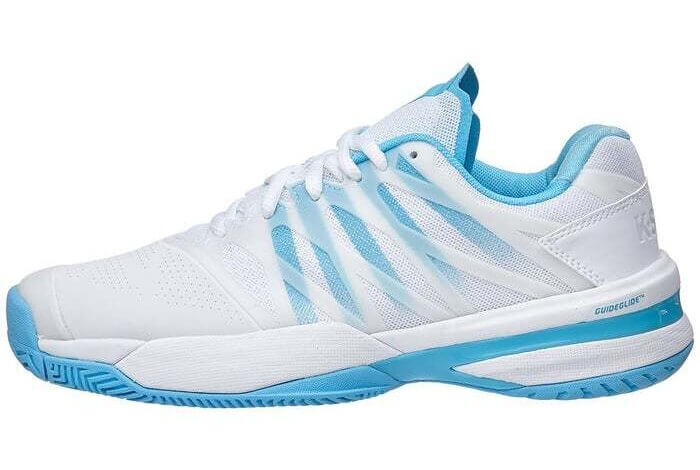 We're an affiliate
We hope you love the products we recommend! Just so you know, we may collect a share of sales or other compensation from the links on this page. Thank you if you use our links, we really appreciate it!
Product Overview
Comfort

Durability

Stability

Breathability

Weight

Fit and Size
Summary
The K-Swiss Ultrashot is a fantastic tennis shoe for players who are looking for support, stability, and nice underfoot cushioning. This is going to allow you to play and move with more effectiveness and efficiency. 
However, there are some weaknesses to this shoe such as poor breathability and the shape and size of the shoe make it not ideal for players with narrow feet. Overall, it's a nice-looking shoe with excellent traction on all court surfaces. 
Pros
Nice looking shoe
Very stable and supportive
Lightweight
Good durability
Underfoot cushioning
Comfortable
Excellent traction
Cons
Lack of breathability
Not suitable for players who have a narrow foot
Break-in period require
Likely to experience toe jamming or blister
K-Swiss is known for making tennis shoes that are supportive and stable for players with wide feet. This is no different with the K-Swiss Ultrashot which at the core is built to provide you with the best comfort, support, and stability. If you are the type of player that looks for these types of features when looking for tennis shoes then you should check out this shoe.
In this post, I'm going to provide you with a thorough in-depth review of the K-Swiss Ultrashot and how you can benefit from its amazing features. If you feel that this shoe suits your style of play then I suggest you read on to understand more about the shoe.
Design
K-Swiss did a brilliant job by adding a modern look to this awesome shoe. Right out of the box, the shoe looks amazing, sleek, and fun to play with on the court. Also, the beautiful-looking shoe is way better compared to other K-Swiss tennis shoes such as the Hypercourt Express which comes with a dull and boring design.
Upper
If you are looking for a comfortable tennis shoe to play with then this shoe should be on top of your list. The upper of the shoe is made with a combination of both mesh and synthetic materials. The purpose of this is to provide you with nice comfort and cushioning when playing long and intense matches.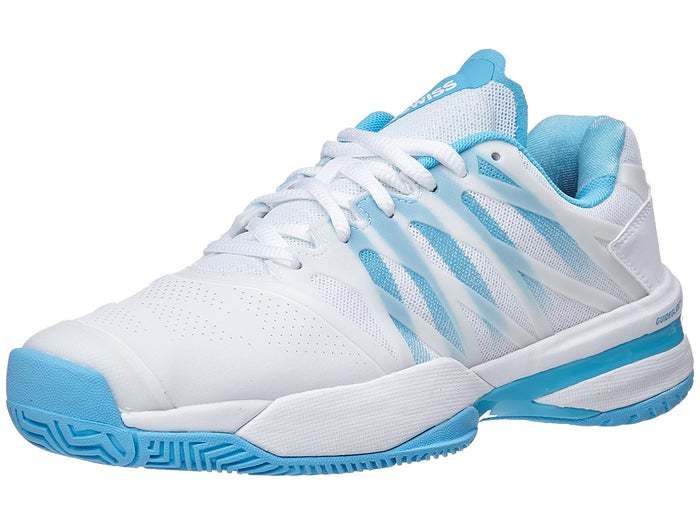 However, the use of the mesh material is not going to provide you with the best breathability shoe on the market.
After playing in this shoe for a while, your feet are likely to get wet. If breathability is a necessity when choosing a tennis shoe then I would recommend that you check out the Adidas Court Control Tennis Shoes.
The Court Control is going to allow moisture to leave the shoe quickly while at the same time welcoming fresh air to keep your feet fresh throughout.
The Ultrashot upper is made of Durawrap X PU. This is going to provide you with good durability, support, and comfort at the same time. It would be able to deal with your aggressive movements.
Toe Box
The toe box comes with a wide space which can be frustrating for a lot of players. For example, players with narrow to medium feet are likely to experience a lot of room in the toe area. This makes it a little uncomfortable playing in the shoe because your toes are likely to be moving side to side during play.
In addition, there is too much space in the toe box which could possibly make some players experience toe jamming or blister during intense movements. On the other hand, you are going to get good durability from the toe box area. This is great for aggressive movers and players who like to slide often.
Heel Counter and Ankle Support
Both the heel counter and ankle support have a similar height to the K-Swiss Ultrashot 2. It does a really good job at holding your heels and ankle in perfect position during play and allows you to move effectively.
Tongue and Lacing System
The shoe comes with a tongue that is very thin and longer than usual. You are likely to experience a little rubbing when playing with it. I wouldn't say it would have a negative impact on your game but it can get a little annoying because it easily absolved sweat. This as a result makes the shoe unbreathable.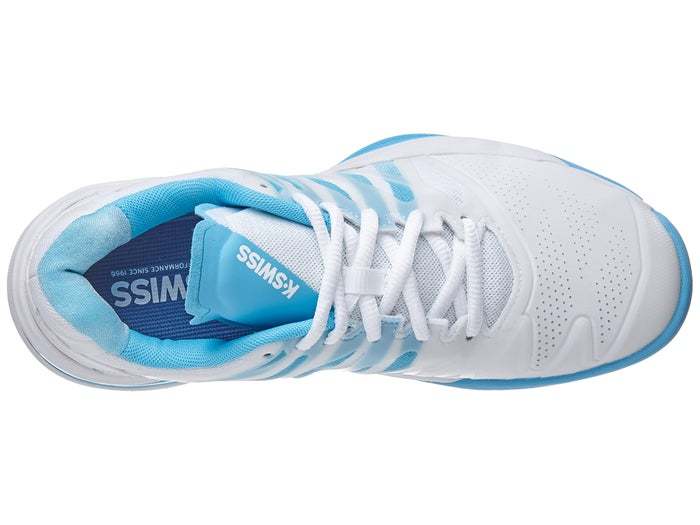 In addition, if you look closely at the tongue, you would notice a leather hole attached to the top for you to lace through. This is to keep the tongue stable and prevent it from distracting you whiles playing.
The lacing system comes with extra lacing holes for you to use if needed to get more grip and support.
The lacing holes are not made of metal eyelets but instead, they are woven into the upper material. This is going to make the lacing holes durable and easy to lace through.
Weight
This shoe may appear bulky when you first see it. However, it's actually lightweight than you think. It comes with a weight of 13.4 ounces with a size of 8.5. The lightweight of the shoe is going to allow you to move very fast on the court. This intern would enable you to compete in today's speedy and competitive game.
Insole and Midsole
The shoe comes with a removable insole which is going to provide you with excellent plush cushioning and comfort. This makes it fun and enjoyable to play in this shoe. Also, it's a removable insole which means you would be able to replace it with a different insole of your choice.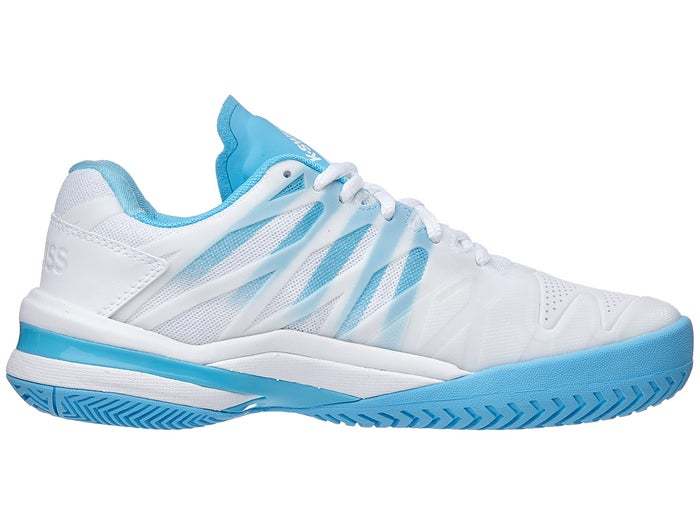 The midsole on the other hand is made of an Ortholite X-40 sockliner. It's going to provide you with decent breathability but not the best.
Also, the use of the GuideGlide midsole helps to keep the feet in the perfect place to add stability during quick movements and slides.
Fit
The shape and size of the shoe make it suitable for players who have medium to wide feet. If you have a narrow foot I wouldn't recommend this shoe to you.
Instead, I would say read my full review of the best tennis shoes for narrow feet. You would find it very useful.
The shoe is true to the length which means you don't have to go either size up or down. However, this shoe does require some break-in period for your feet to adjust to it.
Outsole
Another part of the shoe that's worth taking a look at is the outsole. It comes with the iconic Aosta 7.0 high-density rubber which is going to provide you with good durability. This means it's going to deal with the tough conditions on the court.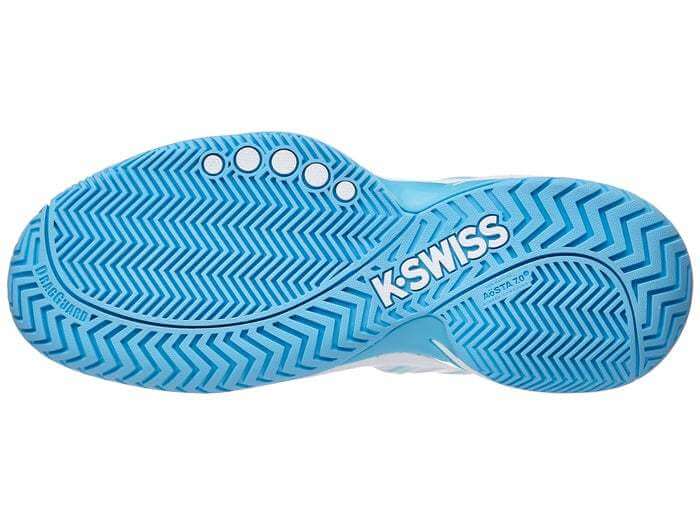 Furthermore, it has a modified herringbone tread pattern that provides you with excellent traction on any court surface. Although, I have to let you be aware that the tread pattern is on the sticky side.
Colour Options
The K-Swiss Ultrashot comes with different colour options to choose from. This is great at allowing you to pick a shoe that suits your tennis outfit.
Price
The last important point to talk about is the price of the shoe. The shoe comes under $100 which is a fantastic price point because it allows most players the opportunity to afford this type of high performing shoe.
Also, you are going to enjoy the awesome benefits that come along with it such as comfort, durability and lightweight.
Summary!!
In summary, K-Swiss has done a brilliant job of producing a high performing shoe with many great features such as comfort, nice cushioning and durability.
On the other hand, there are many areas that need some improvements such as lack of breathability, break-in period requires and players are likely to experience toe jamming or blister due to the wide toe box.
With that said, it's still a fantastic nice looking shoe at an affordable price. I wish you the very best of luck with these shoes in your next match.