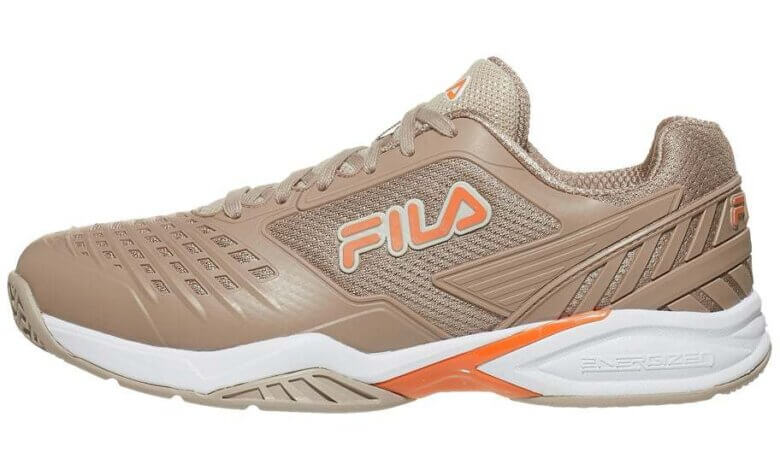 We're an affiliate
We hope you love the products we recommend! Just so you know, we may collect a share of sales or other compensation from the links on this page. Thank you if you use our links, we really appreciate it!
Product Overview
Comfort

Durability

Stability

Breathability

Weight

Fit and Size
Summary
Fila has made some minor updates to the Fila Axilus 2.5 to make it more comfortable, durable and suitable for players with a wider fit. If you are a player that is looking for these features in a tennis shoe then you need to not look any further because the Fila Axilus 2.5 has got everything you need.
However, there are some areas of the shoe that needs some improvement such as breathability. This can get a little uncomfortable when you play long matches during hot weather conditions. Overall, the Fila Axilus is a great shoe that's worth a look at.
Pros
Excellent comfort
Durable
Great stability
Lightweight
Good traction
Comes with a variety of colours to choose from
Cons
Lack of breathability
Cushioning still needs improvement
Design
The design and colour scheme of the shoe looks cool and attractive to wear both on and off the court. Personally, I like the men's stucco/melon and the women's atomic blue looks amazing as well.
Upper
The whole upper material is covered with a moulded forefoot cage which does really well to provide you with good stability and support. This really does a good job of keeping your feet grounded during rallies and help with your movement.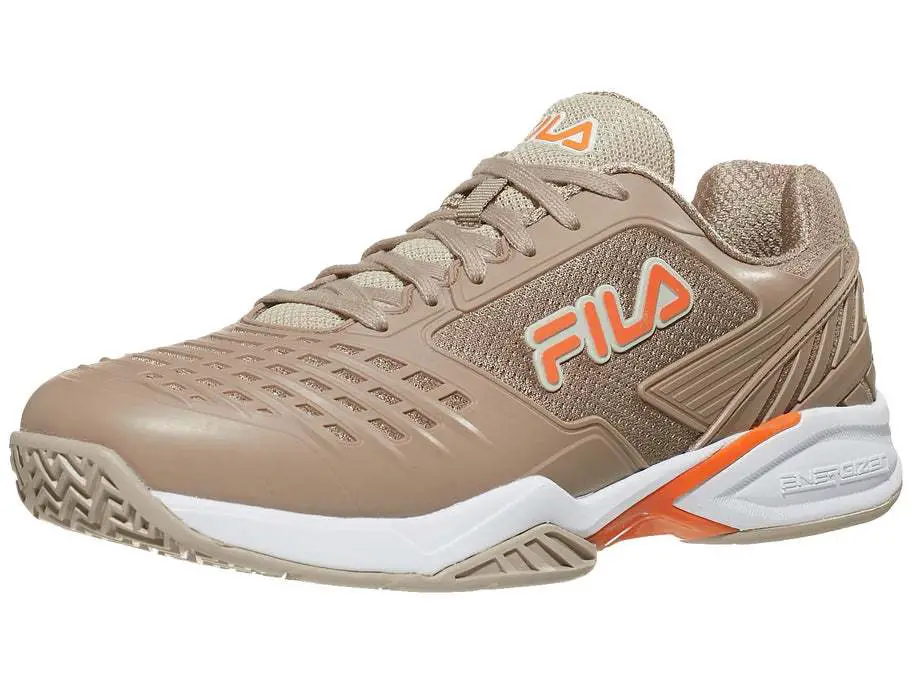 Just like the old version, the upper material is very durable. This is going to help you deal with the tough conditions on the court. The only downside to this upper is the breathability.
It can easily get hot when playing in them which can make it uncomfortable at times.
If breathability is a key feature when selecting a tennis shoe then I highly recommend that you check out the Asics Gel-Resolution 8.
Toe Box
Since the whole upper is covered with the moulded rubber compound, this is going to provide you with excellent durability and toe drag protection. If you are someone who likes to slide a lot or drag their toes often then you would enjoy wearing this shoe.
Arch and Ankle Support
Fila did a really good job at making the arch and ankle support to provide you with excellent stability. This would really help with your movement and sliding on the court. 
Lacing System and Tongue
Both the lacing system and tongue is done in a simplistic way at providing you with a secure foot. Firstly, it has extra lacing holes for you to use if you need more grip on your shoe. Next, the lacing holes are covered with the caging rubber which is used all over on the upper to help make the lacing holes last longer.
The only downside to the lacing system is that the laces can easily wear out. I highly recommend that you get your own laces once you purchase this shoe. The tongue is thin but well padded. This is going to provide you with decent comfort.
Insole and Midsole
The shoe comes with a removable insole which allows you to replace it with your prefered insole. Also, if you wash the shoe you can take the insole out to make it dry quickly. However, inside of the shoe, it would be nice if Fila can improve the cushioning to make it more flexible and soft to play in them.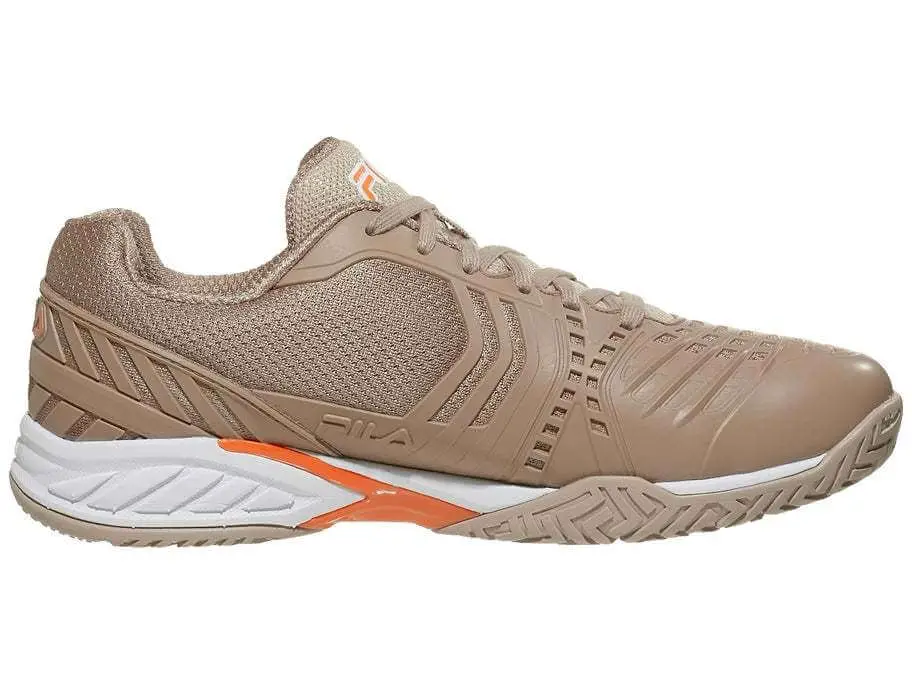 Now let's take a closer look at the midsole. It comes with a TPU Midfoot stabilizer to allow you to move aggressively and be confident on the court.
Also, it does a really good job at rebounding and providing you with shock absorption.
Furthermore, the midsole is very stiff and hard to even bend. If you look closely at the midsole you would notice that it has a plastic shank that goes all the way from the lateral side central under the arch to the medial side.
In case you are wondering why Fila placed this material there, let me help you out. The purpose of this is to provide you with good arch support.
Weight
The Fila Axilus 2.5 comes with a weight of 13.7 ounces with a size of 10.5. As you can see this shoe is in the lightweight category. It's nice and comfortable playing in this shoe because of how it feels lightweight on your feet. On top of that, it can improve your speed and allow you to move nicely on the court.
Fit
The shoe does not require any break-in period which is great because your feet can easily adapt to the shoe quickly. Also, the inside of the upper feels soft and comfortable to wear which makes it nice and enjoyable to play in them.
Another key feature that makes the first version different from the second is the length and size of the foot. The Fila Axilus 2.5 has a length that is slightly short with a width that is slightly wide. This makes it great for players who have a wider foot in size.
If you have a narrow foot and you are looking for a tennis shoe that will fit your size then I would recommend that you read the in-depth review post, best tennis shoes for narrow feet. You would find it super helpful.
Outsole
When it comes to the outsole, there is not much difference between the first version and this edition. It comes with a durable Evergrind rubber which is going to provide you with excellent durability on all court surfaces. It also shows that it can deal with today's competitive game despite how lightweight it is.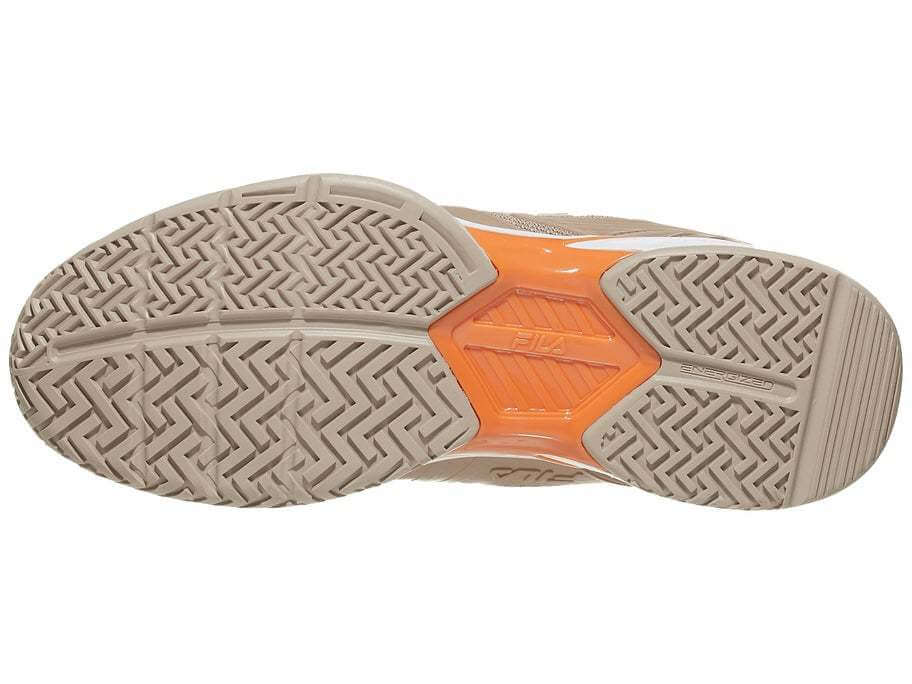 Furthermore, it comes with the popular modified herringbone tread pattern to provide you with good traction and grip on all court surfaces. This would help you to move comfortably on the court.
If you like to slide aggressively on hard court surfaces then you would benefit a lot from the outsole.
It comes with a huge air channel from the toe to the shank which provides you with efficient airflow and good stability whiles sliding on the hardcourt.
Colour Options
Another feature that you would enjoy from the Fila Axilus 2 is the many colour options it has to choose from. This is fantastic for players to select what tennis shoe colour that suits their tennis outfit.
Price
The last important key point to consider before you buy this shoe is the price. This shoe is around the $100 mark which is the average price point for most tennis shoes. Personally, I think this is a good deal when you consider the awesome features such as the excellent comfort and durability that comes with the shoe.
Wrapping Up!!
There is not a major difference between the Fila Axilus 2 and the 2.5. The minor differences are to make the 2.5 more suitable for players with a wider foot and improve the comfort even more. Although there are still some areas that need improvement such as the cushioning and lack of breathability. Overall, the positives of the shoe completely outweigh the negatives and it's worth a look at.