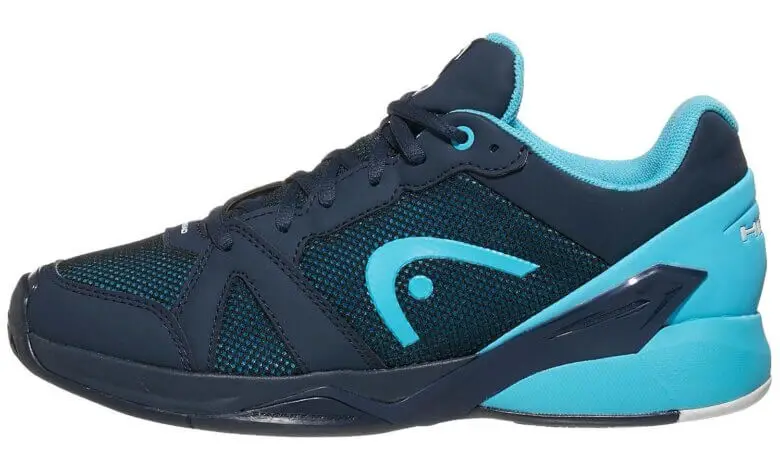 We're an affiliate
We hope you love the products we recommend! Just so you know, we may collect a share of sales or other compensation from the links on this page. Thank you if you use our links, we really appreciate it!
Product Overview
Comfort

Durability

Stability

Breathability

Weight

Fit and Size
Summary
The Head Revolt Evo is a shoe built to provide you with comfort, durability, and stability. If you are a player searching for these features in your game then you need to look any further! It's going to allow you to take your game to the next level and compete with the best. 
However, this shoe is not suitable for players who have narrow feet and it comes with limited colour options to choose from. Overall, it's a nice looking shoe that is worth checking out! 
Pros
Nice looking shoe
Great stability
Nice comfort
Lightweight
Excellent durability
Cons
Not suitable for narrow feet
Lack of colour options to choose from
Head is commonly known for making some of the best tennis racquets in the world. They also do a great job when it comes to making awesome high-performing tennis shoes. Some of their best tennis shoes include Head Sprint Pro 3.0 SF and Head Revolt Pro 3.5. Both shoes have done really well on the market.
Head has added a new tennis shoe to their collection and it's called the Head Revolt Evo. This Revolt Evo comes with a lot of awesome features that can really help you a lot in your game. In this post, I'm going to provide you with an in-depth review of the Head Revolt Evo and how it can benefit you.
Design
Right out of the box the shoe looks simple and cool. If you are a big fan of colours and design then you would love to wear this shoe on the court. Of all the colours that Head has released so far on the market, I would say the men's blue/aqua is my favourite. It's a good job by Head when it comes to the design and cosmetic of the shoe.  
Upper
Next up is the upper of the shoe. The upper is nicely made by Head because it's made with a combination of synthetic leather and lightweight mesh. The purpose of this is to provide you with excellent comfort and support. This makes movement on the court easy and smooth.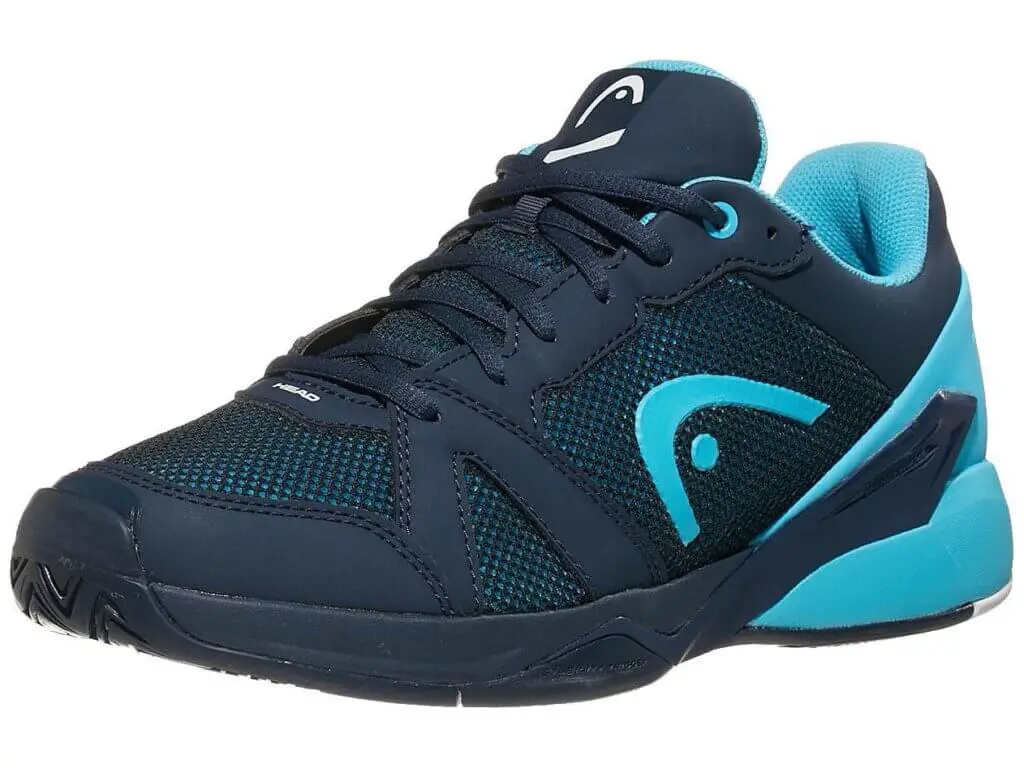 Secondly, the use of lightweight breathable mesh material makes it breathable. This is great because moisture would be able to leave the shoe quickly while allowing fresh air.
Thirdly, it has medial protection that is going to provide you with excellent durability.
If you like to slide often or wear your upper quickly then this shoe would take good care of you. And lastly, you got an adaptive collar padding for more comfort.
Toe Box
Are you a toe dragger? If you are then you need not worry because this shoe would take good care of you. The toe area is covered with a TPU toe to provide you with excellent durability and protection. Also, the toe area has got enough room in the area to give you comfort and prevent you from getting any toe jagging.
Heel Counter and Ankle Support
The heel counter is long enough to keep your heels in perfect position and lock-in. This is going to keep you secure and allow you to move better on the court.
The ankle area is well padded and cushion to provide you with excellent support, and comfort. It does a good job of holding your ankle very well.
Tongue and Lacing System
The tongue and lacing system is done in a traditional way like other tennis shoes such as the Asics Gel-Game 8. This makes your life easy when lacing the shoe up.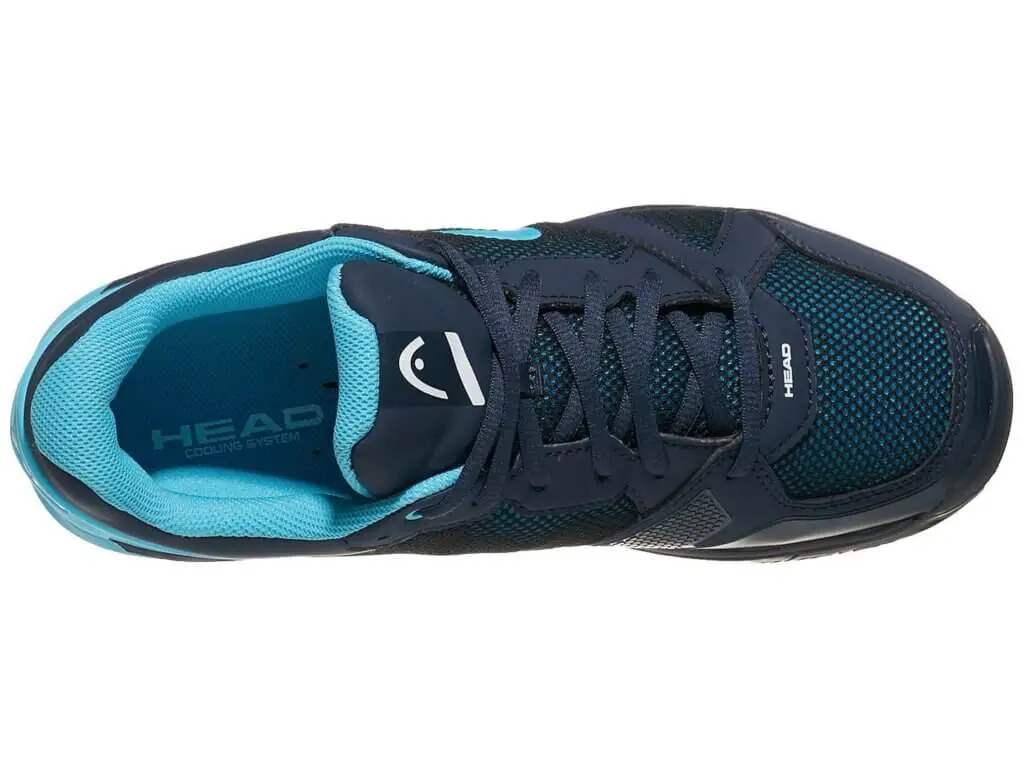 The tongue comes with a well-padded tongue to provide you with excellent comfort and cushioning.
This does very well at putting less pressure on your arch and makes movement on the court more comfortable on your feet.
The lacing structure has extra lacing holes for you to use for more grip and support. This keeps you more grounded when moving around the court.
Furthermore, there is a leather hole on top of the tongue for you to lace through it. This helps to keep the tongue stable and prevent it from distracting you during the match.
The only downside to the lacing system is the lacing holes. It does not come with metal lacing holes which makes the lacing holes less durable.
Weight
Another key strength of the shoe is the weight. Right out of the box the shoe may look rigid and clunky but it comes with a weight of 13.2 ounces with size 10.5. This puts the shoe in a lightweight category. This would give you an advantage in the game because it would enable you to move quickly and act more aggressively.
Insole and Midsole
The shoe comes with a well-cushioned insole. This is going to provide you with comfort and support when you wear it. Also, you are going to get good shock absorption from the insole.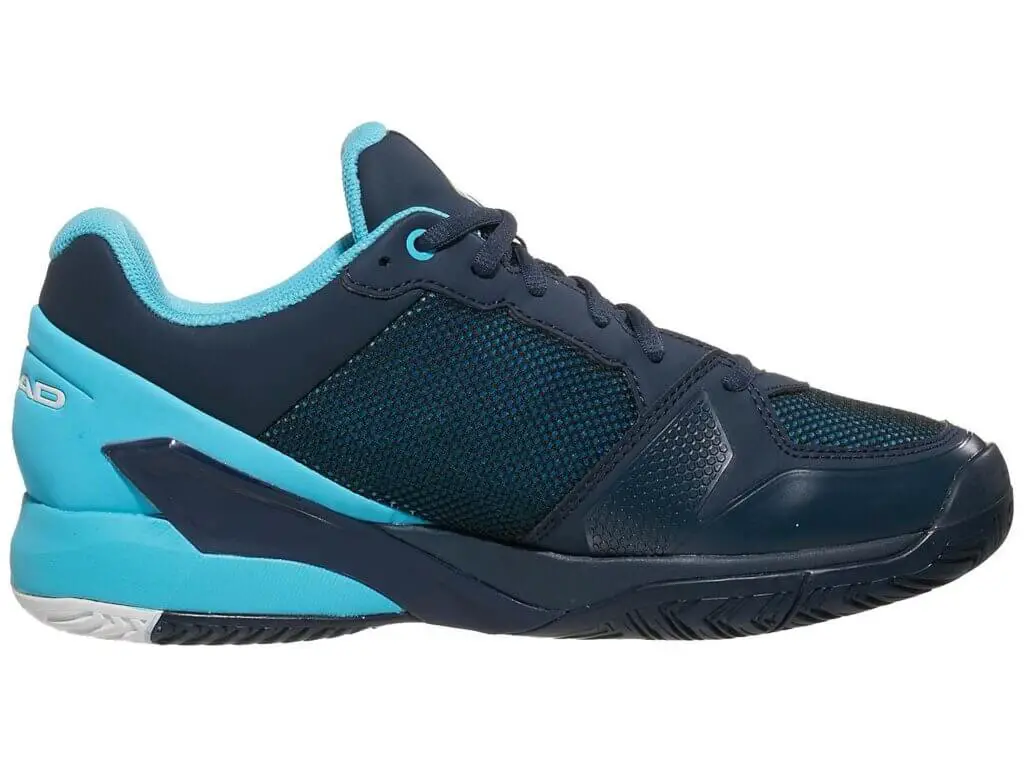 The midsole on the other hand comes with TRI-NRG technology. The purpose of this density midsole is to provide you with exceptional cushioning, support, energy transfer in every step you take.
Moreover, the Energy Frame does really well to lock in your foot for extra stability during aggressive movements. This makes it easy for you to recover your position if you lose balance or twist.
Also, a 3D anti-torsion midfoot shank is instilled in the midsole area to keep your heels stable and reduce them from damping.
And lastly, the 3D anti-torsion midfoot shank adds more stability and allows you to move confidently around the court.
Fit
The fit of the shoe is geared towards players who have a medium to wide foot. If you have either of these foot types then you would enjoy wearing this shoe because it's true to length and size.
On the other hand, if you have a narrow foot you shouldn't get discouraged because you can find some of the best shoes available to you by reading our in-depth review of the best tennis shoes for narrow feet. You would find the post very helpful! The Head Revolt Evo does not require any break-in period which is great because your feet can easily adapt to it.
Outsole
Let's take a closer look at the outsole. The way Head made the outsole is very simple yet effective at giving you the best result on the court.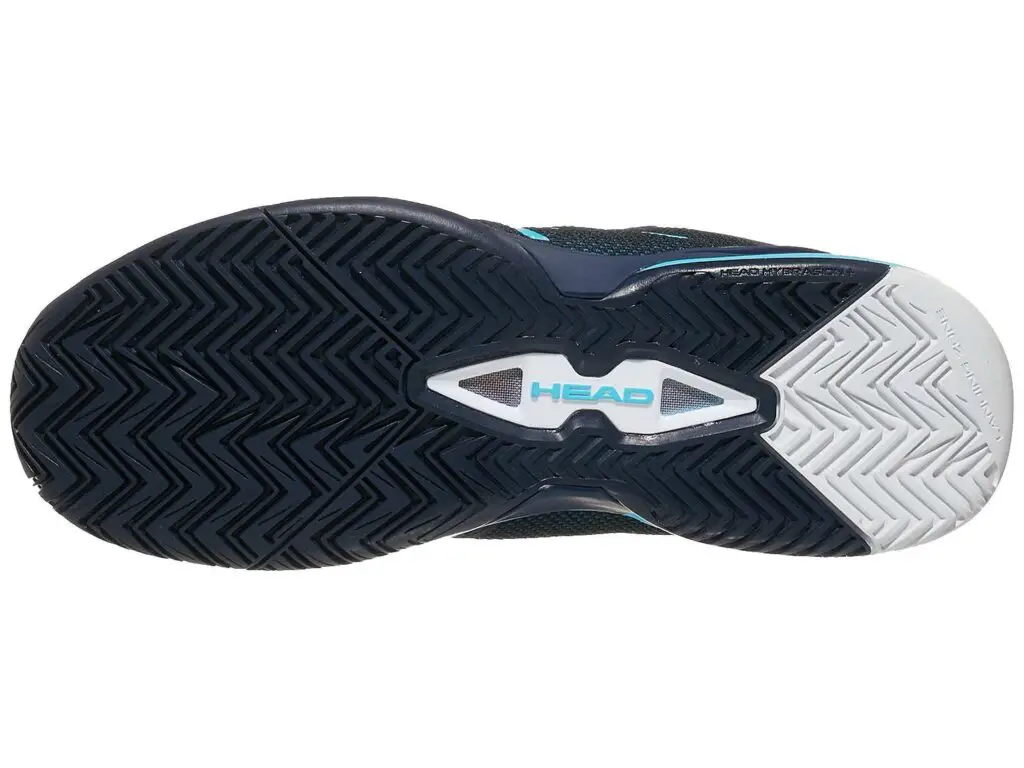 Firstly, it's made of a unique hybrid outsole. The purpose of this is to help you get a better grip on all court surfaces. This would enable you to move better on the court.
Secondly, it has special durability zones specifically for hardcourt users. Again this would enable you to get excellent traction and stability on all court surfaces.
Also, the durable non-marking rubber would prevent you from scratching the hardcourt.
Thirdly, the use of open tread zones is going to be useful on clay court surfaces. You are going to have a better grip which as a result would give you good stability when sliding on the court.
In addition, you would notice ventilation holes underneath the outsole material to help you get better ventilation and keep your feet cool throughout the match.
And lastly, the lateral forefoot trigger is going to reduce your chances of getting any serious injuries such as plantar fasciitis. If you are a player suffering from plantar fasciitis and want a tennis shoe that suits you then make sure to check out some of our best tennis shoes for this condition in this full review.
Colour Options
As lovely and nice as these tennis shoes look, unfortunately, they come with limited colour options. It would have been great to see more colour options from Head because some players love matching outfits.
Price
The last important point to talk about is the price of the shoe. The Revolt Evo comes around the $100 mark which is a fantastic deal when you compare it with the awesome features that come with it. The price range of this shoe makes it suitable for all types of players such as beginners.
Wrapping Up!!
As this post comes to its end, it's clear that Head has done a good job with this shoe. You are going to enjoy the awesome comfort, stability, and support that comes with this shoe. These features would allow you to play better on the court and move with ease.
However, there are some weaknesses to the shoe. For example, it's too wide for narrow feet. And the lacing holes lack durability. In summary, the positive features completely outweigh the negatives which make it a great shoe for competitive matches.
If you manage to purchase this shoe, I wish you the very best of luck in your next match. I would end by saying keep grinding on the court.