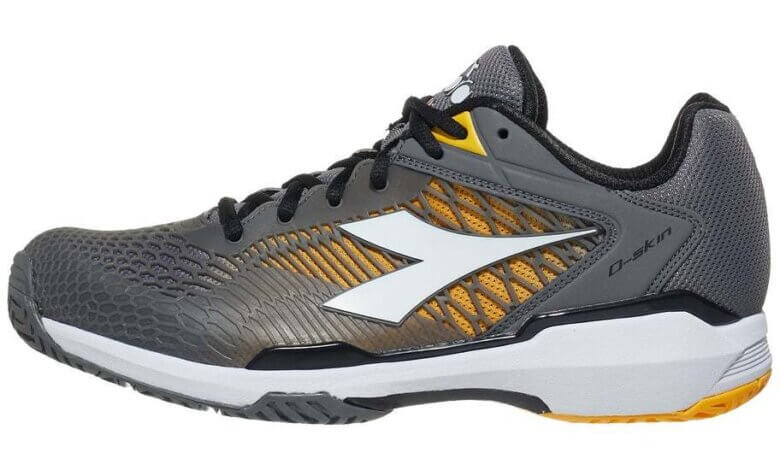 We're an affiliate
We hope you love the products we recommend! Just so you know, we may collect a share of sales or other compensation from the links on this page. Thank you if you use our links, we really appreciate it!
Product Overview
Comfort

Durability

Stability

Breathability

Weight

Fit and Size
Summary
The Diadora Speed Competition 6 AG is the latest version of the Speed Competition series. This edition is going to provide you with excellent comfort, lightweight and durability. 
However, the breathability of the shoe needs a lot of improvement because it can get uncomfortable to play within them when it gets hot. Despite the lack of breathability, it's still a great shoe for the aggressive and serious player. 
Pros
Lightweight
Excellent comfort
Great durability
Good stability
Nice support
Cons
Breathability needs improvement
Break-in may require
Lack of colour options to choose from
The Diadora Speed Competition 5 was highly rated on the market and most players enjoyed playing in them. Diadora has made some changes to the 6 AG to make it even better than the previous version. Let's dive deep to find out more, starting with the design of the shoe.
Design
Right out of the box, the 6 AG looks sleek and awesome. The colour scheme that Diadora selected is spot on and makes it enjoyable to wear and play on the court. You could see the Diadora logo on the side of the shoe which looks big and make the shoe stand out.
Upper
The upper of the shoe is made of a combination of D-Skin and air mesh. This is going to provide you with lightweight comfort when playing on the court.
Moreover, you are going to enjoy the support and stability that comes with this shoe. This is great because it will help you maintain your balance during your movement.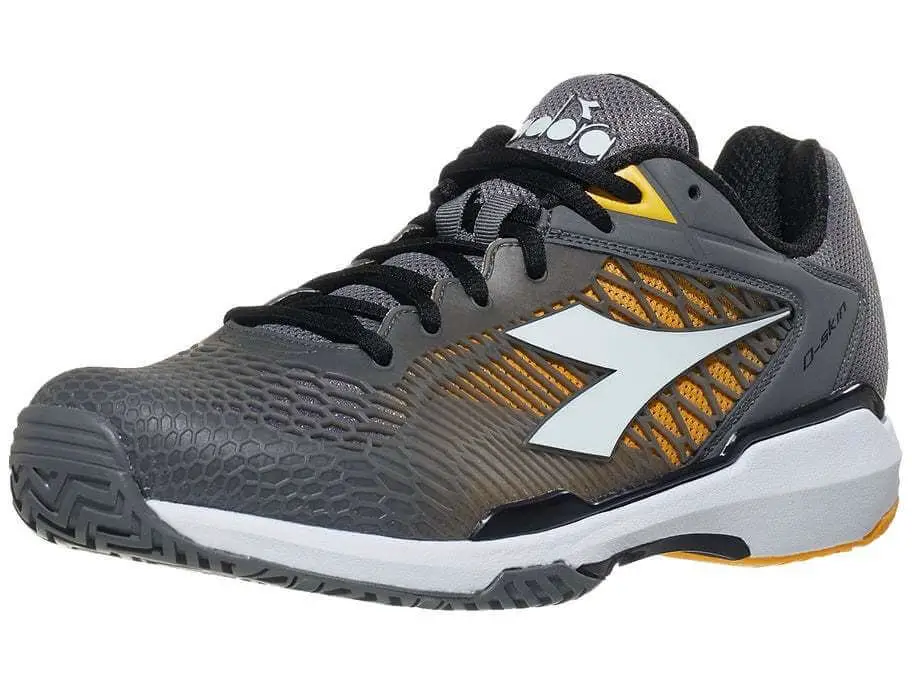 In terms of breathability, I wouldn't say it's the best I have seen on the market. But it's decent enough to keep you going on the court.
If breathability is one of the key features when you are looking for a tennis shoe then I highly recommend that you check out the Asics Court FF 2. You would find it incredibly useful.
Toe Box
The toe box is excellent at providing you with durability when playing in this shoe. If you are a toe dragger or aggressive mover then you would really enjoy playing in these shoes.
Arch and Ankle Support
Just like the last edition, you are going to get great arch and ankle support for this shoe. This would help place your ankle in a perfect position and give you good support as you move on the court.
Lacing System and Tongue
There is nothing peculiar about this shoe when it comes to the lacing system and tongue compared with the Adidas Stycon, which is the first tennis shoe to be laceless.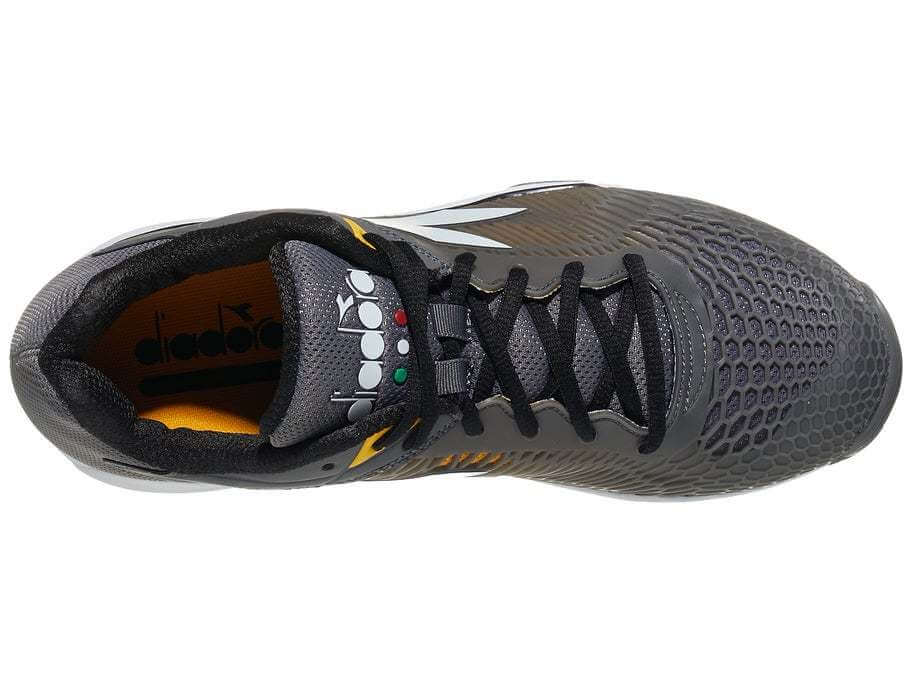 The Diadora Speed Competition 6 AG comes with extra lacing holes for you to use if you need more grip and support. Also, the lacing holes are connected to the upper which is going to be durable.
The tongue is well padded to provide you with nice cushioning and support during play.
When you look closely at the tongue you would notice that it has two leather holes attached to it to allow you to lace through.
This enables the tongue to be stable and prevent it from distracting you during the match.
Insole and Midsole
The shoe comes with a removable insole which allows you to replace it with your prefered insole. Also, if you wash the shoe you can take the insole out to make it dry quickly. Moreover, just like the previous version, you are going to enjoy the nice cushioning and support this shoe brings.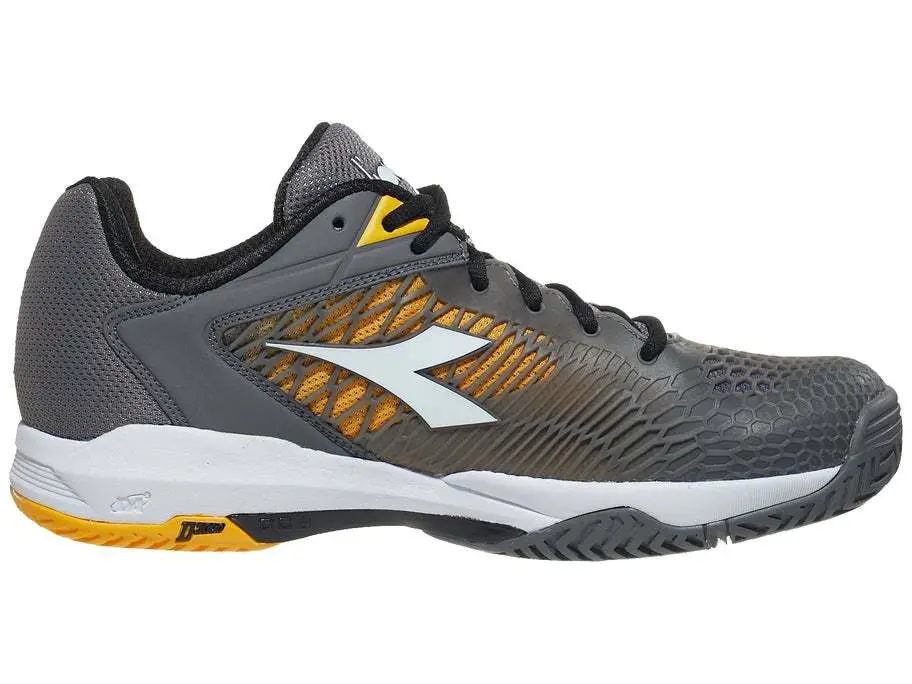 Now let's take a closer look at the midsole. It comes with a CCB medial stabilizer which does a really good job at helping you to resist twisting when moving laterally.
This is great at allowing you to move on the court with great support and stability.
In addition, the EVA midsole is going to offer you great plush cushioning. This makes it enjoyable playing in these tennis shoes.
Weight
The Diadora Speed Competition 6 AG comes with a weight of 13.3 ounces with a size of US 10.5. This puts this shoe in the lightweight category. This may benefit you in the game to help you to increase your speed and move better on the court.
Fit
This shoe may require some break-in period for some players. While others may not experience this issue. If you are one of the players that experience break-in period then I encourage you to give it a few hours for your feet to get used to the shoe.
In terms of size and fit, the shoe is true to length and it's suitable for players who have a narrow to medium foot. Since it's true to the length you don't have to go either size up or down.
If you have a wider foot then I would recommend that you try other shoes such as Fila Axilus Energized 2.5. This shoe is built for players with wide feet.
Outsole
The outsole is made of the unique Duratech 5000 rubber outsole. This is going to provide you with excellent durability which would help you to deal with the tough conditions on the court and last you longer if you look after it.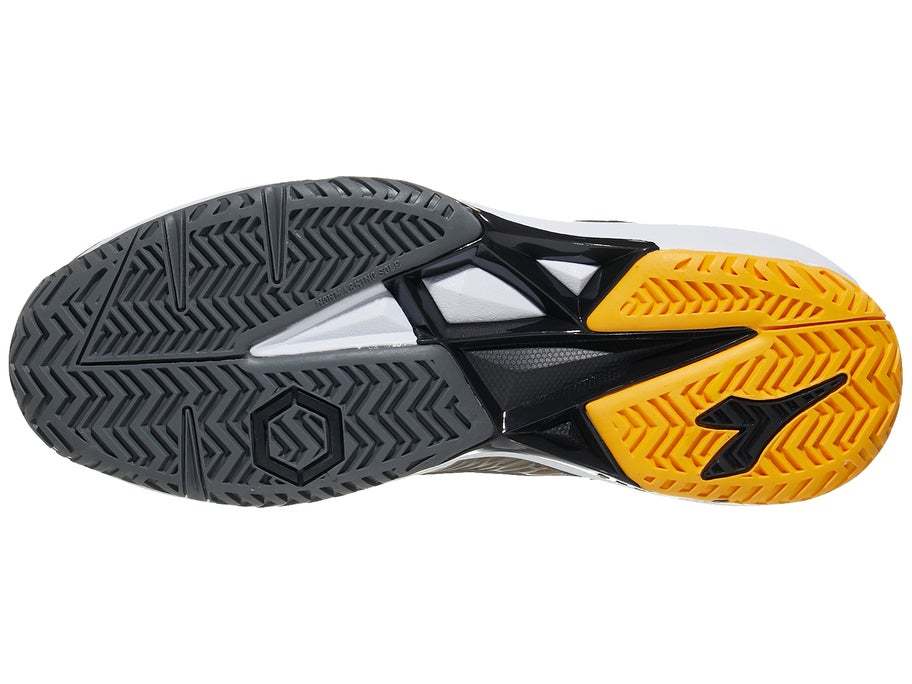 In addition, it has modified herringbone tread pattern to provide you with good traction on different court surfaces. This would enable you to move well on all court surfaces and be able to slide effectively.
Colour Option
Another weakness of the shoe is the lack of colour options. It would be great to see Diadora produce different colour designs so that it can allow players to select what they prefer.
Price
The last important point that you need to be aware of is the price of the shoe.
It comes around the $100 price point which is the ideal price point for most tennis shoes. This makes it affordable for most players to afford. Not only is it a great price point but it comes with awesome features such as excellent comfort, lightweight and durability.
Wrapping Up!!
In conclusion, I hope that you have enjoyed the Diadora Speed Competition 6 AG review. As you can see this shoe is going to provide you with lightweight, excellent comfort and great durability.
However, there are some areas that need some adjustment or improvement such as breathability and some players may experience break-in periods in order to get comfortable in the shoe. All in all, this is a great update from Diadora.