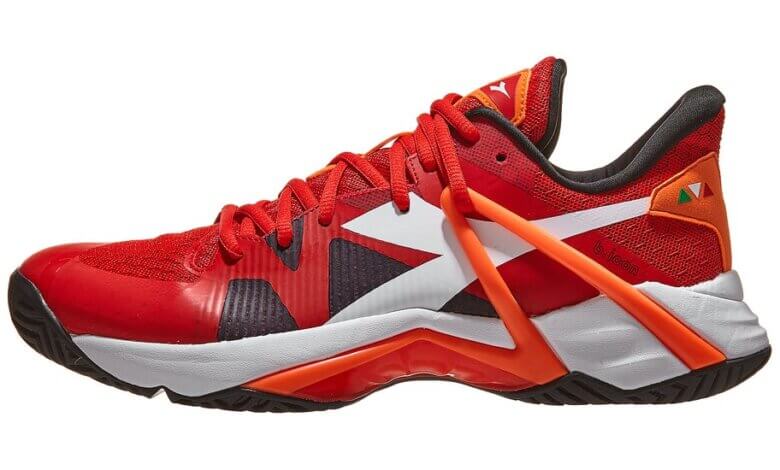 We're an affiliate
We hope you love the products we recommend! Just so you know, we may collect a share of sales or other compensation from the links on this page. Thank you if you use our links, we really appreciate it!
Product Overview
Comfort

Durability

Stability

Breathability

Weight

Fit and Size
Summary
Diadora tennis shoes are all about comfort and support. And the Speed B.Icon is no different. In fact, it's specifically built to provide you with the best comfort, support, with a responsive and speedy feel on the court.
This allows you to play well on the court and at the same time enjoy wearing the shoe at the same time. However, this shoe is incredibly expensive for most players to afford.
Pros
Very comfortable
Supportive
Gives you a speedy feel
Good stability
Cons
Expensive
Lack of colour options
No six months guarantee
Diadora has released its first tennis shoe on the market for 2022. It's a great shoe built to provide you with the best comfortable, supportive, and responsive feel on the court. Let's dive deep to see if they achieve this goal. Let's start off with the design.
Design
The shoe looks colourful and attractive right out of the box. This makes it fun and enjoyable to wear on the court. Personally, my favourite colour for this shoe is red/white/black. It's awesome playing in them.
Upper
Next up is the upper material. It comes with D-Skin technology which encompasses Air Mesh for ventilation.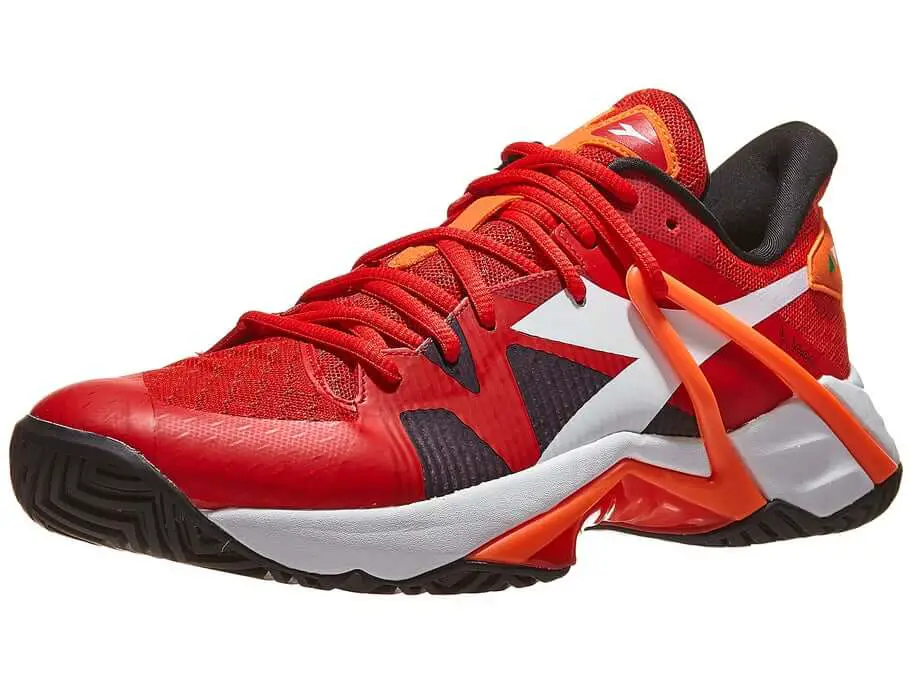 This allows air to flow through in and out of the shoe without making moisture build inside of the shoe.
It would also enable you to deal with the hot weather condition.
Moreover, the upper has Net Skin on top to hug the foot with support. Again this would help you to move better on the court.
This helps you to hit the ball with ease, comfort and at the same time be able to generate the power to hit it.
Toe Box and Heel Counter
The toe box is going to prevent you from wearing your shoes quickly due to the durable cap. This is great for players who like to wear down their toes quickly.
Moreover, you are likely to experience more space around the toe box area due to the size.
Now speaking of the heel counter, it's well built to perfectly lock your heels in place and prevent you from getting heel slippage.
Arch
The arch area is nicely made by Diadora to help you align your ankle with your foot. This is great at helping with your movement and sliding on the court.
Furthermore, since your ankles are in a perfect position, this would limit your chances of you getting any serious injury.
Lacing System and Tongue
The lacing system comes with the traditional format. However, it also comes with a rubber grip to help give you the maximum grip and stability when playing in them. It has extra lacing holes for use in case you need more grip.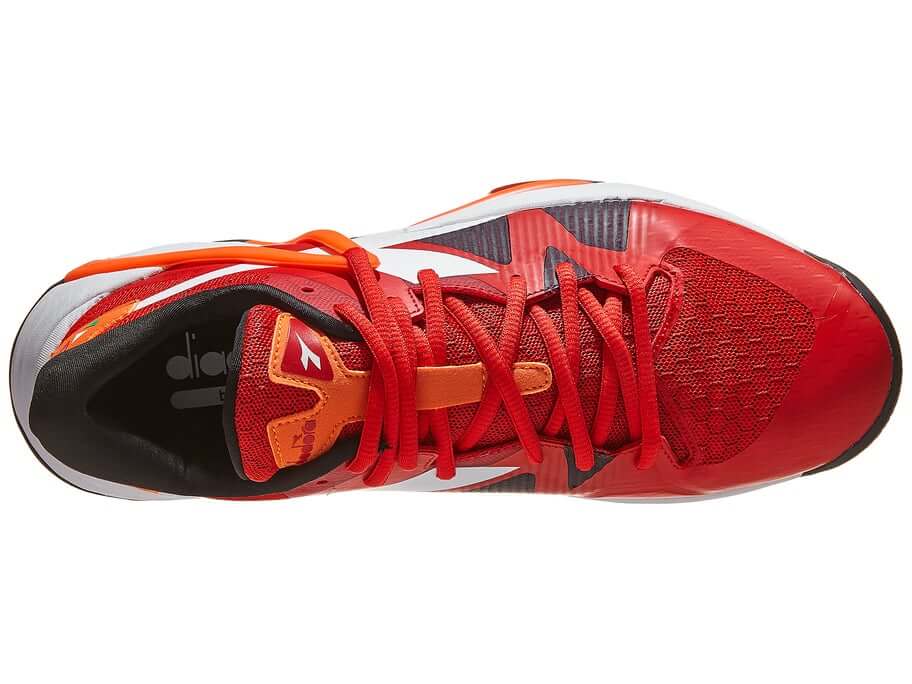 The tongue on the other hand is well padded to provide you with lots of cushioning and comfort.
This would come in handy when you are playing a long and gruelling matches.
Insole and Midsole
The shoe comes with a well-padded insole to provide you with good cushioning. This gives you a smooth feeling when you wear the shoe and would accommodate your movement.
The midsole on the other hand comes with a DD Anima ultra-light and responsive foam. The purpose of this is to provide a high level of cushion, and explosive energy return.
On top of that, the use of CCB maximizes stability for aggressive changes of direction. This enables you to move effective and efficient on the court.
Weight
In terms of weight, this shoe comes at 14.4 ounces with a size of 10.5. It may not be the most lightweight shoe on the market and it's not the heaviest either. It wouldn't put too much pressure and weight on your feet as you play in them.
Fit
When you wear this shoe for the first time, you would notice that it's large in size. Therefore, I would recommend that you ordered a half-sized down. This way you get your size. The shoe is more suitable for players with a medium to large foot size.
If you have a narrow foot then I would suggest other shoes such as NikeCourt Zoom Nxt. You would enjoy wearing it and it comes with great features such as lightweight, comfort and durability.
The only downside to the fit is that it requires some break-in period. This may feel uncomfortable wearing the shoe for the first time but it would get better as you play in it.
Outsole
Another part of the shoe that is worth looking at is the outsole. It comes with a unique Duratech 5000 rubber compound. The purpose of this is to provide you with excellent durability.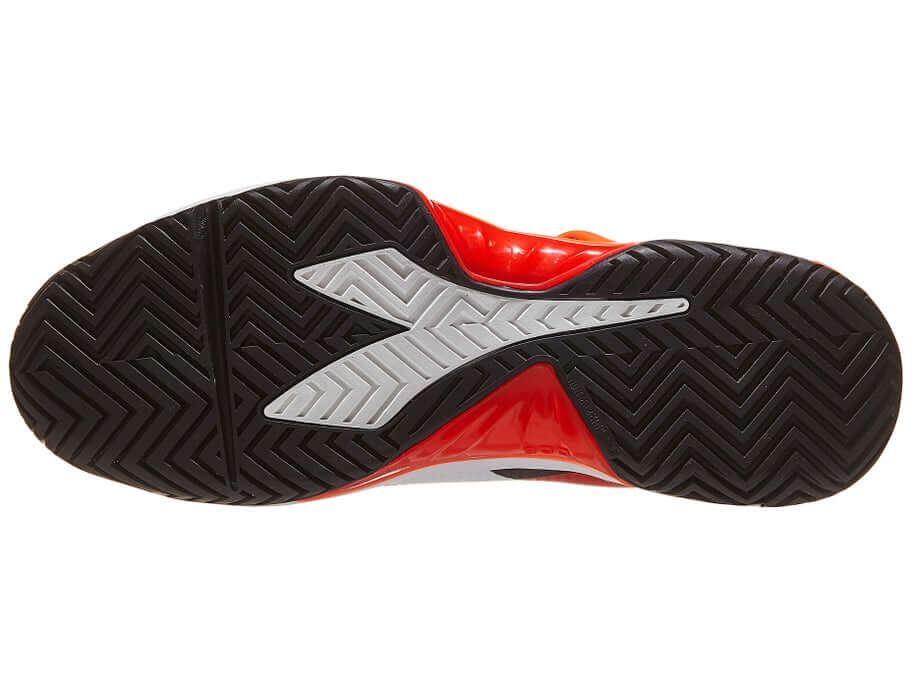 Therefore, if you are a player that likes to spend more time on the court or wear your shoes quickly then you would love playing in this shoe.
Another key component of the outsole is the modified herringbone pattern. The purpose of this is to provide you with optimal traction on all court surfaces.
This is great because it lowers your chances of you getting any serious injury. And allow you to move comfortably and effectively on the court.
Colour Options
Another weakness of this shoe is the colour option it has. As of now, it has only two to three colour options to choose from. However, as the season progresses it would be great to see Diadora release many different colours to choose from.
Price
The last important point to talk about is the price of the shoe. Just like the Head Revolt Pro 4.0, this shoe is incredibly expensive. It's definitely one of the most expensive shoes in 2022.
As much as this shoe is expensive, it still comes with amazing features such as comfort, support and a great responsive feel. It's such a great shoe to wear on the court if you are looking for these features.
Conclusion!
In conclusion, the Diadora Speed B-Icon is the go-to shoe if you are looking for a shoe to provide you with comfort, support and a responsive feel.
However, there are some drawbacks that come with this shoe such as expensive to buy, lack of colour options to choose from and does not come with six months guarantee.
Overall, it's a fantastic shoe to wear and it would help you to play better and move well on the court. I recommend it if you have the budget.