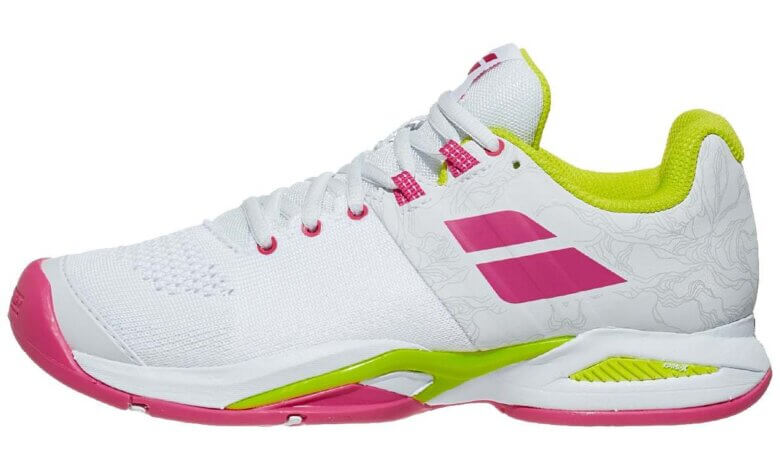 We're an affiliate
We hope you love the products we recommend! Just so you know, we may collect a share of sales or other compensation from the links on this page. Thank you if you use our links, we really appreciate it!
Product Overview
Comfort

Durability

Stability

Breathability

Weight

Fit and Size
Summary
The Babolat Propulse Blast AC is built for the club players who want support and stability in their game. This shoe is going to allow you to move better on the court and at the same time provide you with good durability. 
However, this shoe comes with limited colours to select from and it would be nice if Babolat can improve the cushioning in their next iteration. Overall, it's a great shoe to help you compete on the court. 
Pros
Excellent stability
Very supportive
Good durability
Lightweight
Cons
Lack of colour options
Cushioning needs improvement
Requires break-in period
Babolat has released a new tennis shoe on the market and it's called Babolat Propulse Blast AC. The Babolat Propulse Fury was successful on the market but Babolat has made the Blast AC even better.
The Blast AC is specifically made for club players who want to take their game to the next level. The shoe comes with awesome features that would enable you to play better and effectively. If you are a player looking for this type of tennis shoe then welcome to Tennisshoeslab, a place where we talk and breathe tennis shoes.
In this post, I'm going to provide you with a thorough review of the Babolat Propulse Blast AC and its features. If you are ready let's start off with the design and cosmetic.
Design
Right out of the box, the design and cosmetics of the shoe look amazing and colourful. The awesome-looking shoe makes it fun and enjoyable to wear on the court and play in it.
I have to see this shoe looks great just like the Babolat Jet Mach III which was also recently released on the market. Of all the designs I got to say the women's white/pink takes the cake because it's spot on. Babolat did their homework on design very well.
Upper
Next up is the upper of the shoe. It is made with a combination of synthetic materials and mesh. There are many benefits that you are going to get from these combinations of materials, so let me break it down for you to understand it.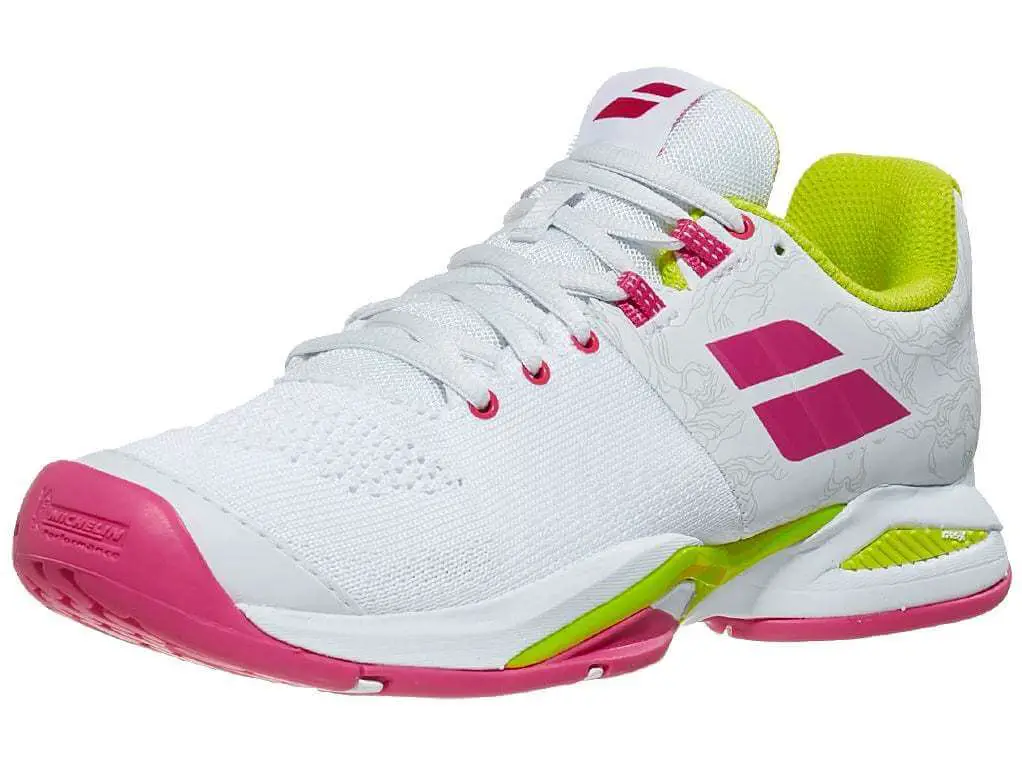 Firstly, you are going to enjoy the support that comes with the upper. What that means is the upper is going to hold your foot very well and allow you to move and slide effectively on the court.
Secondly, you are going to get nice comfort when you wear the shoe.
This is great because the shoe would enable you to play long hours matches without making your foot fatigue. This gives you the advantage to compete for long hours.
And lastly, you are going to enjoy the breathability and durability of the upper. Since the upper is made with mesh material this is going to allow moisture to leave the shoe quickly and allow fresh air into the shoe. Also, the upper is well made to help it last very long than usual.
Toe Box
The toe box area has got enough room to keep your feet comfortable, however, it would have been nice if Babolat can improve the forefoot cushioning. Although, the space in the forefoot area is enough to prevent you from getting any toe jagging.
Also, if you are someone who tends to wear their toes quickly then you would benefit from this shoe because the toe box area is durable. The toe box is well made to make it last longer than usual.
Heel Counter and Ankle Support
The height of the heel counter is fairly decent to hold your heels in perfect position and give you a better fit. As a result, this provides you with better stability and support as you move around the court.
Furthermore, the ankle area is going to provide you with excellent support and comfort. This does really well to hold your ankle very well.
Tongue and Lacing System
There is nothing unusual with the tongue and lacing system compared to the Wilson Kaos Mirage which comes with a one-strap lacing system. However, this approach saves you time from tieing your laces all the time.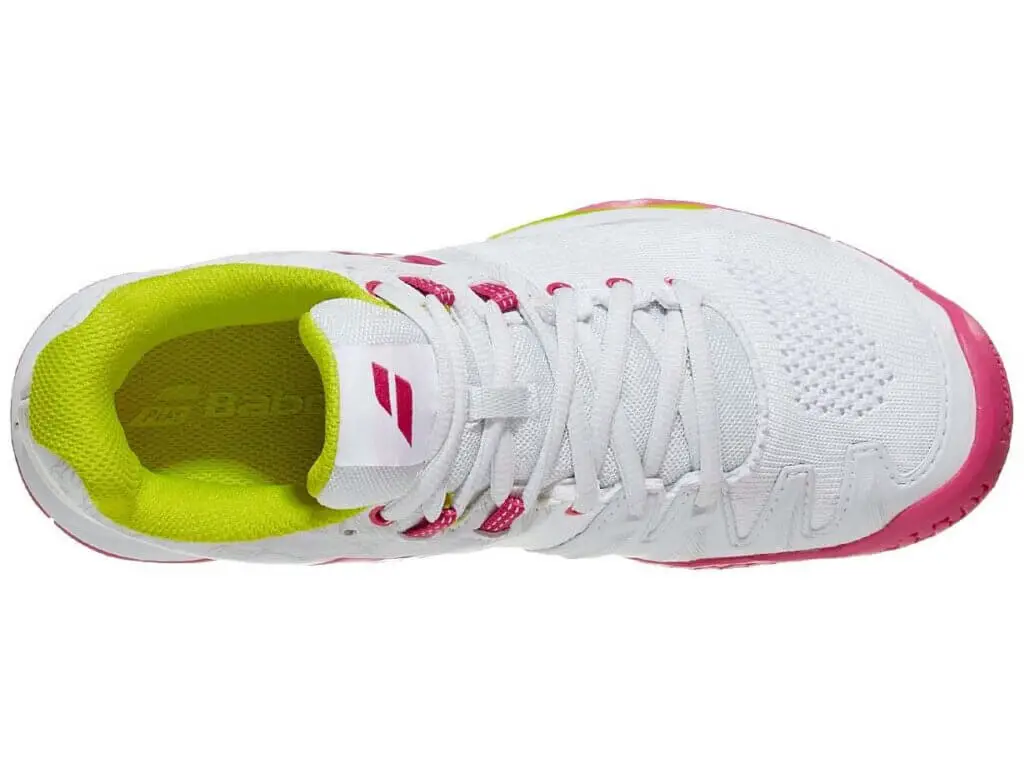 The Babolat Propulse Blast AC comes with a well-padded tongue. This is going to provide you with excellent comfort and cushioning as you move around the court.
Moreover, this puts less pressure on your arch and makes movement on the court more comfortable on your feet.
The lacing system for this shoe takes more of a traditional approach. Firstly, it has got extra lacing holes for you to use if you need more grip and support. This helps to keep you more grounded on the court.
Secondly, some of the lacing holes are made of metals, and the others leather. It's a very interesting approach by Babolat because both the metals and leather materials are going to be durable and easy for you to lace through.
And lastly, there is a leather hole on top of the tongue for you to lace through it. This helps to keep the tongue stable and prevent it from distracting you during the match.
Weight
This shoe may appear bulky but it's lighter than it looks. It comes with a weight of 10.7 ounces with a size of 8.5. This tells you that the shoe is definitely lightweight. You would enjoy the lightness of the shoe and would help you to move a little quicker than normal.
Insole and Midsole
The insole is nicely made to provide you with good comfort when you wear the shoe. This is great at keeping your feet stable and comfortable when playing intense rallies in the match.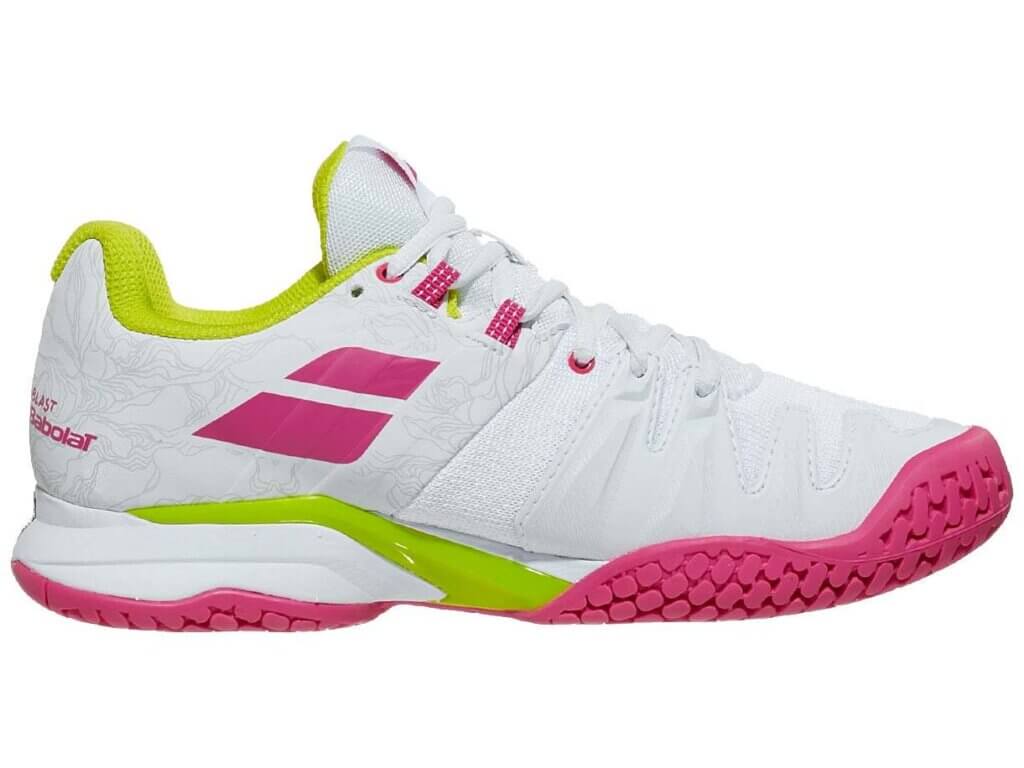 The way Babolat made the midsole is fascinating. It comes with a Pure Motion System and Kompressor System in the heel area to provide you with excellent shock absorption and comfort.
This allows you to play a lot better and move well on the court.
In addition, the midsole is going to provide you with a dynamic response thanks to the Pure Motion System.
This is a great feature because it would allow you to turn and twist easily on all court surfaces.
Fit
The shape and size of the shoe make it suitable for players who have narrow to medium feet. If you have a wide foot then I would suggest that you try a different shoe such as New Balance Fresh Foam Lav. Not only is it great for a wide foot but all foot types.
The length of the Propulse Blast AC is slightly short so you may have to try different sizes to find which one suits you the best. The shoe does require some break-in period so you got to be a little patient with yourself when you wear it for the first time.
Outsole
Now let's take a closer look at the outsole. Just like most Babolat tennis shoes which are made of Michelin rubber outsole, this shoe is no different.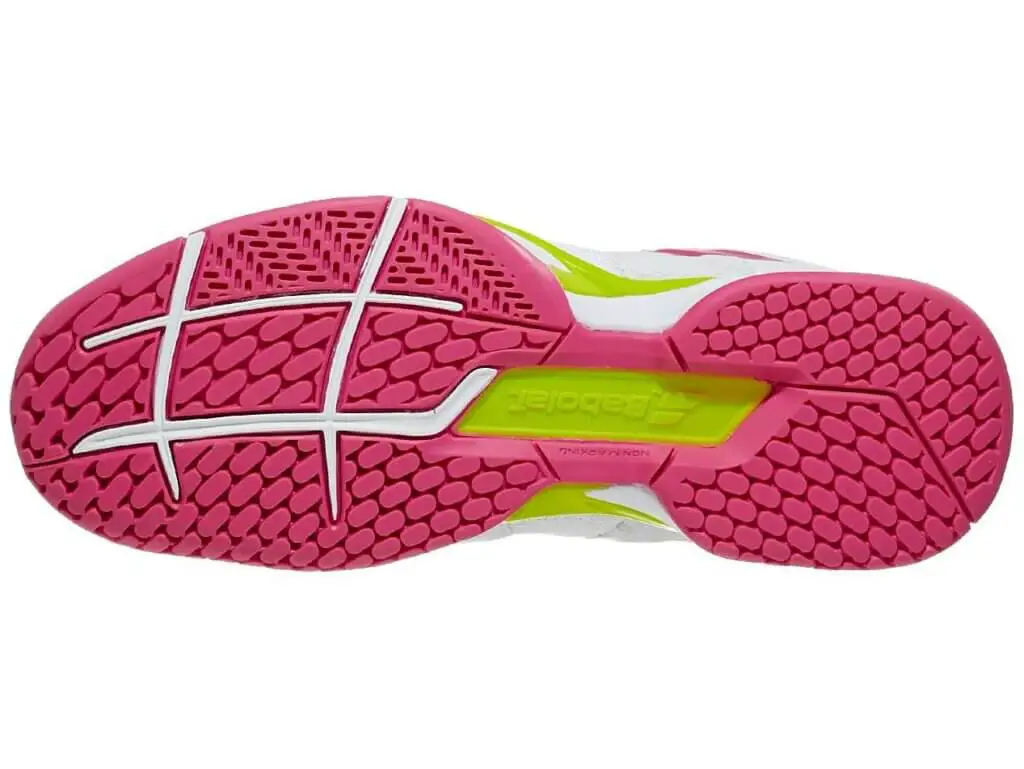 This is going to provide you with excellent traction on the court and help you to transition in and out during rallies.
Also, the air channels in the middle of the outsole are going to allow you to slide comfortably on hard courts.
In addition, you are going to get excellent durability from the outsole which is great because it can deal with the tough conditions on the court.
And lastly, this shoe is perfect for all court surfaces which is nice because you don't have to buy different shoes for different court surfaces. This shoe has got you all covered!!
Colour Options
As nice as this shoe looks, unfortunately, they come with limited colour options. I'm hoping that as the season progresses Babolat would release more colours for players to choose from.
Price
The last important point to discuss is the price of the shoe. The cost of the shoe comes around $100 which is a normal price for a tennis shoe. This makes it affordable to everyone and it comes with excellent features such as stability.
Conclusion!!
As this post draws to its conclusion, I hope you have found it very useful at understanding the features that come with it. For example, you are going to move better due to the stability and support of the shoe.
However, there are some areas that need improvements such as the cushioning and more colour options. Also, it does require some break-in period which can be a little annoying. Overall, it's a great shoe at an affordable price and cool looking to wear on the court.
If you manage to purchase this shoe, I wish you the very best of luck in your next match. I would end by saying keep grinding on the court.