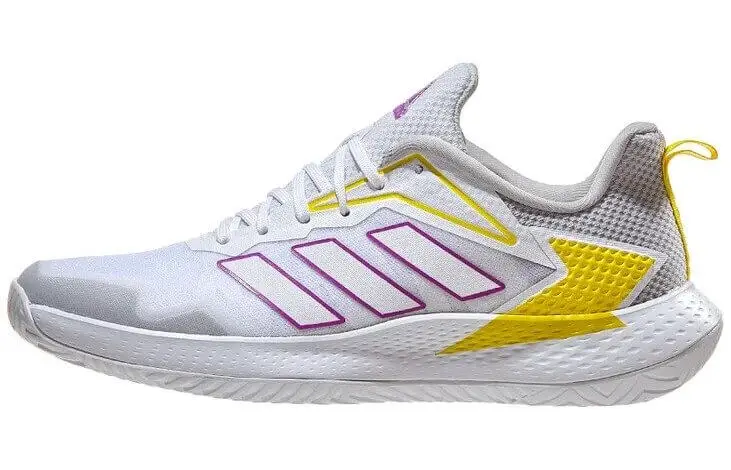 We're an affiliate
We hope you love the products we recommend! Just so you know, we may collect a share of sales or other compensation from the links on this page. Thank you if you use our links, we really appreciate it!
Product Overview
Comfort

Durability

Stability

Breathability

Weight

Fit and Size
Summary
Adidas has released its second tennis shoe for the year 2023 and it's called Adidas Defiant Speed. This shoe is built for the player looking for lightweight, comfortable, and performance.
It's going to take your game to the next level with its amazing features. However, there are some areas that need improvement such as durability. All in all, it's a great addition to the market.
Pros
Lightweight
Very comfortable
Good performance
Breathable
Different colours to choose from
No break-in required
Cons
Durability needs improvement
Does not come with a six months guarantee
When it comes to big brands making quality tennis shoes, Adidas is one of the best up there. Over the years they have released countless of tennis shoes that did well on the market. And some that did not do well either.
As of now, this is their second tennis shoe for the year and it's called the Adidas Defiant Speed. The core of this shoe is to provide you with lightweight, comfort, and performance.
However, the question is did Adidas manage to tick all of these boxes? Let's find out by dissecting each part of the shoe by starting with the design and cosmetics of the shoe.
Design
Right out of the box, Adidas did a really good job with the design and cosmetics of the shoe. The colours selected are spot on and they blend perfectly with each other.
If you are a fanatic and love design then you would enjoy wearing this shoe. This gives you some sort of confidence when you walk on the court wearing this kind of shoe.
Personally, I love the men's white, black, and lilac designs. Adidas's logo on the side of the shoe is down brilliantly because it blends well with the shoe and model.
Upper
The next part of the shoe that we would dissect is the upper. It comes with mono mesh material which is made from 100% recycled polyester (PES). The purpose of this material is to provide you with a lightweight. This is great at helping with your speed and weight on the court.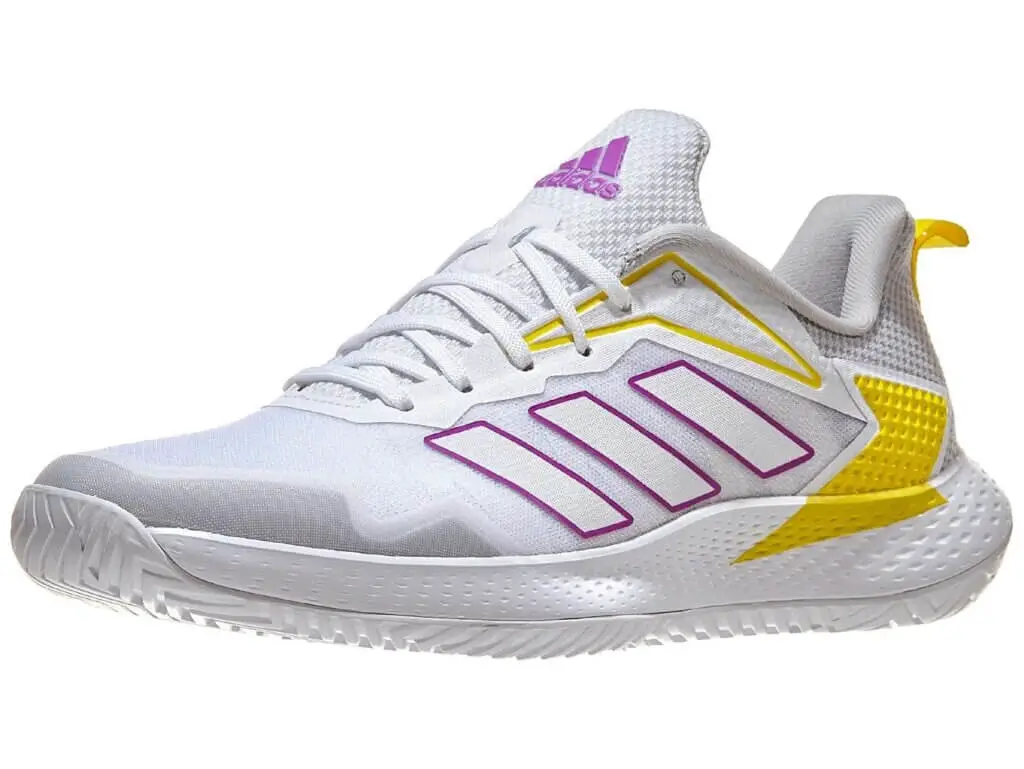 Not only that but this unique material does well at providing you with good breathability support.
This means moisture is going to leave the shoe quickly whiles at the same time allowing fresh air to enter. This would benefit you when playing in hot weather conditions.
The only downside to the upper material is its durability. I wouldn't say it's the best durability on the market but it's decent.
Toe Box, Ankle Support, and Heel Area
The toe box is going to fit your toes nicely. There is going to be no roomy space to disturb you when you are moving and sliding on the court. Also, you are going to have good protection from the toe box so that you don't hurt yourself unnecessarily.
The shoe may not be a mid-cut like the New Balance 996v5 but it does well to provide you with good support for your ankle. This gives you more stability and allows you to move better on the court.
And lastly is the heel area. You are going to get nice heel support and help you place it in the correct position. This would make movement on the court easier and simple.
Insole and Midsole
The insole comes with bounce cushioning which is going to provide you with extra comfort and cushioning. This makes it fun and enjoyable to play in this shoe.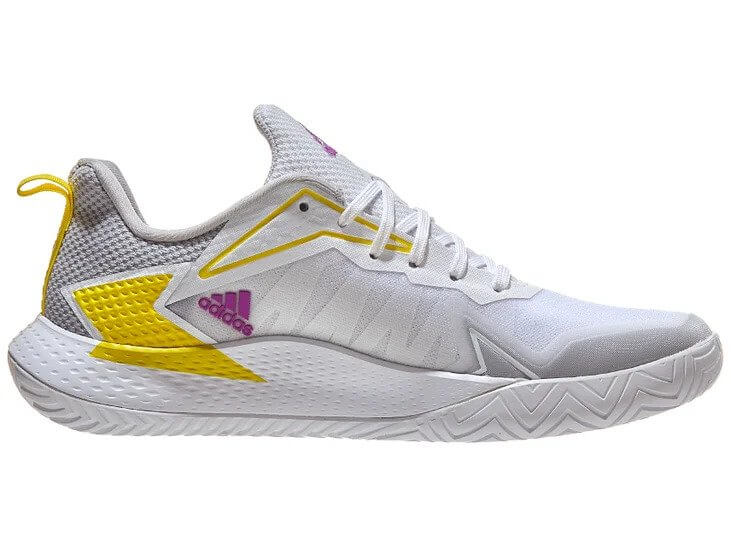 Furthermore, the insole is removable which is great because you can always replace it with your preferred choice. When you wash the shoe you can easily take it out for it to dry quickly.
The midsole on the other hand comes in a full bounce material. The purpose of this is to provide you with the best cushioning and energy return when playing in them.
Not only that, but you would enjoy a ton of shock absorption that comes with it.
Weight
Another feature that makes Adidas Defiant Speed standout, is it's weight. It comes in a weight of 13.4 ounces with a size of 10.5. This is definitely one of the lightweight tennis shoes on the market for this year. This would make your movement on the court more smooth and quick.
Lacing System and Tongue
Both the lacing system and tongue come in a basic format similar to the Adidas Defiant Generation. The lacing structure is a classic lace-up closure which would provide you with a nice and secure fit.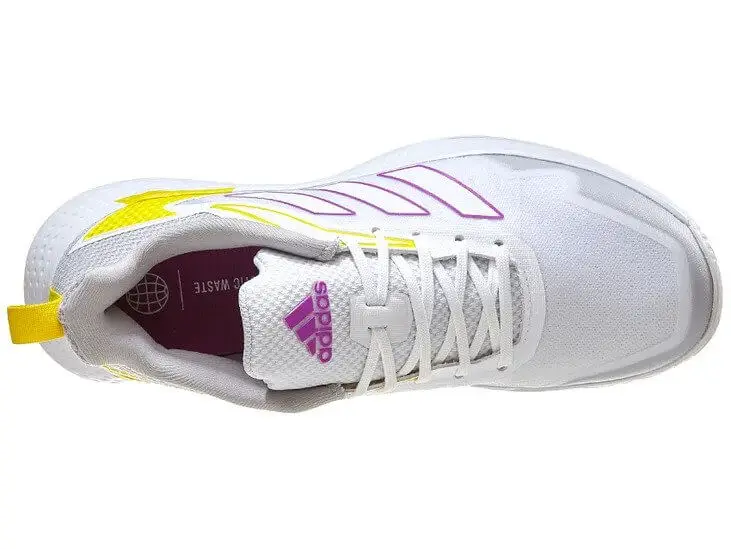 Also, the lacing holes are covered with plastic to enhance durability of the holes. Not only that, but it helps with ease when lacing the shoes.
The tongue is well padded to give you nice comfort and cushioning when you wear it. This can be very useful when you are playing long matches.
Fit
The fit of the shoe is ideal for players who have narrow, medium, and wide feet. The length is true to size which is great because if you have any of these sizes it would fit you perfectly.
On top of that, this shoe does not require any break-in period which is a time saver. Your feet would be able to get used to the shoe quickly without having to go through the arduous process of adjusting to it.
Outsole
The outsole comes with a unique camo-like print to provide you with the best traction on all court surfaces specifically hard courts.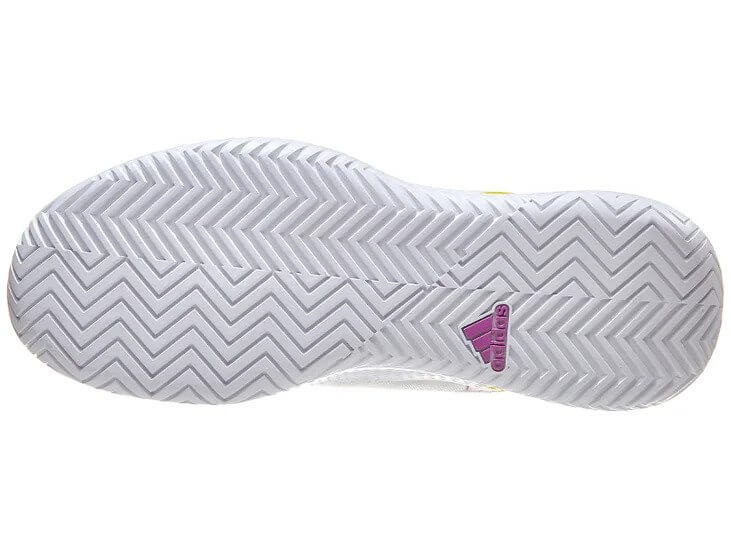 This is great because it would provide you with good stability and support when you are sliding and moving on the court.
However, I wouldn't say that the high-wear Adiwear rubber compound makes the outsole durable. It's an area that I would like Adidas to improve in its next edition.
Colour Options
Another thing that you may like about this shoe is the colour options it provides. It comes with different options for you to select. This way you can pick a colour scheme that suits your tennis outfit.
Price
Without a doubt, the Adidas Defiant Speed is one of the cheapest shoes currently on the market. It comes at a price point of $59.94. It comes with amazing qualities that would take your game to the next level such as comfort, lightweight and performance.
Wrapping Up!
As this post comes to its conclusion, we can see why the Adidas Defiant Speed is gaining popularity on the market. It provides you with good comfort, cushioning, stability and much more.
However, some areas of the shoe need improvements such as the outsole and upper durability. Overall, the positives of the shoe completely outweigh the negatives. It's worth checking out.