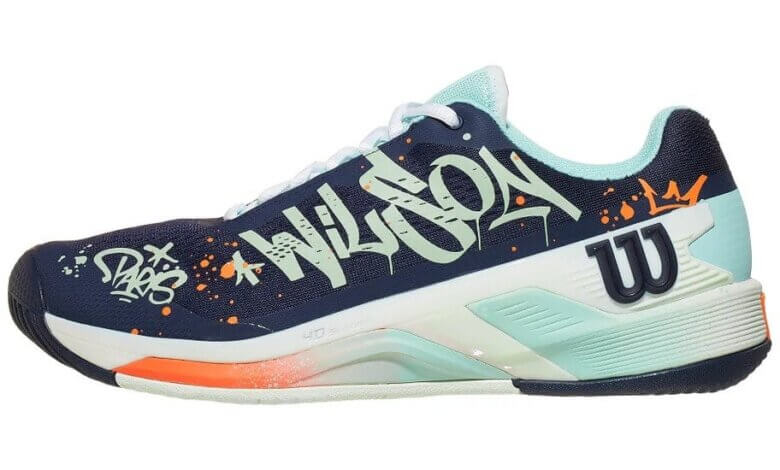 We're an affiliate
We hope you love the products we recommend! Just so you know, we may collect a share of sales or other compensation from the links on this page. Thank you if you use our links, we really appreciate it!
Product Overview
Comfort

Durability

Stability

Breathability

Weight

Fit and Size
Summary
The Wilson Rush Pro 4.0 is an updated version of the 3.5. This update is built to provide you with explosive, comfortable and outsole durability. 
However, you do need to give it some time to break in before you can enjoy the benefits that come with it. Also, the upper durability needs some improvement in my personal opinion. 
Overall, it's an interesting update from Wilson and great to see another show added to the market in 2022. 
Pros
Different colours to choose from
Comfortable
Supportive
Breathable
Cons
Break-in period require
Upper durability needs improvement
Wilson has added a new tennis shoe to their collection of amazing tennis shoes. It's called the Wilson Rush Pro 4.0 which is an update of the previous version. If you liked the previous version then you may want to check this one out.
The question you are probably wondering is, how good are these Rush Pro 4.0? If you are like most people who have these questions then read on to find out more.
Design
Straight out of the box, my first impression was this shoe looks simple and colourful. It's such a joy and fun to wear such a nice design on and off the court.
Personally, as someone who loves design and colours, my favourite colour scheme from the Rush Pro 4.0 is the Men's Peacoat/Orange.
It's very attractive with the way its design and how the colours are used. Another thing I love about this shoe is how the name Wilson is written on it. It makes the shoe stands up from the rest of the shoes.
Upper
The next part of the shoe that we are going to look at is the upper. When it comes to this part of the shoe, I have mixed emotions. I would explain further.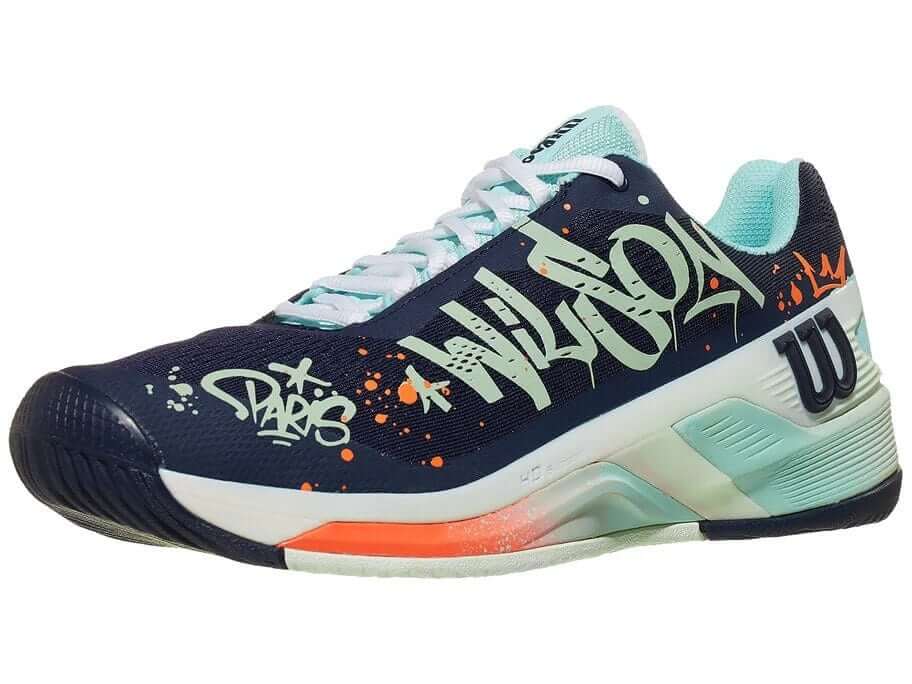 Firstly, it comes with a lot of elastic mesh material compared with most tennis shoes. The purpose of this is to provide you with ventilation when playing in them.
This is really good because it allows the moisture to leave the shoe quickly whiles at the same time allowing fresh air into it. This can be very helpful when you are playing long matches.
And secondly, Wilson incorporated an endofit technology to help keep your feet comfortable, stable and locked in the shoe. This makes it easy to play in the shoe and helps with your movement and balance.
However, the upper durability is not the strongest on the market. If you are someone who tends to wear their uppers quickly then you need to be mindful when playing in them.
Toe Box, Ankle Support and Heel Area
Speaking of the toe box, it comes with enough room to give you space and comfort to play in. This is great because it prevents your toes from getting blisters and makes it fun to play in.
Although, as I have highlighted earlier the toe box area is not the most durable shoe on the market. If you are someone who is a toe dragger then make sure to check our full review on some of the best tennis shoes to deal with this habit.
The shoe is going to give you good ankle support to allow you to move comfortable and better on the court. Not only that but the heel area does really well to keep your heels in the perfect position as you move around the court.
Insole and Midsole
Let's talk about the next parts of the shoe that are keys to your game. The insole comes with a removable layer which you can replace anytime with your prefered choice. Also, when you wash the shoe, you can take the insole out for it to dry quickly.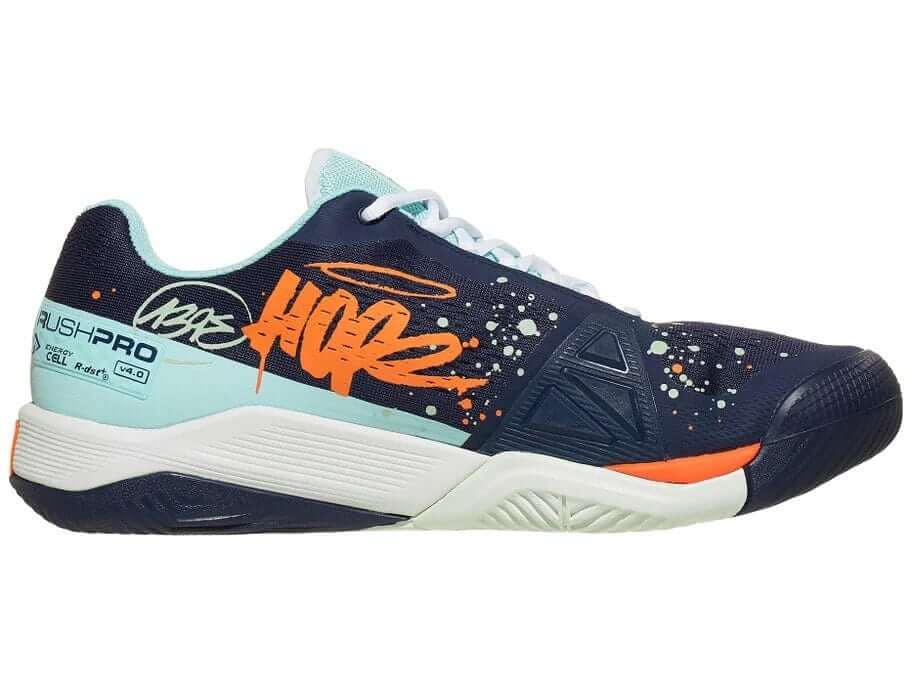 One of the main differences between this update and the previous one is the midsole.
There are three parts to the midsole which are the TPU plate (propulsion plate), R-DST and lateral chassis.
The TPU plate does really well at providing you with good torsional stability. This makes movement on the court smooth and lowers your chances of getting any serious injury.
Secondly, the R-DST+ provides you with responsive cushioning which is great for your feet.
And lastly, the lateral chassis helps to maximise lateral support and stability when moving around the court.
Weight
When it comes to the weight of the shoe I would not say it's the lightest weight on the market. And it's not the heaviest either. This means you are going to get some benefit from it.
Lacing System and Tongue
The lacing system and tongue are done in a simplistic way to give you the best out of it. The laces are all outrigger which means you need to pull them tight to get a good grip and stability.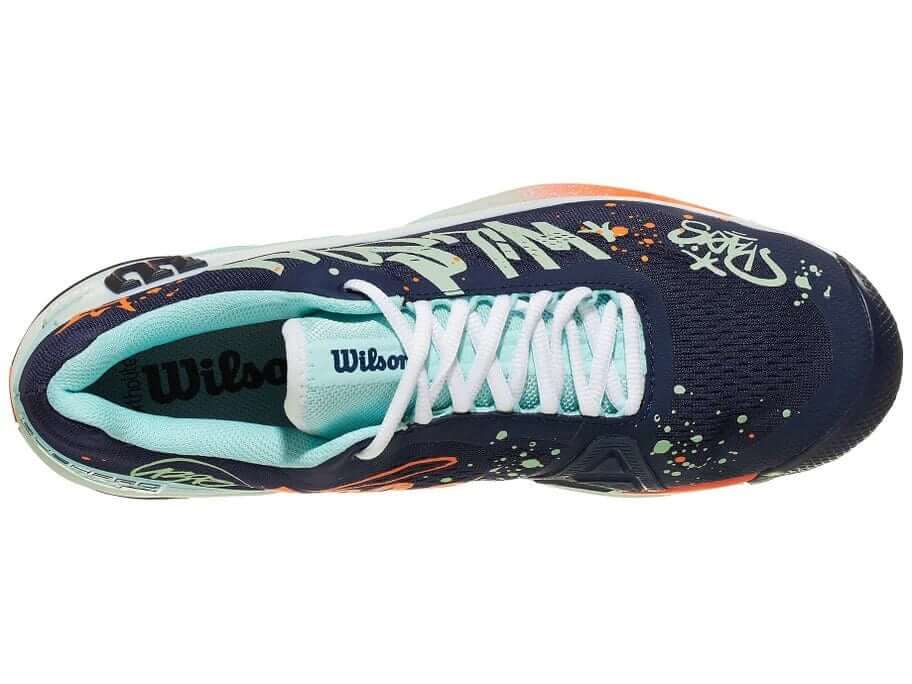 However, since they are an outrigger structure, it makes it easy to lace through the lacing holes quickly.
Moreover, it has extra holes for you to use if you need more grip and support.
The tongue, on the other hand, is well-padded material which does really well at providing you with cushioning and support. This allows you to play comfortably without putting too much pressure on your forefoot.
Unlike the Yonex PC Eclipsion 4 which has a leather hole connected to the tongue. This is not the case with this shoe.
Fit
The fit of the shoe is great for players who have a narrow and medium foot. If you have any of these feet then you can go true to your size. However, if you are a 2E then you need to go 1/2 up to get the right fit.
In addition, the shoe is great for players who have a flat, neutral, and high arch foot. Although, it may not be suitable for players who have outflared feet.
In terms of the break-in period, it does take some time to get used to the shoe. I would say you have to give it a few hours or a couple of days for your feet to get used to it.
Outsole
There are a lot of changes made with the outsole material compared with the previous version. It comes with an innovative tread pattern. When you wear the shoe for the first time, it may feel that you are about to slip. However, that's not the cause.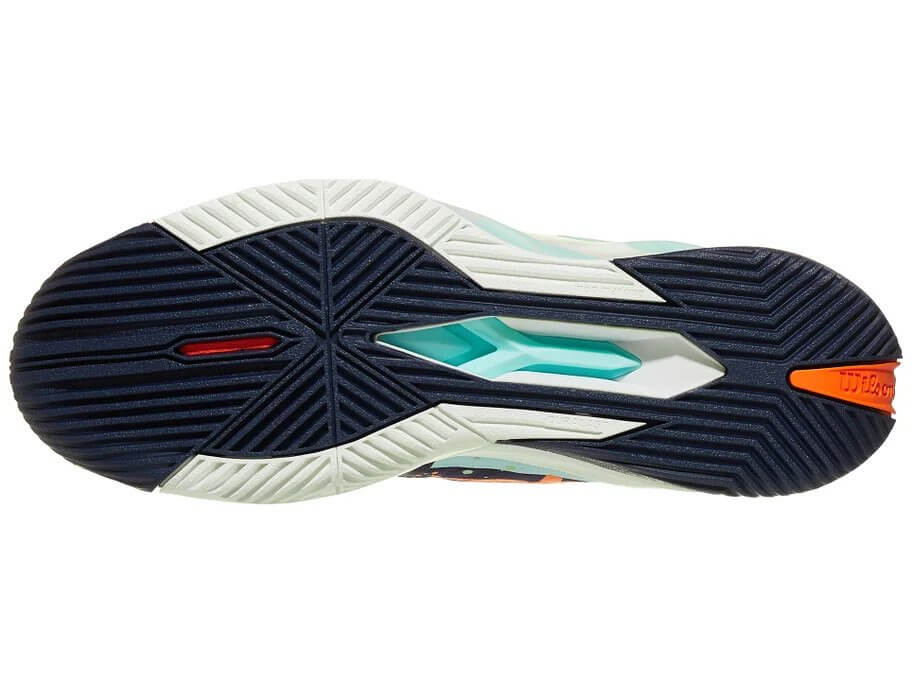 Instead, once it's a break-in, it would provide you with lateral control and allow hard court sliders to decelerate with control. This makes you move better and effectively on the court.
On top of that, it comes with a Duralast rubber outsole that features a new formula of rubber hardness. This is to provide you with excellent grip and slide balance.
And lastly, the outsole is incredibly durable compared to the upper/toe box material. If you are an aggressive mover and like to wear your outsole quickly then you want to give this shoe a try.
Colour Options
Another feature to love about this shoe is the number of colour options it comes with it. As of now, it comes with four different colour options which are peacoat/orange, white/pearl blue, black/white/red, and blue/coral/white. This is fantastic for players to select which colour suits them.
Price
The last important point to discuss is the price of the shoe. It comes to around $135 which is fairly the average price for most tennis shoes. If you have the budget for it then it's worth having this shoe in your collection.
Conclusion!!
In conclusion, I would say it's not a crazy update from Wilson. Although they have made a few tweaks here and there to take your game to the next level.
For example, the outsole is well built to provide you with good traction and durability. However, it lacks durability in the upper/toe box area.
And it takes a long time to really break in before your feet can get used to it and enjoy the awesome benefits that come along.
All in all, it's not a bad update from Wilson and it's worth checking it out if you are an aggressive player who tends a lot from their shoe.