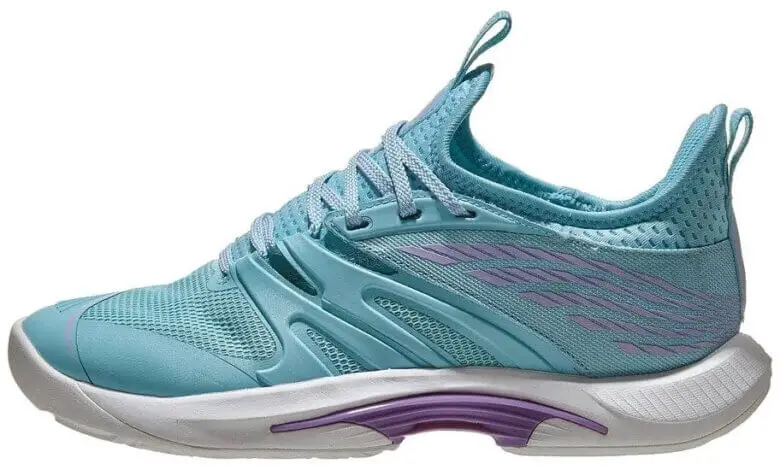 We're an affiliate
We hope you love the products we recommend! Just so you know, we may collect a share of sales or other compensation from the links on this page. Thank you if you use our links, we really appreciate it!
Product Overview
Comfort

Durability

Stability

Breathability

Weight

Fit and Size
Summary
Are you someone looking for speed in your game or willing to take your game to the next level? If the answer is 'yes' then the K-Swiss Speedtrac Colonial is the perfect shoe for you. 
This shoe not only provides you with speed but comfort, stability, and breathability. However, this shoe is very expensive. 
Pros
Gives you speed
Breathable
Very stable
Nice cushioning
No break-in period
Cons
Expensive
Limited colour options
K-Swiss released their second tennis shoe on the market in 2022 after the K-Swiss Ultrashot Team. This model is called the K-Swiss Speedtrac and is a little different compared to the Ultrahot Team.
It's built to provide you with speed, comfort, and breathability. If you are a player looking for these features in a tennis shoe then you need not look any further. Let's dive deep to learn more about the different features of the shoe starting with the design.
Design
Straight out of the box, the design and colour scheme used for the shoe is simple and nicely made. It's not flamboyant as other shoes such as the New Balance Coco CG1 but it's cool enough to wear on and off the court.
I think the colours K-Swiss used are spot on in my personal opinion because they blend perfectly. And where the logo is located gives the shoe a unique outlook.
Upper
The next feature that we need to talk about is the upper. It comes with a bootie construction which does really well to provide you with a locked-in feel when you are playing. This is a fantastic feature incorporated by K-Swiss to give you stability when moving and sliding around the court.
Also, the upper gives you a low-to-the-ground feel when you play in them.
This allows you to connect to the ground effectively and generate enough power to hit the ball.
Moreover, the use of the DuraWrap patch on the medial drag zone does well to provide you with durability.
I wouldn't say it's the best upper durability on the market but if you take good care of it, it could last you a long time.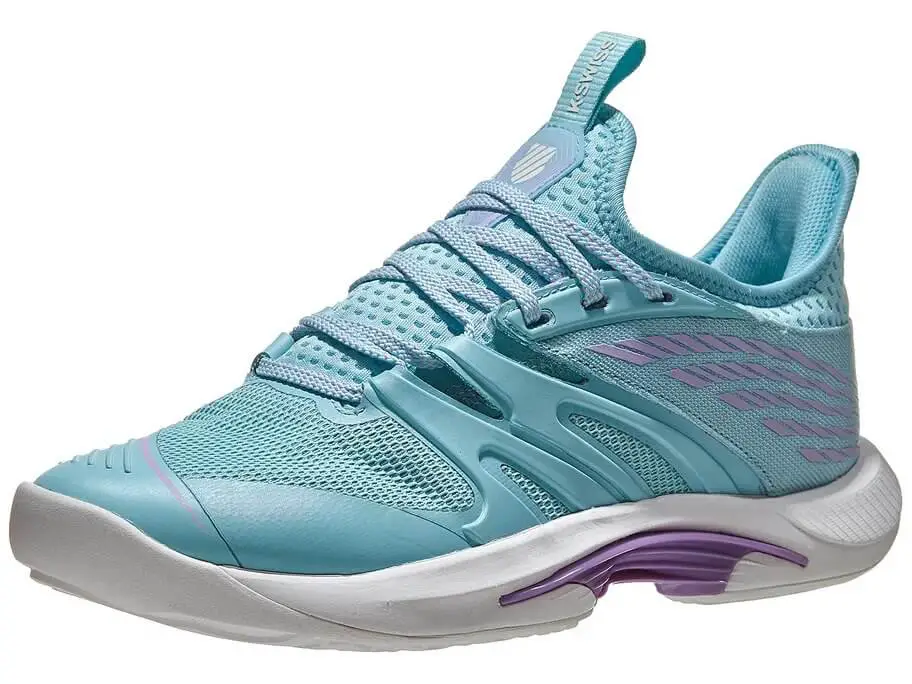 And lastly with the upper material is the breathability. You are going to get fresh air into the shoe whiles allowing moisture to leave it quickly. This would come in handy when you play long matches.
Toe Box, Ankle Support and Heel Area
The toe box comes with enough room for your toes so that you don't get any blisters. This also allows you to move and play well on the court.
The toe box durability is decent and it's not the best on the market. If you are a toe dragger that wants a shoe that's durable then this is the article for you.
The K-Swiss Speedtrac Colonial comes with decent height to provide you with good ankle support and nice cushioning when moving on the court.
The collar of the shoe is nicely made to provide you with the best heel support. This means your heel would be placed in a perfect position and benefit your movement.
Insole and Midsole
Now let's look at the insole and midsole for the shoe. The insole is done in a simple way to provide you with nice cushioning and comfort when playing in them. This is great at helping you feel comfortable on the court.
The midsole on the other hand comes with surge 7.0 material.
This does well to provide you with energy for each step you take on the court.
Not only that but it allows you to move better and feel more comfortable on the court.
Weight
Another key factor of this shoe is the weight. It comes with 10.8 ounces with a size of 8.5.
This is lightweight and gives you the advantage of speed when playing in it. This is great because you can move more quickly than your opponent.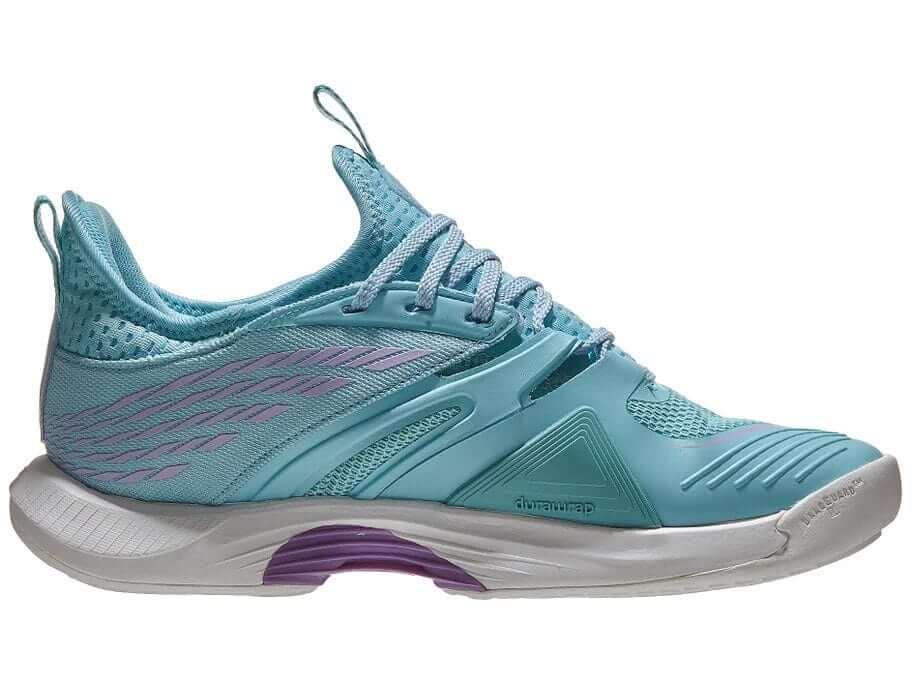 Lacing System and Tongue
The lacing system is similar to the New Balance Coco CG1 which came out a few months ago. It's a fantastic stylish shoe collaborated by Coco Gauff and New Balance.
The lacing system has extra lacing holes to provide you with extra grip and support if you need it.
When you look closely at the lacing holes, they come in different shapes and sizes.
The purpose of this is to make it easy to lace the shoe quickly. Also, the materials used to make the lacing system make it durable.
The tongue is well padded to provide you with comfort and cushioning when playing in this shoe. This puts less pressure on your arch and helps with your movement.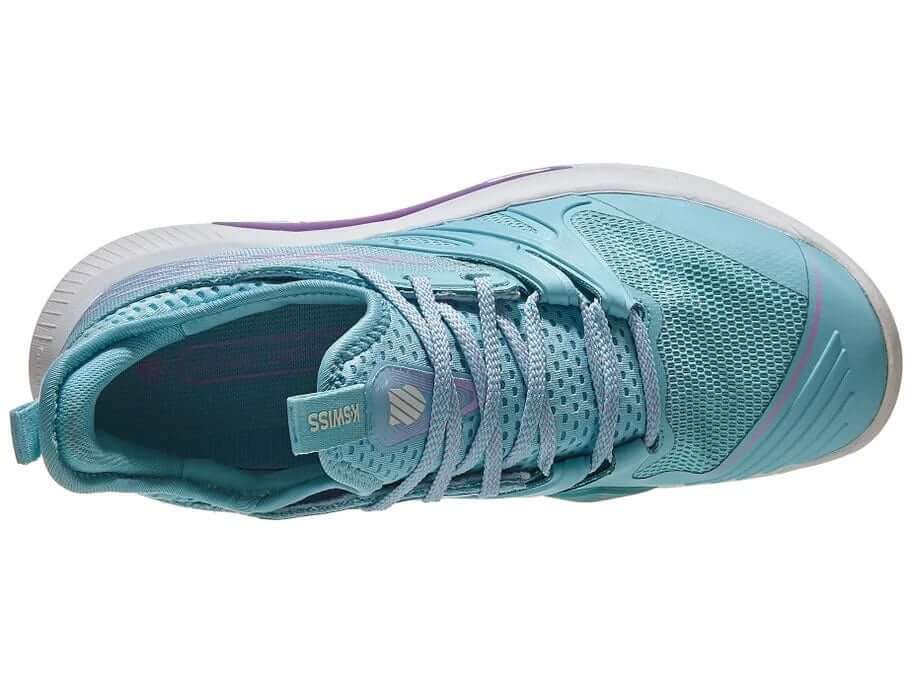 Fit
The fit of the K-Swiss Speedtrac Colonial is great for players who have medium feet. However, it's slightly short in terms of the length of the shoe.
Furthermore, the shoe does not require any break-in period. This is good because your feet can easily get used to the shoe without experiencing any discomfort.
Outsole
The outsole comes with a non-marking Dragguard 7.0 rubber. This is going to give you decent durability when playing in it.
Also, it comes with an innovative tread pattern for excellent traction on any court surface, especially on hard courts. This is going to allow you to move better and effectively on the court.
Colour Options
Unfortunately, this shoe comes in only two colours. They are blue/white/lilac and white/grape/orchid.
Both colours look good however, I would have liked to see different colours from K-Swiss.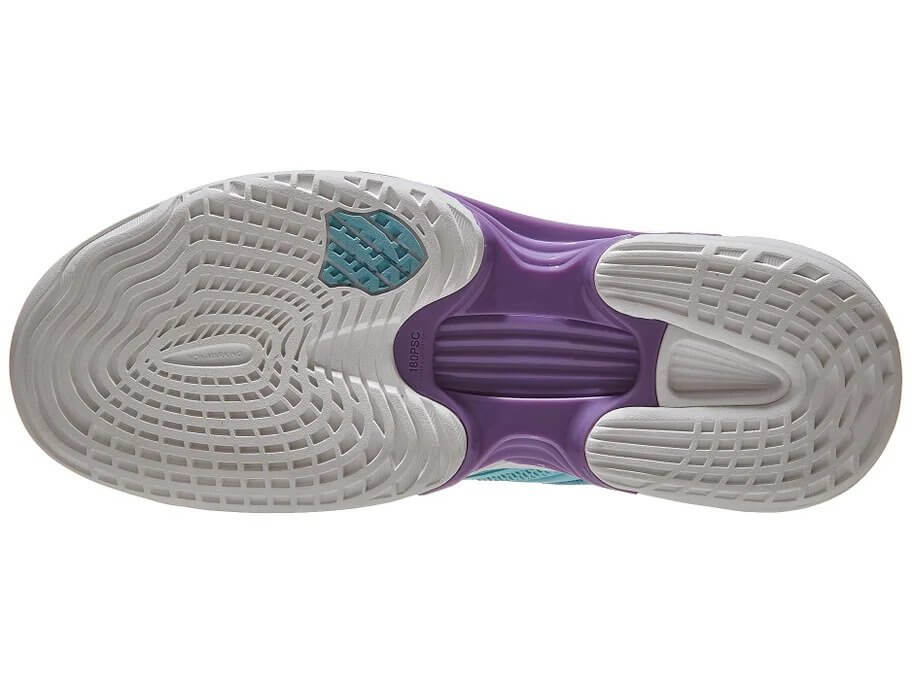 Price
Another downside to the K-Swiss Speedtrac Colonial is the price. It comes around the $134.00 mark. This is expensive and makes it difficult for a lot of players to afford this kind of shoe.
Conclusion
In conclusion, it's a great shoe by K-Swiss to provide you with the speed, breathability and stability you need. However, the price of the shoe is expensive to afford and comes with limited colour options.
Overall, it's a great shoe to have to help you perform better on the court and allow you to move better. If you are a fan of K-Swiss tennis shoes then it's worth checking them out.