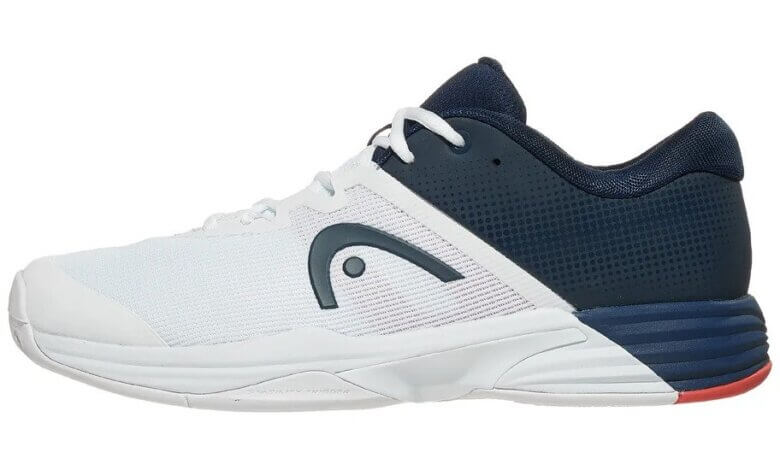 We're an affiliate
We hope you love the products we recommend! Just so you know, we may collect a share of sales or other compensation from the links on this page. Thank you if you use our links, we really appreciate it!
Product Overview
Comfort

Durability

Stability

Breathability

Weight

Fit and Size
Summary
The Head Revolt Evo 2.0 is built for players who are looking for comfort, support, and a wider fit. If you are a player that is looking for these features then you need to check this shoe out.
However, this shoe may not be the ideal shoe for narrow feet and it's likely to cause roomier at the toe area. Overall, it's a great update from Head.
Pros
Very comfortable
Nice support
Stable
Different colours to choose from
No break-in period required
Affordable
Cons
Not suitable for a narrow foot
Head has released its third tennis shoe for the year and it's called the Head Revolt Evo 2.0. This shoe is built for wide feet to provide you with the best comfort and support. Let's dive deep to see if Head managed to achieve its objective by starting with the design.
Design
The Head Revolt Evo 2.0 may not be the most attractive shoe on the market but it's designed in a simplistic way to make it look good. Not only that but it's great for wearing it outside the court to places to the gym.
Upper
Next up is the upper material. It comes with both synthetic materials and lightweight mesh to provide you with the best comfort and support on the court. This makes it fun and enjoyable to play on the court.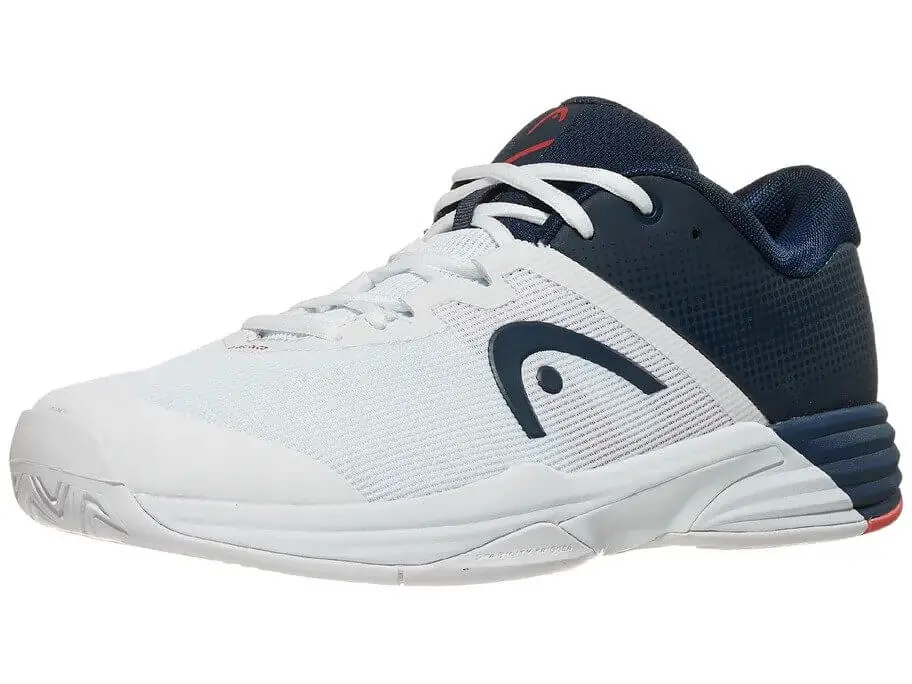 Furthermore, the use of mesh material is going to provide you with good breathability.
This means moisture is going to leave the shoe quickly whiles at the same time allowing fresh air into it.
And lastly, the upper durability is good. This would be a service to a lot of players who are hard on their shoes.
Toe Box, Ankle Support and Heel Area
Since this shoe is more suitable for players with a wide foot, you are likely to experience roomy space if you have a narrow or small foot.
Therefore, I would recommend that you use the extra lacing holes to your advantage to get more grip and stability. Also, the toe area is durable enough to prevent you from wearing your shoes quickly.
The height of the ankle area is good enough to give you support, grip and nice cushioning when moving on the court. This makes your movement on the court better and smooth.
And lastly, the collar of the shoe is nicely made to provide you with the best heel support. This means your heel would be placed in a perfect position and benefit your movement.
Insole and Midsole
The insole and midsole of the shoe are some of the important parts of this tennis shoe. Head did a great job at making the insole comfortable to wear.
This makes it fun to play in it. Moreover, the insole is removable which allows you to replace it with your own insole and you can take it out to dry quickly after washing it.
In addition, the midsole comes with TRI-NRG technology that offers you good cushioning, and energy transfer. Furthermore, the use of lockdown Strap locks in your feet for extra stability. This allows you to move better on the court.
And lastly, the Drift Defense is included for added protection on the medial side. This does well to lower your chances of getting any serious injury.
Weight
The next feature to talk about is the weight of the Head Revolt Evo 2.0. It comes with 13.2 ounces with a size of 10.5. I wouldn't say is the best lightweight shoe on the market.
If you are looking for some of the best lightweight tennis shoes then I highly recommend you read this article by clicking here.
Lacing System and Tongue
There is nothing peculiar about the lacing system and tongue compared to other tennis shoes such as Wilson Kaos Swift. The Wilson Kaos Swift may not be like the traditional lacing system however it does a really good job of providing you with excellent support and stability.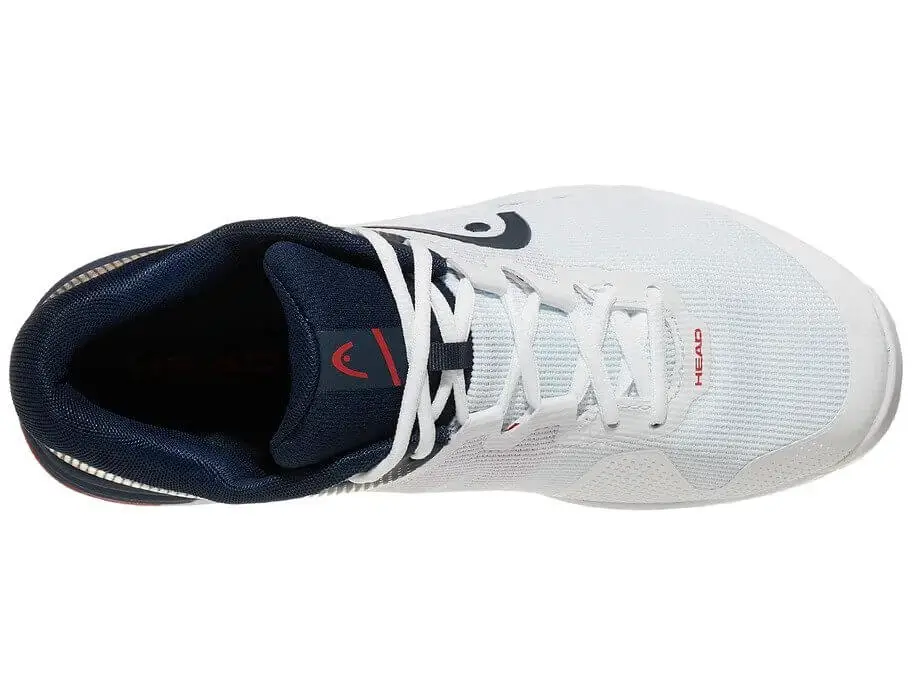 When you look at the Revolt Evo 2.0 lacing system, it's simple and basic.
This makes it easy and quickly to lace the shoe. Also, it comes with extra lacing holes for you to use if you need more grip and stability on the court.
The material used to make the lacing structure is going to provide you with durability in the long run.
The tongue, on the other hand, is well-padded to provide you with more comfort and nice cushioning.
Fit
As mentioned earlier, this shoe is perfect for players who have wide feet. If you have a wide foot then you would love playing in this shoe and the fit is generous.
However, if you don't have a wide foot but instead a medium then you would love the K-Swiss Speedtrac Colonial which also recently came out. It comes with amazing features such as breathability, weight and comfort.
Furthermore, the Revolt Evo 2.0 shoe does not require any break-in period. This is good because your feet can easily get used to the shoe without experiencing any discomfort.
Outsole
The outsole comes with a unique hybrid material which is built for all court surfaces. This is very useful for players who constantly play on different surfaces on a daily basis.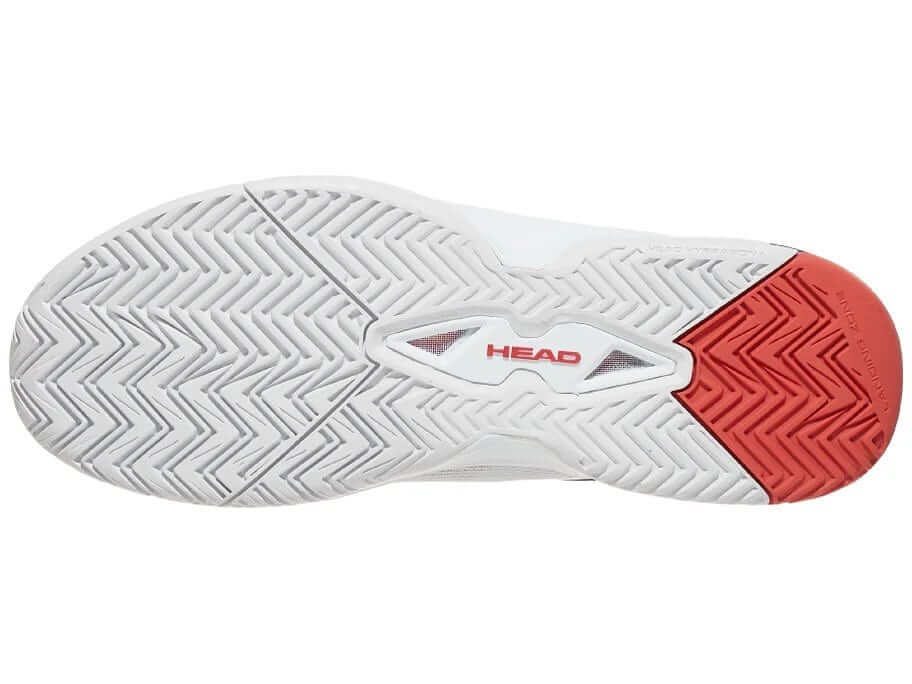 Moreover, the use of higher-density tread in high-wear regions and more open tread zone gives you more grip and traction on clay court.
For a shoe that has excellent comfort and support, I would say the durability of the shoe is good.
Not only that but it comes with a six-month outsole durability guarantee if you are not happy with the product. Either way, there is no loss on your part.
Colour Options
Another thing that makes this shoe likeable by players is how it comes with different colours to choose from. This is a big plus because as a player you can select which shoe suits your tennis outfit.
Price
The last important topic to talk about is the price of the Head Revolt Evo 2.0. The Revolt Evo 2.0 comes under $80 which makes it one of the cheapest tennis shoes on the market for this year. This is fantastic because it makes it affordable for all tennis players.
Wrapping Up!
As this article comes to its end, we can see that Head has done a great job to build a shoe that is going to provide you with the best comfort and support.
However, this shoe is not great for players with narrow or small feet. Overall, the price combined with the availability of the different colours makes it a great option to have in your arsenal.