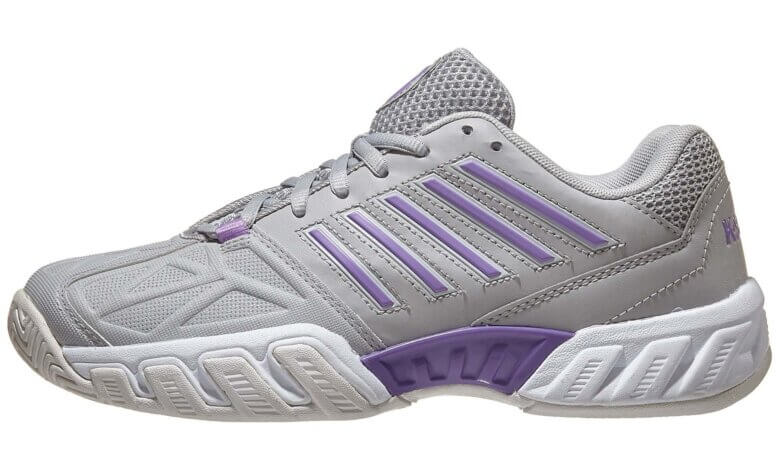 We're an affiliate
We hope you love the products we recommend! Just so you know, we may collect a share of sales or other compensation from the links on this page. Thank you if you use our links, we really appreciate it!
Product Overview
Comfort

Durability

Stability

Breathability

Weight

Fit and Size
Summary
The K-Swiss Big Shot Light 3 has been updated from the previous version. The Big Shot Light 3 is going to provide you with great stability, support, and durability. If you are a player that looks for these features in a shoe then this is the perfect shoe for your game. 
However, this shoe can feel heavy and stiff when playing in them and may require some break-in period for some players. Overall it's a great shoe to have on the court. 
Pros
Excellent durable outsole
Good stability
Great traction and support
Nice cushioning
Cons
May require some break-in period
Can feel heavy and stiff
Big toe box area
K-Swiss has made some changes to the Big Shot Light series to help players perform better on the court with this new version. This shoe is great for all types of players such as beginners, intermediate and professional. It's a shoe that comes with many features that can hopefully allow you to play well on the court.
If you have tried other K-Swiss tennis shoes in the past and enjoyed them then you want to check out the Big Shot Light 3. This shoe is doing well on the market and it's getting a lot of positive reviews. The big question that everyone wants to know is why is this shoe doing well so far on the market?
Let's find out in this in-depth review of the K-Swiss Big Shot Light 3 and its features. Let's start with the design and cosmetics of the shoe.
Design
Looking at the design and cosmetics of the shoe, I wouldn't say it's the best I have seen on the market or from K-Swiss. The design looks dull compared to other shoes such as the Babolat Jet Mach III which comes with vibrant colours and makes the shoe attractive to wear. I would like to see some improvement with the design in K-Swiss's next edition.
Upper
Next is the upper material. It is made of synthetic material with perforations. The purpose of this material is to provide you with support and comfort. This is great at allowing you to move more effectively and with confidence on the court without losing your balance.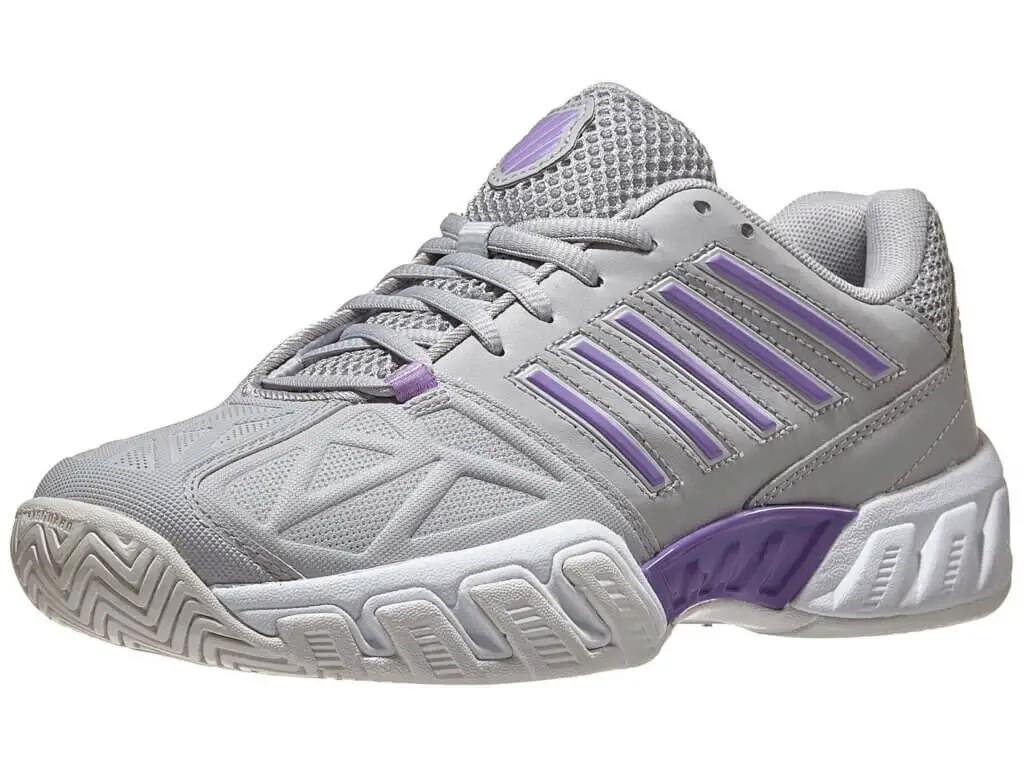 Also, the upper material has a flow cool system to increase breathability.
This is awesome at allowing fresh air into the shoe whiles the DRI-LEX does a good job at making the moisture leave the shoe. This helps to keep your feet fresh throughout the match and not getting them overheated.
And lastly, the upper is going to protect your feet well and provide you with good durability.
If you are an aggressive mover or someone who likes to slide a lot then this shoe would hold you up very well.
Toe Box
Another criticism of the K-Swiss Big Shot Light 3 is the toe box area. It comes with a big toe box area which can feel a little uncomfortable when playing in them. Also, you can experience some toe jagging issues due to the size of the shoe. One of the best ways to reduce the space of the toe box area is to wear two pairs of socks.
Despite the criticisms of the toe box, it still does a good job of protecting your toes. Also, it prevents the toe area from wearing out quickly due to the Dragguard technologies around key areas.
Heel Counter and Ankle Support
The heel counter may not have the same height as other K-Swiss tennis shoes such as KSwiss Hypercourt Supreme but it still does a good job at keeping your heels in perfect position and stable. This allows you to move freely and comfortably on the court.
The ankle area is well padded and cushion to provide you with excellent support, and comfort. It does a very good job of holding your ankle very well.
Tongue and Lacing System
There is nothing unusual with the tongue and lacing system compared to the Wilson Kaos Mirage which comes with a one-strap lacing system. However, this approach saves you time from tieing your laces all the time.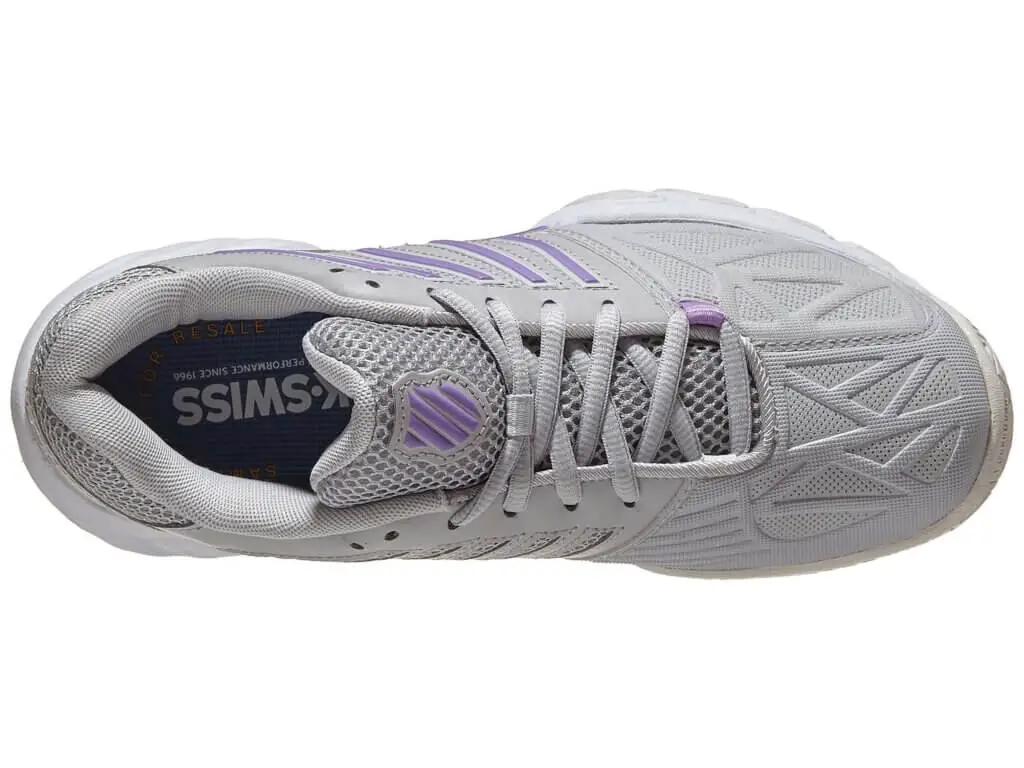 The K-Swiss Big Light 3 comes with a well-padded tongue to provide you with excellent comfort and cushioning. This is really good at putting less pressure on your feet and allowing you to move comfortably on the court.
The lacing system comes with extra lacing holes for you to use for more grip and support when needed. It also keeps your feet well fit for you to move better on the court.
In addition, there is a leather hole on top of the tongue for you to lace through it. This helps to keep the tongue stable and prevent it from distracting you during the match.
The only weakness with the lacing system is the lacing holes which are not made of metal eyelets. This makes the lacing holes less durable.
Weight
The shoe may have the name 'light' in it but it's not that lightweight. It comes with a weight of 11.3 ounces with a size of 8.5. It may not be the lightest shoe on the market but it's a lot lighter compared to the previous version. Some players may feel that this shoe may weigh them down when playing in it so just be a little patience with it.
Insole and Midsole
The shoe comes with a well-cushioned insole. This would give you comfort and cushioning as you play in it. Also, you are going to get good shock absorption from the insole.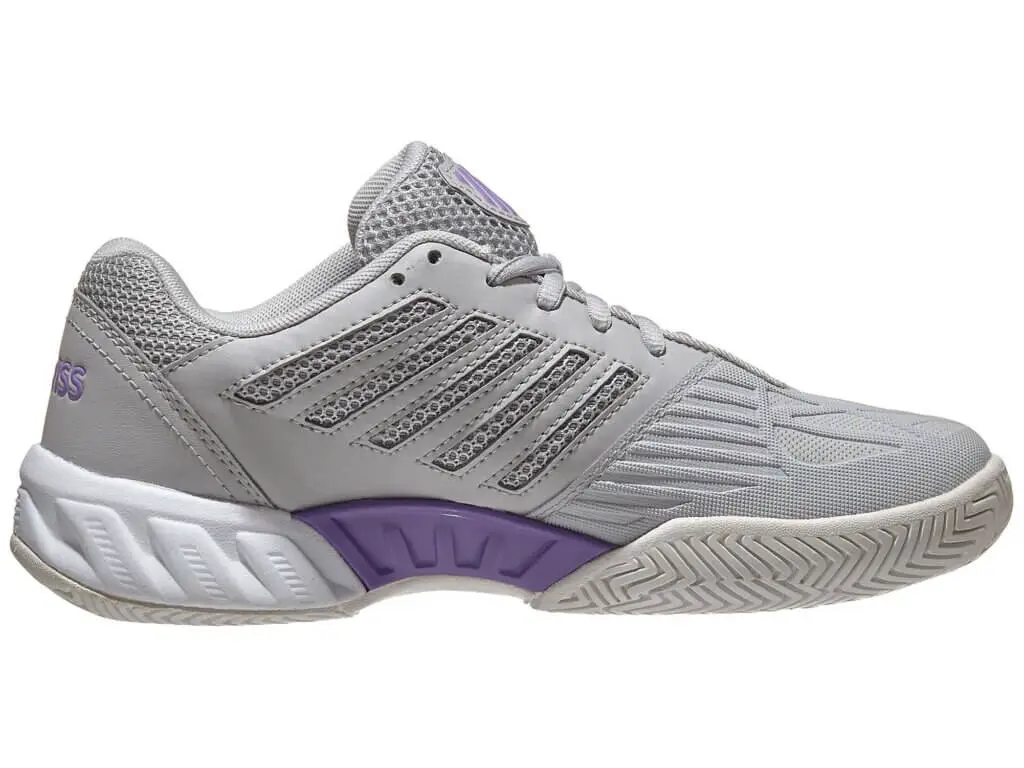 The midsole is made of K-EVA material. This is going to provide you with maximum cushioning and durability with a mid-foot support structure for the arch area with a TPU injection component.
Also, you are going to get good energy transfer in every step you take.
Furthermore, the use of Plantar Support Chassis in the midsole does well to enhance mid-foot stability and support.
Fit
The fit of the shoe is geared towards players who have a medium to wide foot. Finding the size and length for your feet can be tricky so it's worth trying different sizes in order to find which one suits you.
If you have a narrow foot you shouldn't get discouraged because you can check out our best tennis shoes for narrow feet. You would definitely find one that fits you perfectly. In addition, this shoe may require little to no break-in period.
Outsole
The outsole is made of the unique and special durable high-density Aosta 7.0 rubber compound. This is going to provide you with good durability on the court.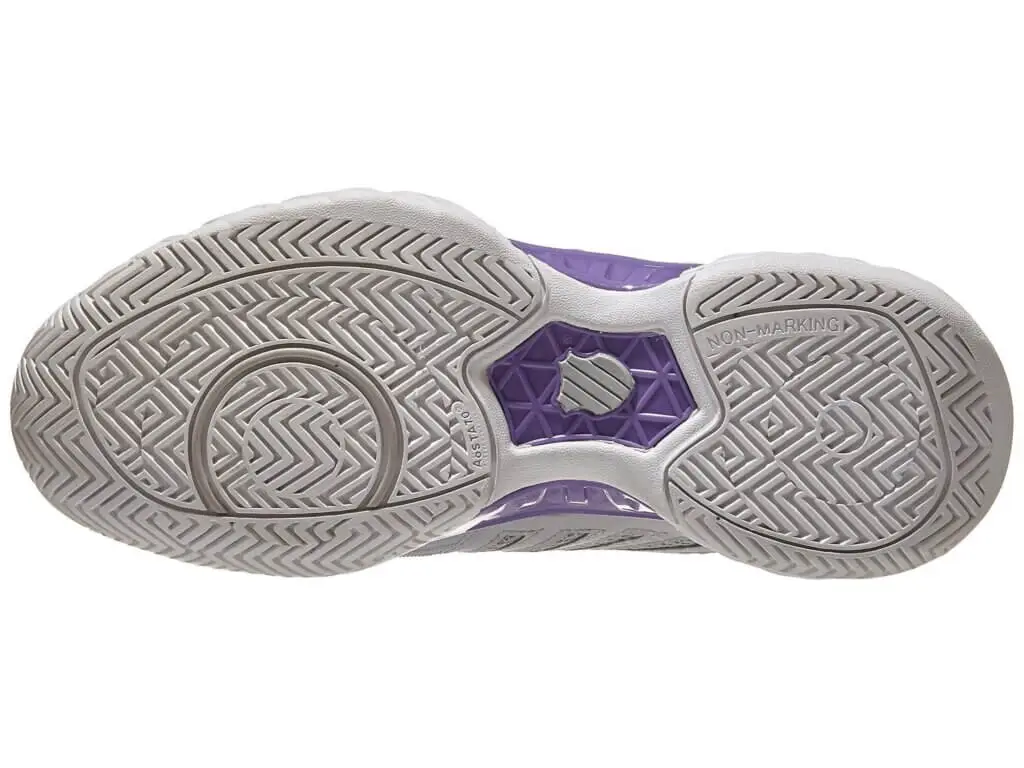 If you are a player that likes to play on a weekly basis or hard on your outsole then you would benefit from this outsole.
Also, the outsole traction is on the sticky side of the spectrum. This is going to give you excellent stability and support whiles moving and sliding around the court.
Colour Options
This shoe comes with a variety of colours to choose from. This is fantastic for players because they can select which tennis shoe colour that suits their tennis outfit.
Price
The last important point to talk about is the price of the shoe. It comes under $100 which is a fantastic price point for all players such as beginners and intermediate to afford.
Final Thoughts!!
Overall K-Swiss has done a good job with this update. This shoe is going to provide you with good stability, support, and durability. This would really take your game to the next level.
However, there are some areas that still need improvement such as how heavy the shoe can feel on your feet when playing in them and it has a roomy toe box.
Despite some of the criticisms towards this shoe, it's still a great shoe with a fantastic price point. If you manage to purchase this shoe, I wish you the very best of luck in your next match.