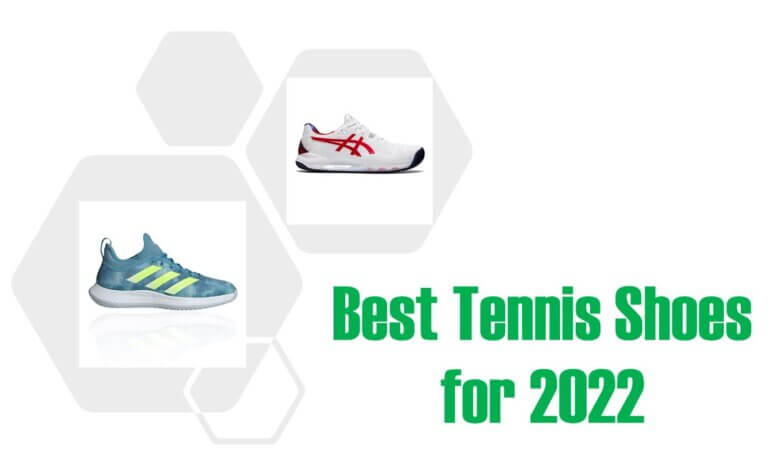 We're an affiliate
We hope you love the products we recommend! Just so you know, we may collect a share of sales or other compensation from the links on this page. Thank you if you use our links, we really appreciate it!
While the term "tennis shoe" is now used to describe all types of sports shoes, if you're looking for true tennis or court shoe because you play tennis or other court games regularly, it's important to know what you're looking for before you go shopping.
The truth is that the right tennis shoe is crucial because, without it, your foot won't have the support it needs to play comfortably and without any injuries.
When you look at the 10 best tennis shoes for 2022, they'll have some of the same characteristics, and these characteristics are a must if you want a well-fitting shoe that is both comfortable and prevents injuries on the court.
What Should You Look for In a Tennis Shoe?
Because each player and each court is different, you have to begin the process of finding good tennis shoes by knowing how to search for them. This involves taking a good look at three main areas: the court itself, your feet, and how you move your feet once you get out on the court.
Let's take a look at each of these in more detail.
The Court
Above all else, you have to have a shoe that can handle the type of court you're playing on. Courts can be made out of clay, harder materials, and grass, and they all affect your footwork in a different way.
Mainly, these three court types will directly affect the type of outsole found on your tennis shoes. For instance, most tennis court surfaces are hard and therefore take a toll on your outsole.
You'll need to look for a tennis shoe with these characteristics:
Modified herringbone pattern for both give and grip on the court

Ample cushioning

A midsole that can absorb shock and transfer energy with each step

Tough upper material for support and durability

A toe area that is built up and protects the toe draggers out there (which can damage the shoe)
Remember that hard courts are the most popular types of tennis courts and are the most demanding when it comes to the type of tennis shoes you need.
If you intend to play on a grass court, it will be much softer on both your joints and your body, so you'll need a tennis shoe that has an outsole specifically made for this type of court.
Most of these outsoles have "nubs" or "pimples" that make them look a little like cleats. They are comfortable and won't damage the court itself, but you'll have to remember not to use these tennis shoes on any other surface.
Finally, there are the clay courts. Shoes made for these courts have a full herringbone (zigzag) tread pattern that keeps the clay out of the outside so that you can get a better grip whenever you're stopping, changing directions, or sprinting.
A little bit of clay could gather in your shoe, but it is very easy to get it out of the shoe. Herringbone designs also make it easy to slide from side to side, which is important in games such as tennis.
These types of shoes also have tighter-knit uppers that help keep you more stable and increase your level of comfort.
Your Feet
Everyone's foot is different, and the first step in getting the perfect pair of tennis shoes is making sure that you have an accurate measurement of your own feet.
To do this, just follow these simple instructions:
Place a piece of paper on a hard, flat floor

Wear the socks you're planning to wear when you play and place one foot on the
paper

Trace your foot with a pen or marker while keeping your body weight over the foot

Measure the length of your foot tracing (vertically), which will be your foot length

Measure horizontally across the foot tracing to get your foot width
Once you have your exact foot measurements, it'll be much easier to determine the true size of the tennis shoes you'll need.
Your Style of Playing
Tennis players are either light-footed or hard-hitting when they're on the court, and this too affects the type of tennis shoe that you'll wish to buy.
Tennis shoes are broken down not only by men's and women's shoes, but also by shoes that are middleweight, lightweight, and featherweight. Here are some weights that you can consider when purchasing your own tennis shoes:
| | |
| --- | --- |
| Men | Women |
| Middleweight: > 400 grams | Middleweight: >350 grams |
| Lightweight: 350 to 400 grams | Lightweight: 300 to 350 grams |
| Featherweight: <350 grams | Featherweight: <300 grams |
All of these shoes vary when it comes to durability, speed, and stability, so the weight of the shoe shouldn't be your only consideration when you're shopping for great tennis shoes.
Nevertheless, this is a good starting place and should help you find the best shoes in the end. And if you're wondering what some of the best tennis shoes on the market are, here are a handful of them for you to consider:
Lakai Cambridge Suedesize Tennis Shoes
Lakai tennis shoes continuously get 5-star ratings on sites such as Amazon and others, and there is little wonder why. These particular tennis shoes come in three different colors — black, red, and grey — and are made out of materials such as suede, mesh, and leather.
Premium foam is one of the main features of the shoe, and this gives it the support and comfort that you expect from a high-quality tennis shoe.
It also has an outsole with dual-density rubber that absorbs high impact and reduces fatigue, as well as a reinforced arch and medial sidewall area that provides you with expert support and protection.
The unique tread design gives you 360 degrees of flexibility on the court, which is perfect for all court sports and not just tennis. They are also very lightweight at just 2.3 pounds and therefore give you the comfort that you deserve.
Pros:
Lightweight and super-comfortable design

Tread design made for 360-degree flexibility

Dual-density outside to absorb impact and reduce fatigue
Cons:
Some users claim that the sizes run a bit small
Babolat Jet All Court Junior Tennis Shoes
These tennis shoes are for kids who play tennis regularly and give them the support and comfort they need even if their goal is to play tennis professionally someday.
They are available in three different colors and have a mesh upper, lace-up closures, and an upper that is reinforced with four rigid fiber straps so that they get the stability they need while playing for long periods of time.
Because they only weigh around 2 pounds, these shoes are super comfortable, but this doesn't mean that they won't give your kids the support they need while playing tennis.
They are specifically manufactured for the lateral moves made on a tennis court and include features such as a top-notch shock-absorbing system and extra cushioning in the heel.
The Michelin outsole is made just the same as the outsoles in more expensive tennis shoes but without a high price.
Pros:
Three different colors

Michelin outsole for extra strength and comfort

Reinforced upper for more stability and durability
Cons:
Some complaints about the price

Some claims that they started to wear out after just a few months
FitVille Wide-Width All Court Tennis Shoes with Arch Support for Plantar Fasciitis
Made for people who usually wear a wider-width tennis shoe, these shoes are good for all court sports and even have extra arch support for people who suffer from plantar fasciitis and other foot problems.
They are available in four different colors and have enough room in the toe area to give you complete freedom of movement.
They are made out of non-slip materials and have a honeycomb insole for better support and cushioning. In addition, the shoes are made out of very breathable materials and have uppers made out of mesh and soft microfiber.
The outsoles consist of both dual-density EVA and anti-torsion TPU rubber to give you more shock absorbability and a lot more agility on the court.
There is even an anti-odor feature in the shoes for those people who enjoy spending long periods of time on the tennis or pickleball court.
Pros:
Very reasonable price

Excellent outsoles for more agility and great shock absorption

Anti-odor and breathability features that make them very popular
Cons:
Some people thought that they were too expensive
Mizuno Unisex Lightweight CS Tennis Shoes
Priced at under $100, this reasonably priced shoe has a lot of the features that are found in shoes that cost hundreds of dollars.
They are lightweight at around 1.5 pounds and are made for both men and women. They are also an attractive pair of shoes in a white design with a sharp-looking black trim.
The EVA midsole is made to be both soft and supportive, and the synthetic rubber soles are made to be super durable and provide you with a strong grip on the court.
Best of all, these tennis shoes are good for a variety of court sports and have a wave-shaped midsole that helps keep the foot secure as you play.
If you want court shoes that provide you with comfort and the support you need to play for long periods of time on the court but you don't want to spend hundreds of dollars on them, the Mizuno CS tennis shoes are the ones you want.
Pros:
Very reasonably priced

Made for both men and women

Very fashionable and good-looking
Cons:
Some claim that the soles are a bit too rigid
Reebok Unisex Royal Complete Tennis Shoes
Reebok has been making high-quality sports shoes for decades, and they are known for both their top-notch features and their reasonable prices.
The Royal Complete tennis shoe has a synthetic sole and an upper made out of synthetic leather, so it is both comfortable and provides you with the support you need while on the tennis court.
They are lightweight at 1.3 pounds and boast a full rubber cup sole and an EVA sockliner for soft underfoot cushioning.
Priced at around $75, these reasonably priced tennis shoes are good for all types of court sports and are built to last for many years to come. They also come in a sharp-looking white color and in a variety of sizes to fit both men and women.
Pros:
Very reasonably priced

Made for both men and women

Very fashionable and good-looking
Cons:
Some claim that the soles are a bit too rigid
Adidas Defiant Generation Pickleball and Tennis Shoes
Adidas has been around forever, and once you buy a pair of their shoes, you won't wonder why. This particular shoe is made for all types of court sports and comes in more than 12 different colors.
The synthetic soles allow for both comfort and support on the court and the lightweight canvas uppers allow you to make all of the lateral moves you need with little effort on your part.
The Defiant Generation tennis shoes also come with lace closures for a more secure fit, a textured lining for extra comfort, and a rubber outsole that provides for excellent grip on the court.
They cost under $80 and are therefore affordable, and their customers have given these shoes a 4-star rating (out of a possible 5 stars) on sites such as Amazon and others, which is a testament to how well made they are.
Pros:
Very reasonable price

Canvas uppers that make lateral moves very easy

12+ colors
Cons:
Some claim that they didn't fit properly

Some complained about not enough cushion support
Asics Gel-Resolution Tennis Shoes
Available in nine different colors, these sharp-looking tennis shoes have all of the features you're looking for in a great pair of shoes.
This includes extra cushioning and durability and flexion fit uppers that provide you with form-fitting comfort and the ultimate amount of support.
The lightweight midsole is made out of EVA and SpEVA, and they've even added two layers of memory foam to the collar so that it molds to your heel for a more personalized fit.
These shoes also have a rubber sole and enhanced toe durability to prevent your toes from being uncomfortable during all those lateral moves on the court.
They only weigh 2 pounds and are therefore super comfortable and lightweight. They have all of the features of tennis
shoes that cost hundreds of dollars more than these do. If you like this tennis shoe then make sure to read the full review.
Pros:
Nine different colors

Two layers of memory foam for a more personalized fit in the heel area

Very lightweight midsole made out of EVA and SpEVA
Cons:
Some complaints about improper fit

Some claims that the shoes didn't last very long
K-Swiss Hypercourt Supreme Tennis Shoes
Available in four different colors, this tennis shoe has everything you need for both comfort and support on the tennis court.
The upper is made with mesh for extra breathability and even has an inner bootie that conforms to the shape of your foot for extra comfort.
The midsole has a lightweight cushion and delivers maximum energy return, and the outsole is made out of high-density rubber and has additional durability to accommodate aggressive players.
In addition to all of these things, this tennis shoe has an EVA sock liner to make sure that the shoe fits you right, meaning that it will always be comfortable and supportive to wear.
It is also the perfect shoe to wear on all types of courts, including clay, hard, platform tennis, and pickleball courts. And at around $120, it is not an unreasonably priced shoe either.
Pros:
Extra-durable outsole that can accommodate aggressive players

Inner bootie that conforms to the shape of your foot for comfort

Suitability for playing on all types of courts
Cons:
Some claims that it hurts to wear the shoe

Some complaints about it being too high on the back of the ankle
Nike Gymnastics Tennis Shoes
With a name like Nike, you can't go wrong, and this tennis shoe is no exception. It has a traditional "retro" look and the same quality as it did decades ago, with synthetic soles and a leather upper.
This particular shoe is available in more than 20 colors and designs, and they all have the classic Nike logo on the side so you can trust the overall quality and comfort of the shoe.
The tennis shoes come with a solid rubber outsole, soft fabric lining with comfortable footbed, and an autoclave construction that fuses the midsole and outsole for extra durability.
The solid rubber outsole comes in a herringbone pattern for great grip on the court, and the entire design of the shoe demonstrates Nike's commitment to making a tennis shoe unlike any other on the market today.
Pros:
Very reasonable price

Great overall construction and support

20+ colors and designs
Cons:
Some claims that the shoe hurt their feet

Some complaints that it didn't last very long
Wilson Tennis Shoes
Wilson has been making sports shoes for decades and concentrates on three main areas: golf, racquet sports, and team sports.
This means that when you need a high-quality shoe for any type of sporting event, they are the ones to turn to. These particular tennis shoes come in both black and white and have numerous features that make them high in quality and built to last.
The shoes have a rubber sole and rubber medial drag pad that offers added protection whenever you drag your feet on the court.
They provide an intuitive fit regardless of what type of foot you have and features that enhance the natural movement of your foot.
They are also abrasion-resistant, have a flexible arch, and provide maximum traction regardless of the surface you're playing on. If the Wilson tennis shoe meets your needs then make sure to read the full review.
Pros:
Are good for all types of courts

Are available in two different colors

Provide intuitive fit for the utmost in comfort and support
Cons:
Frequently Asked Questions (FAQs)
Q: Can I simply wear a pair of walking or running shoes on the tennis court?
A: No. When you wear running shoes, they are made for the forward motion made by people who run or walk. Tennis shoes, on the other hand, are made specifically for lateral moves, which are the types of moves that you experience while playing tennis or some other court sport.
Q: Do I have to know what type of court I'll be playing on before I buy my tennis shoes?
A: It is always best if you do. There are numerous types of tennis shoes and the more personalized they are, the less likely you'll experience pain or lack of support while you're playing.
Keep in mind that there are tennis made for all types of tennis courts, so you may want to consider buying those.
Q: I've heard there are three main types of feet to consider. What are they?
A: The more you know about your feet, the more likely you'll find the perfect pair of tennis shoes. If you study your old shoes, you'll find they are either (1) pronated, which shows excessive wear on the inside area of the shoes near the balls of the feet; (2) supinated, showing wear and tear on the outside of the heel and forefoot; or (3) ideal, which shows a balanced or more neutral foot mark.
Look for shoes with great later support for pronated feet, and great shock absorption and added space in the heel area for supinated feet. If you have "ideal" feet, most tennis shoes will suit your needs.
Q: What other tips should I adhere to when buying tennis shoes?
A: If you stick to the baseline when you play, you'll want a durable sole, strong lateral support, and extra-sturdy cushioning.
On the other hand, if you're one of these players who like to charge the net every time you serve, look for shoes with excellent flexibility for the balls of your feet and a durable, strong toecap.
Conclusion
As you can see, you can't just run out and "buy tennis shoes" for that next tennis game with your friends. Finding the right shoes is crucial but takes some planning because just as there are different types of shoes, there are also different types of feet and players.
Only by studying the factors mentioned above will you be able to get the right pair of tennis shoes in the end.