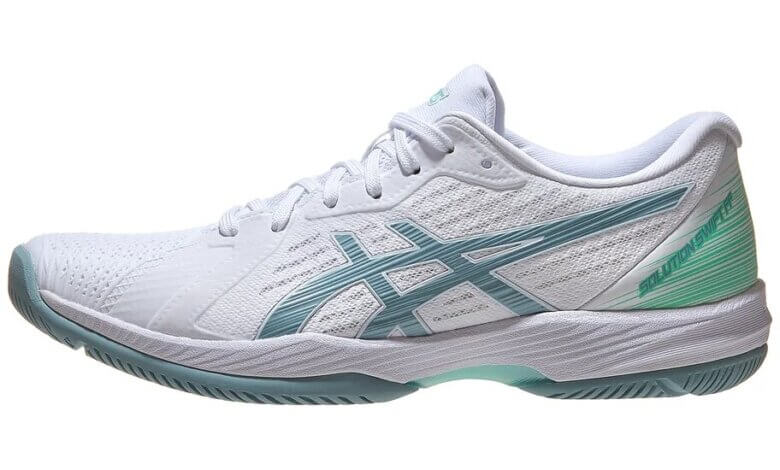 We're an affiliate
We hope you love the products we recommend! Just so you know, we may collect a share of sales or other compensation from the links on this page. Thank you if you use our links, we really appreciate it!
Product Overview
Comfort

Durability

Stability

Breathability

Weight

Fit and Size
Summary
Asics has released its first tennis shoe on the market for 2022 and it's called the Asics Solution Swift FF. This shoe is built for players looking for quick and comfortable features in their game. However, this shoe may not be the most durable shoe on the market if you are a player that likes to wear your outsole quickly. Overall, there are a lot of benefits to enjoy about this shoe and it's worth checking it out.
Pros
Very comfortable
Nice looking shoe
Quick
Affordable
Breathable
Cons
Lack of durability
A slight break-in period require
Asics has become one of the most trusted brands when it comes to buying quality tennis shoes on the market. Their tennis shoes are reliable and help players to perform well on the court.
They have added another set of tennis shoes to their collection by releasing the Asics Solution Swift FF. This shoe is built for comfort, speed and the ability to add style to your game.
However, the big question is did Asics manage to achieve this objective? If so let's find out by diving deep into the different parts of the shoe.
Design
What I like about the design straight out of the box, is how simple and sleek it looks. It may not be colourful and flamboyant like the New Balance Coco CG1, but it still looks nice.
Not only that, but the simplistic design and the colours used by Asics make it enjoyable to wear off the court as well.
Of all the colour options to choose from, I would go for the men's white and black. This is because it looks cool and simple.
Upper
The next part of the shoe to take a look at is the upper material. It comes with seamless mesh material which does a great job at providing you with nice comfort and lightweight support.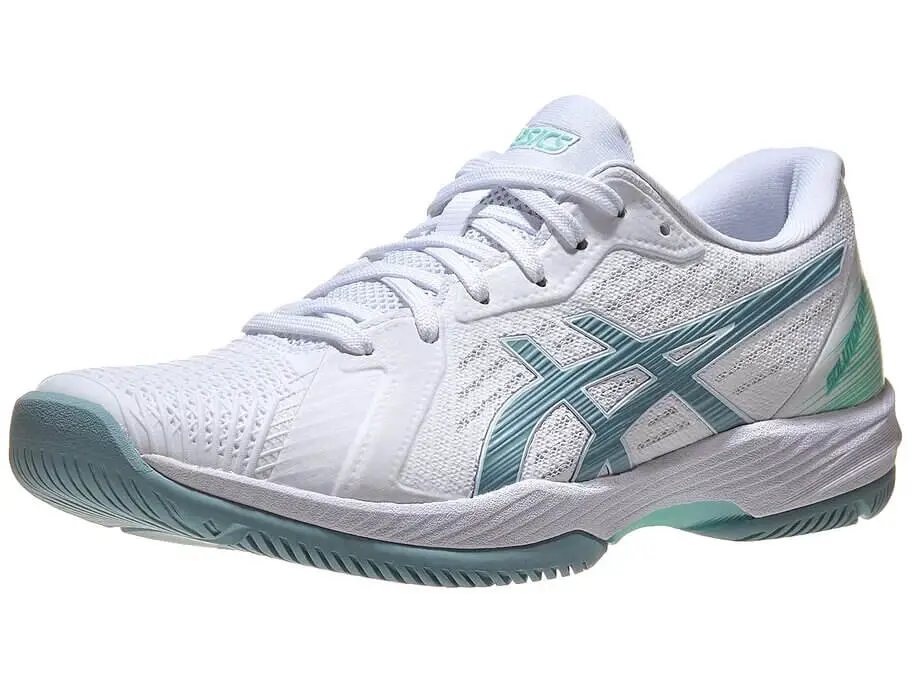 This is great for helping you to move better and smoothly on the court without injuring yourself badly.
Another great thing about the upper is how breathable the shoe is.
Again, the use of the seamless construction is going to allow moisture in the shoe to leave quickly whiles at the same time allowing fresh air to enter the shoe.
This is useful when you are playing long matches or in hot weather conditions.
Toe Box, Ankle Support and Heel Area
The toe box area is going to provide you with a good fit when you wear it. You are not going to have any extra room or experience tight spaces. This is useful because it reduces your chances of getting any toe injury.
However, the toe box is not going to be the most durable material on the market. The material used is not strong therefore if you are a toe dragger then I wouldn't recommend this shoe.
If you are a toe dragger and you are looking for some of the best durable tennis shoes then make sure to read this full review.
You are going to get good ankle support and comfort when you wear the Solution Swift FF. This is great at helping you to move better on the court.
And lastly is the heel area. The heel of your shoe is going to lock your heels in the perfect position without putting too much strain on them. This makes sliding and moving on the court easier.
Insole and Midsole
The insole of the shoe is like most tennis shoes. It comes with a removable layer which you can replace anytime with your prefered choice.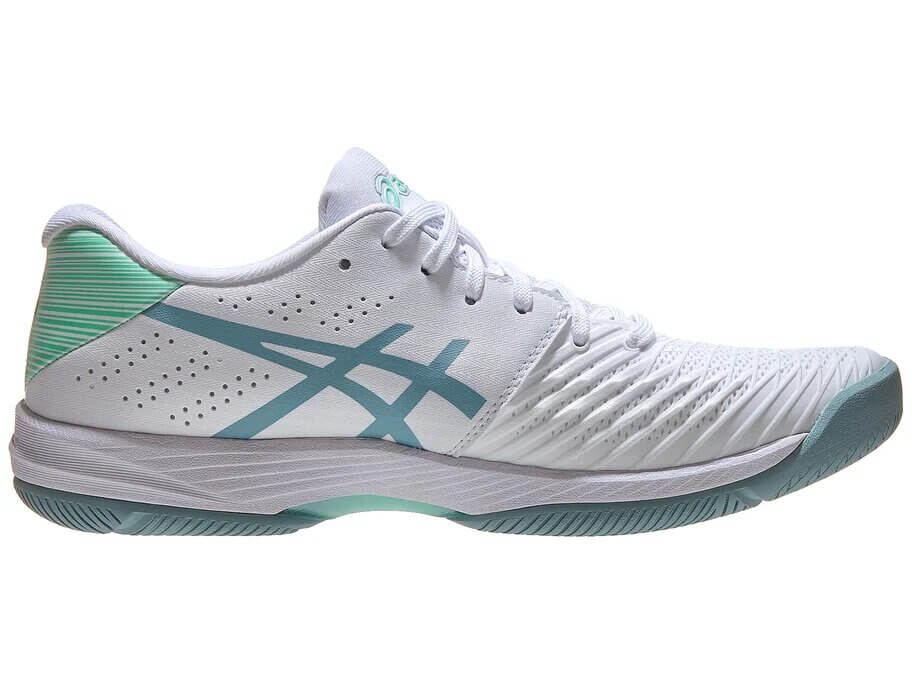 In addition, when you wash the shoe, you can take the insole out for it to dry quickly.
Speaking of the midsole it comes with the popular flyte-foam cushioning which provides you with an exceptionally plush and responsive feel underfoot.
This makes it fun and enjoyable when playing in them.
On top of that, Asics included the trusstic system which does well to resist unwanted twisting for added support and stability. This is good at reducing your chances of getting any serious injury.
Weight
The Asics solution Swift FF comes with 11.70 ounces with a size of 10.5. This makes it one of the lightweight tennis shoes on the market.
This feature gives you an advantage on the court because it allows you to move quickly on the court without compressing comfort or stability.
Lacing System and Tongue
Both the lacing system and tongue are made in a simplistic format like how most Asics tennis shoes are made. Let's look at each of them.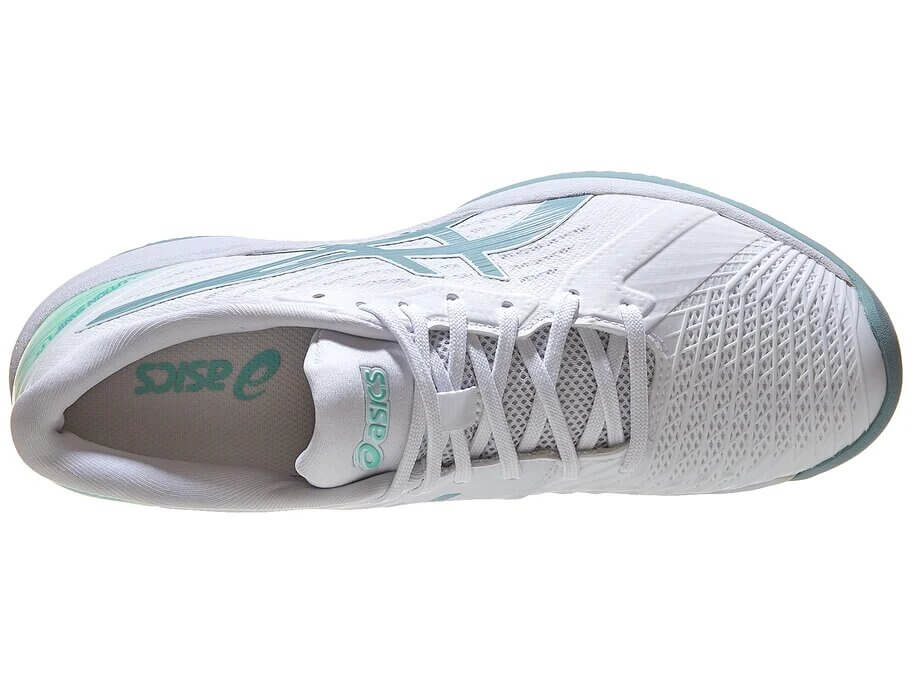 Firstly, the lacing system has extra lacing holes for you to use in case you need extra grip and stability.
This can come in handy when you are struggling with your movement on the court.
Secondly, the size of the holes makes it easy to lace the shoe quickly and it gives you support when sliding on the court.
And thirdly, the tongue has a leather hole for you to lace through.
This helps to keep the tongue stable and stops disturbing you when you are moving on the court. The tongue is nicely made to provide you with comfort and cushioning.
Fit
The fit of the shoe is true to the length in terms of medium and width. This is a time saver because you don't have to go either size up or down.
On the other hand, the shoe requires a slight break-in period. You have to be a little patient when you wear the shoe for the first time so that your feet can get used to it.
Outsole
Next up is the outsole material. It is made of Asics High Abrasion Rubber in a modified herringbone tread pattern which is going to provide you with good traction on any court surface espically hard court.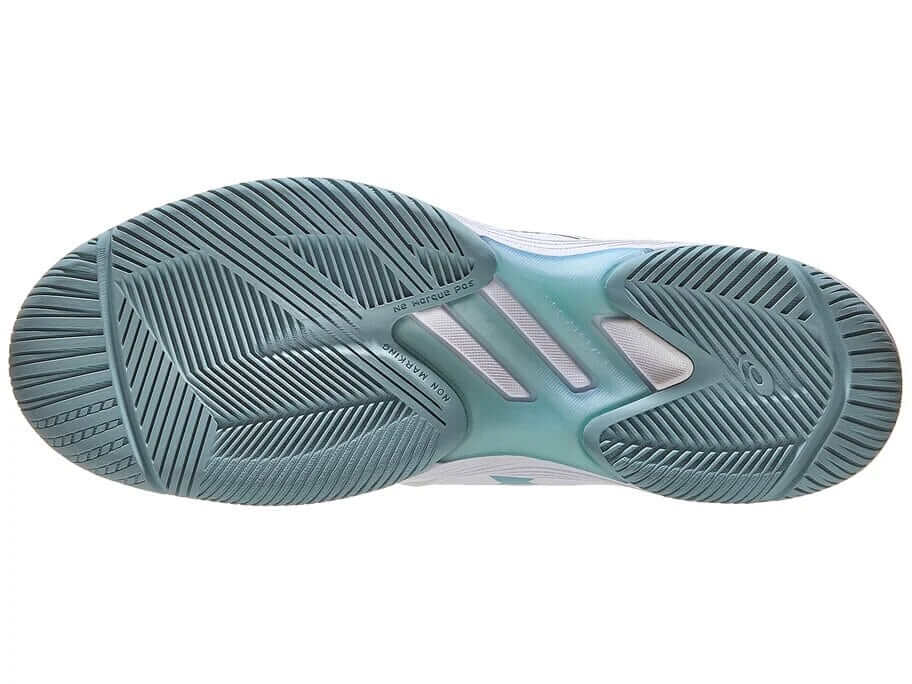 This is a great advantage because it would allow you to move better and more effective on the court.
On the other hand, the durability of the outsole material is low.
Therefore, if you are someone who like to wear their outsole quickly then I wouldn't recommend this tennis shoe.
Colour Options
The Solution Swift FF comes in different colour options to choose from. Both the men and women comes in both three different colours each. It's nice to have such options because you get to select which colour that suits your tennis outfit.
Price
This shoe is one of the most affordable tennis shoes in 2022. It comes around $110 which makes it accessable to most tennis players.
Conclusion
As this post comes to it's conclusion, it's evident that Asics has managed to achieve their objective by making this shoe comfortable, stable and speedy to play in.
On the other hand, there are some areas of the Asics Solution Swift FF that needs improvement. The toe box and outsole durability needs improvement.
Also, it does require some break-in period in order for your feet to get use to it. All in all, its a great shoe from Asics for all players.