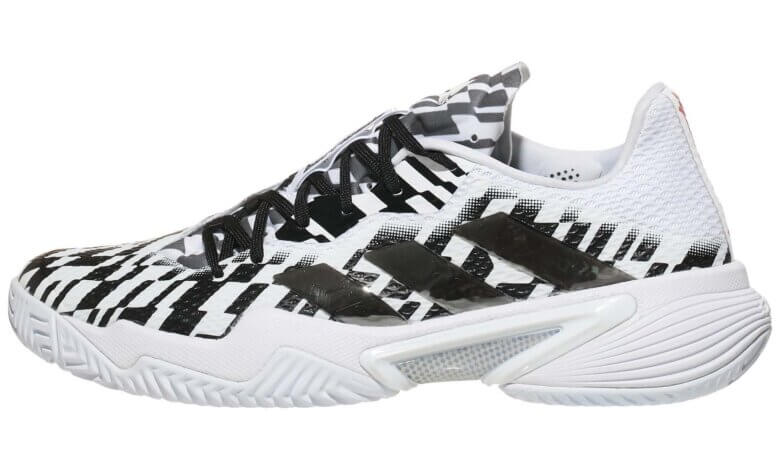 We're an affiliate
We hope you love the products we recommend! Just so you know, we may collect a share of sales or other compensation from the links on this page. Thank you if you use our links, we really appreciate it!
Product Overview
Comfort

Durability

Stability

Breathability

Weight

Fit and Size
Summary
The WAIT IS FINALLY OVER because the Adidas Barricade is BACK ON THE MARKET!! It comes with interesting features such as improved comfort and the weight is lighter than the previous version. 
However, there are some areas that need improvement such as lack of durability in the upper. And the shoe requires some break-in period for your feet to get used to it. Overall, it's such a fantastic edition to add to the iconic Barricade series. 
Pros
Lovely looking shoe
Nice comfort
Great durability on the outsole
Lightweight
Good stability and support
Cons
Lack of durability in the upper
Break-in period require
The Adidas Barricade series is without a doubt one of the best tennis shoes to ever be made. It set the boundary very high for how tennis shoes are to be made when they first came into the market in the early 2000s. It was the go-to shoe when you wanted stability and support in your game. Not only that but each time Adidas released a new series it got better and better.
Unfortunately, a few years ago Adidas decided to stop making them which was a BIG BLOW to the tennis community. This year Adidas has decided to surprise its fan with a new edition to the Barricade series. It's called the Adidas Barricade 2021.
This edition comes with interesting features that are likely to improve your game and take it even to the next level. In this post, I'm going to dive deeply into the shoe and explore the features and see how you can benefit from it. Let's start with the design and cosmetics of the shoe.
Design
Right out of the box, the design and cosmetics of the shoe looks cool, simple, and sleek. If you look at the Adidas Barricade Tokyo colour version you would notice that the Adidas stripe on the side of the shoe is reflective and comes as gold. Also, the Adidas logo inside of the shoe appears gold. This is super cool and fun playing with it on the court.
The word 'Adidas' is designed in a bold font which makes it different from the usual font style we are used to from Adidas. It's very creative from Adidas. Overall, I think Adidas did a fantastic job with its design and colour scheme.
Upper
Now let's take a closer look at the upper material. It is made of moulded synthetic material. The purpose of this is to provide you with good breathability. This is great at allowing heat and vapour to escape, whilst simultaneously encouraging fresh air to flow in and circulate for a pleasant cooling sensation.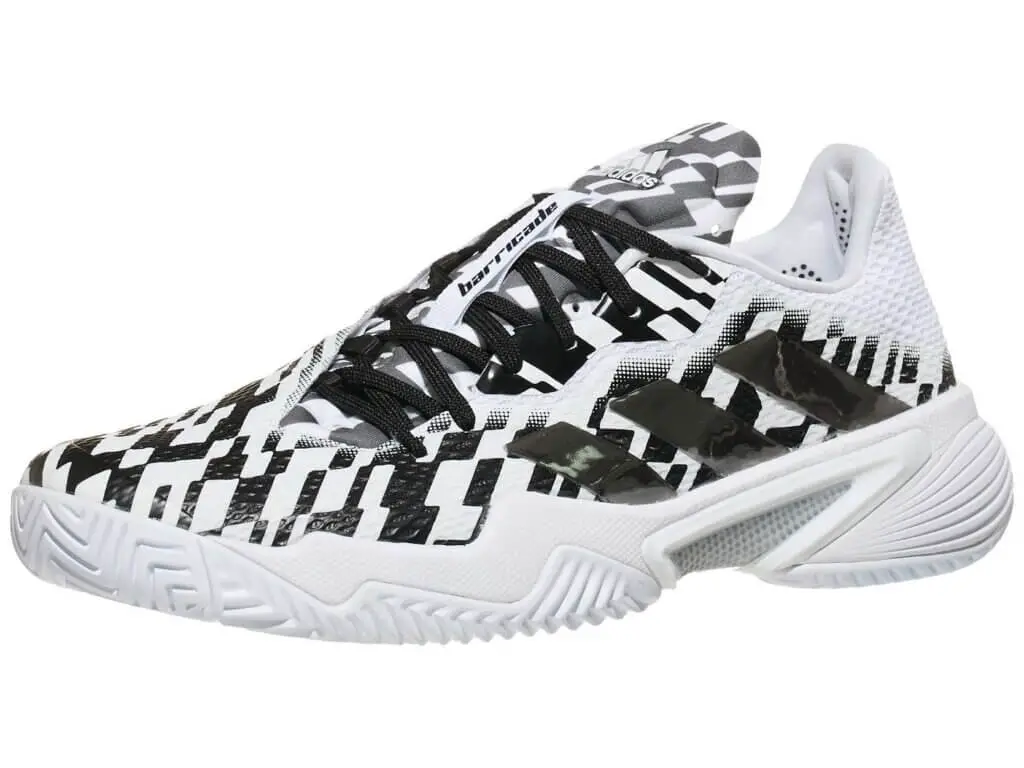 This feature is awesome because you can play in hot weather conditions or long intense matches without your feet getting covered with too much moisture.
Secondly, since the upper is moulded, this will require some break-in period for your feet to get used to it.
It may feel a little uncomfortable playing in them initially, but after a while, it gets comfortable. On the other hand, the moulded upper is going to provide you with excellent security and support.
Another downside to the upper is the lack of durability. It's likely to wear out quickly if you are a player that likes to be very hard on their upper or slide frequently.
Toe Box
The toe box comes with enough room to provide you with comfort when playing in them. This is great at preventing you from getting any toe jagging issues. This enables you to play freely without experiencing any pain or soreness like other tennis shoes such as the Asics Gel Challenger 13.
Like I said earlier in this post, this shoe lack durability in the upper which includes the toe box area. Therefore, if you are a toe dragger or aggressive mover then I wouldn't recommend this shoe. Instead, I would suggest that you read the best tennis shoes for toe draggers currently on the market. You would find it very useful.
Heel Counter and Ankle Support
The heel counter of the shoe is slightly shaped at an angle to provide you with good support and stability for your heels. Although, the heel counter may feel a little harder compared to normal tennis shoes which means it may require some break-in period.
When you look closely inside of the heel counter you would notice little pads which are called Geofit System. The Geofit system in the heel fills the remaining gaps to complete the connection, helping the shoes to become an extension of your body that can respond at the same time you do.
Also, it gives your Achilles some freedom and padding as you move around the court compared to the Adidas Solecourt Boost. In terms of ankle support, you are going to get good support when playing in them. This would provide you with good support and stability.
Tongue and Lacing System
Next up is the tongue and lacing system. The shoe comes with a hybrid tongue which is a thin tongue that wraps around the top part of your foot. Also, it has memory foam inside of the tongue to provide you with comfort, cushioning and stability.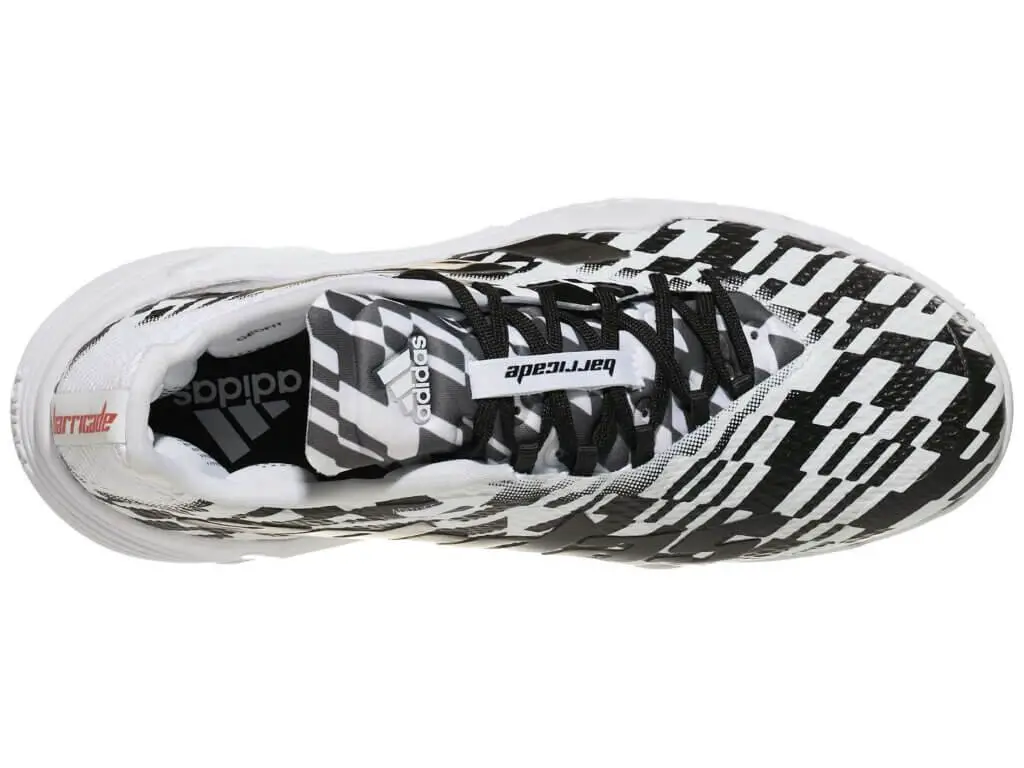 Another great thing about the tongue is how it's attached to the upper which is going to provide you with some stability when moving and sliding on the court.
The lacing system comes with a beautiful asymmetric lacing pattern like the Nike Court Air Zoom Vapor Pro. The purpose of this is to provide you with a snug fit and support during lateral movements. 
Furthermore, the lacing system is slightly elasticated to allow you some freedom when moving around the court.
Weight
Another great thing that Adidas has done with this shoe update is the weight. The shoe may appear bulky however when you check the weight it comes out as 14.2 ounces with a size of 10.5.
This is lightweight compared to most of the previous Barricade series. This would give you an advantage in the game because you would be able to move quickly on the court.
Insole and Midsole
The insole is nicely made to provide you with nice cushioning and stability when you wear it. This makes it enjoyable and fun playing in this shoe.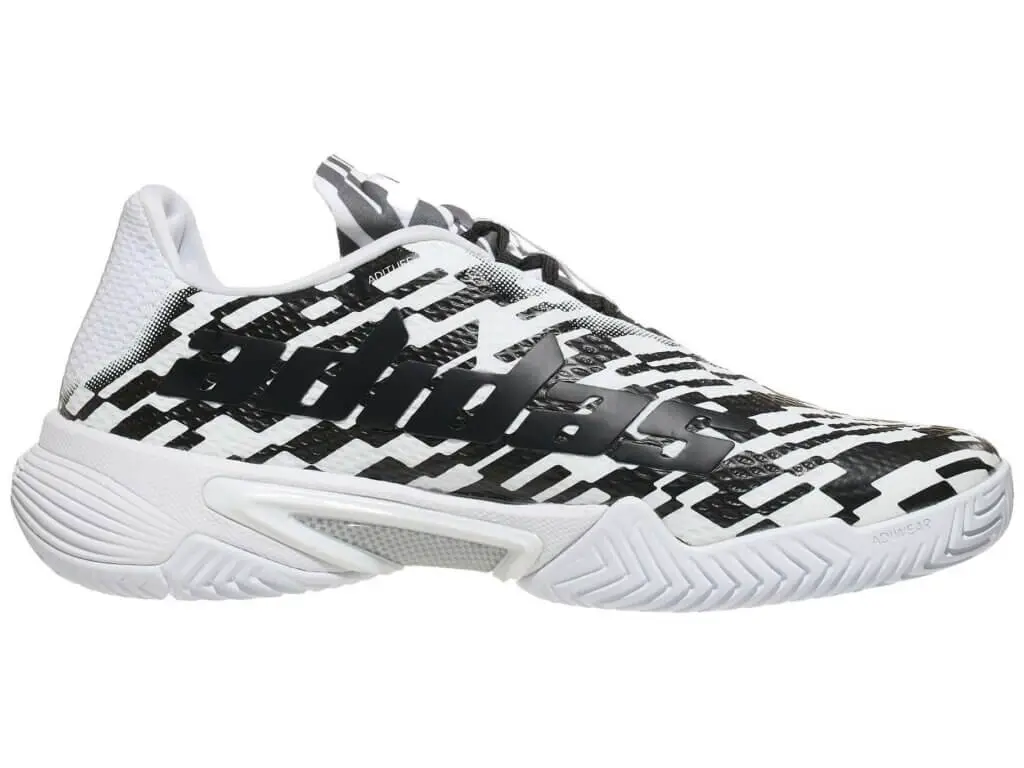 The midsole on the other hand is made of full-length bounce 2.0. This is going to be a more responsive feel compared to the Adidas SoleCourt Boost which comes with boosts technology.
The boosts technology is designed to provide you with an excellent cushion and comfort underfoot.
In addition, the use of Torsion System TPU midfoot shank does really well to maximize lateral stability when sliding and moving across the court.
Fit
The shoe comes with a wider heel and forefoot in the area which makes it suitable for players who have narrow, medium and wide feet.
Also, the shoe is true to length which means you don't have to go either size up or down. This makes it great for players who have a flat arch or high arch.
Outsole
The outsole comes with a thick herringbone tread pattern. When you even look closely at the herringbone you would notice that some part of the outsole is made of a sliding channel and flat surface.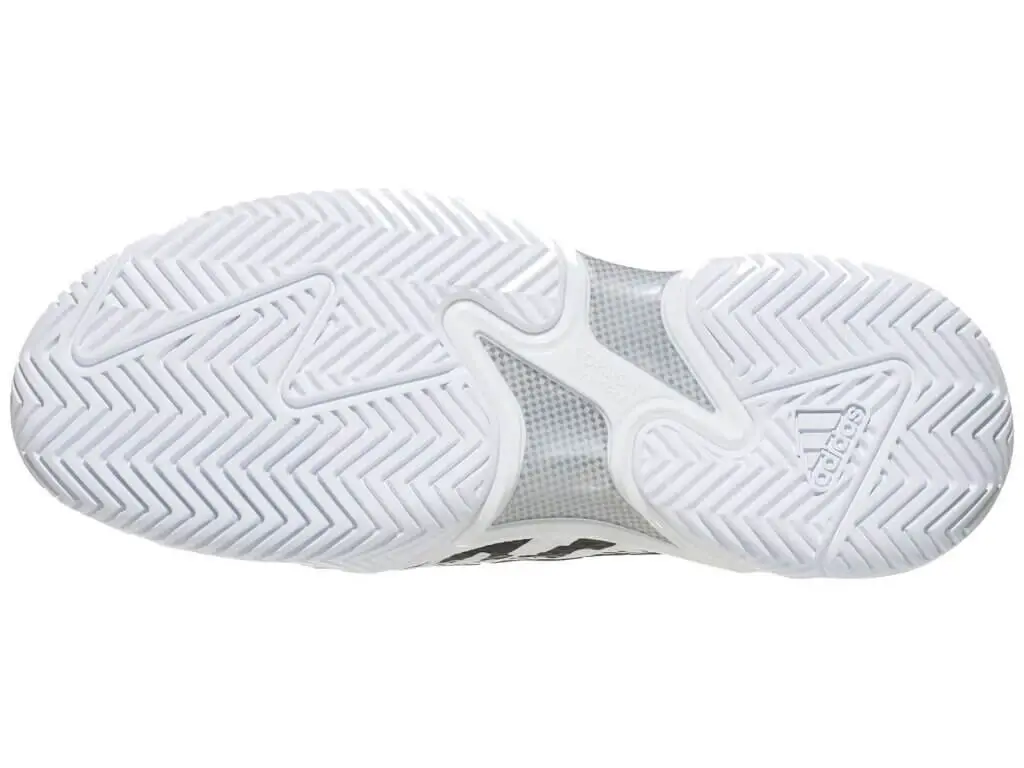 This amazingly designed tread pattern is going to provide you with an excellent tread pattern on all court surfaces.
In terms of the durability of the outsole, I got to say Adidas got it perfectly spot on. It's going to deal with the toughness and challenges that the court present.
Colour Options
As of now, there are limited colour options to choose from on the market. I'm hoping that as the season progresses more colours would come out for players to choose from.
Price
The last point I want to talk about is the price of the shoe. It comes around $140 which is a fair price point for this shoe with it's amazing features. If you feel that this shoe is expensive and you are on a tight budget then you would want to check out the NikeCourt Vapor Lite which comes under $100.
Wrapping Up!!
In summary, we can see the Barricade 2021 is a nice update with great features such as nice comfort, stability and durability on the outsole.
However, there are some weaknesses to this shoe such as the lack of durability with the upper and it requires some break-in period in order for your feet to get used to the shoe.
All in all, it's a great looking and lightweight shoe that is worth a look at. It can really benefit your game and take you to the next level. I wish you the best of luck with this shoe in your next match.